The Biology graduate program offers a close-knit academic environment that leads to an M.S. or M.A. in Biology. Our graduates have specialized training in their chosen sub-disciplines and the communication and teaching skills needed to function effectively within a broad-based scientific community.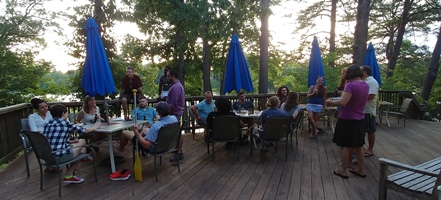 Our graduate students conduct research with faculty ranging in topics from molecular genetics, to biomath, and ecology. For more information about faculty research interests, see our faculty directory. Most graduate students will publish their thesis research in highly respected journals.
Full-time students are
supported
by teaching assistantships and full tuition waivers. Most students complete their master's degree in two years and go on to pursue either a Ph.D. or M.D. degree. Our program also provides the training required to enter technical positions in industry and government. Recent grads are pursuing Ph.D.s at Duke, UC Davis, Johns Hopkins, and University of Toronto; others are following career paths in biotech, pharmaceuticals, resource management, and environmental consulting.
For more information, please contact our graduate director, Professor Josh Puzey.