Advanced Placement in Biology
Advanced Placement in Biology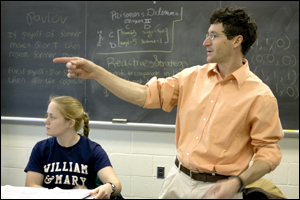 Entering students interested in receiving academic credit and/or advanced placement for college-level work undertaken before entering William & Mary should take the College Board Advanced Placement Examination. Credit received through the advanced placement program may be applied toward degree requirements.
Starting in Fall 2022, a score of 5 or greater on either the AP Biology or IB Biology examination will be awarded 8 credits of Introductory Biology lecture and lab credit. These 8 credits will be distributed into BIOL 203 (3 credits), BIOL 203L (1 credit), BIOL 204 (3 credits), and BIOL 204L (1 credit).
If you have any concerns about the strength of your pre-William & Mary biology background, talk with your pre-major advisor or the Chair of Biology, Dr. Liz Allison (laalli@wm.edu), about which Biology course would be the best starting point for you. Pre-medical and pre-dental students should consult with the Chief Health Professions Advisor, Dr. Beverly Sher. If you feel that you would benefit from retaking either BIOL 203/203L or BIOL 204/204L, or both, at William & Mary, it is possible to petition to revoke AP/IB credits: https://www.wm.edu/as/undergraduate/forms/index.php.
Our experience is that when students are well informed about the advantages and disadvantages of their options they choose wisely for themselves.
If you started your college career at William & Mary before Fall 2022, and you earned a 5 on the AP Biology exam (or an equivalent score on the IB exam), you may request that the Biology elective credit and zero-credit Introductory Biology exemptions you were given under the old Biology Department policy be converted into credit for BIOL 203, 203L, 204, and 204L, consistent with the new Biology Department policy (only if you did not take these courses at William & Mary). Email the Chair of Biology, Dr. Liz Allison (laalli@wm.edu), who will work with the Registrar's Office to make the change for you.