Summer Program 2023:
Transfer credit
If you would like to get transfer credit for a study abroad program that is not affilitated with William & Mary, please check the study abroad transfer credit procedures.
Information about previous guidance: Because of COVID 19, William & Mary's normal summer program at BNU was canceled in 2021. As such, the faculty in Chinese Studies compiled this list of recommened summer programs (but please note that none of these are affiliated with the University) for summer 2021. The quoted costs and deadlines are taking from the programs' websites and may change outside W&M's control. Please check the programs' websites for updated information, and keep an eye out for deadlines for Summer 2022.
Recommended Study "Abroad" Programs for Chinese Language Study
Program
Deadline
Instructional Format
Estimated Tuition
Website
Princeton in Beijing
Feb 28
Online
$4,000
PiB Website
Inter University Program
April 15
In person/Online if needed
$5,995 in person, $4,796 online
IUP Website
Associated Colleges in China
March 15
Online
$4,690
ACC Website
International Chinese Language Program
March 31
In Person/Online if needed
~ $5,400 (148,500 NTD)
ICLP Website
CET Beijing Summer Program
March 1
Online
$7,690
CET Website
IU Language Workshop
May 7
In Person/Online if needed
~ $2,815*
Indiana Website
Middleburry Summer Immersion
March 15
In Person/Online if needed
$13,415
Middlebury Website
UVA Summer Language Institute
Rolling
Online
$3,862 in-state, $12,954 out-of-state
UVA Website
AC programs in Taiwan
Feb 15

$4,500 (Tradition)

$8,239 (Intensive Lang)
 * The cost of IU's classes vary depending on the level, but are generally in the 2,800 dollar range.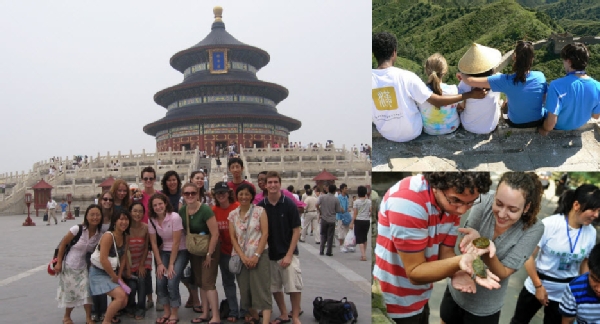 (Canceled for 2021) William & Mary Faculty-led Summer Intensive Program. Based in Beijing Normal University, it is the only China study abroad program that is fully integrated into the W&M curriculum. Students can earn 12 credits toward the W&M degree OR up to 11 credits toward the Chinese major. The program provides students with a full immersion experience while earning W&M credit and working with W&M faculty. Read more about our program...