Your Clem History Writing Center Consultants
The consultants for the 2022-2023 Academic Year are Mitch Oxford, Annie Powell, Kaila Schwartz and Emily Wells

We are advanced Ph.D. Candidates in the William & Mary History Department. We are very familiar with history research and writing and are prepared to help you with any type of history writing assignment. We look forward to meeting you!  
We look forward to meeting you! Learn more about us below:
Mitch Oxford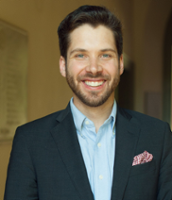 I am a PhD candidate with expertise in American religion. I have taught and TA'd for classes in Global History, Western Civilization, and American History, and have worked for a publishing house focused on literary criticism. When not working on my dissertation, I cook, ride bikes, buy records, watch sports, and explore Richmond with my wife.
Fun Fact: I have a substantial tabby cat named Taft, named for the similarly stout president, who (like our cat) came from Cincinnati. 
Best Writing Advice: Use MS Word's "Read Aloud" function to catch things your brain might otherwise skip over. 
Annie Powell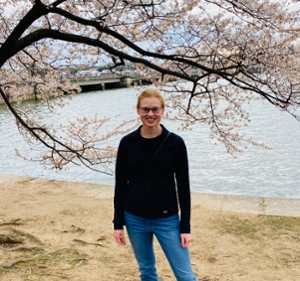 I am a PhD candidate in the history department studying seventeenth-century New England religion, politics, and colonialism. At William & Mary, I have worked as an editorial apprentice at the Omohundro Institute, served as a TA in the history department, and taught Hist 121: United States History to 1877 as the instructor of record. If I'm not reading or writing about puritan New England, I'm probably hiking, running, re-learning how to play the piano, or petting my dog.
Fun Fact: My twelve-year-old dog, Alana, is a retired guide dog.
Best Writing Advice: From Jodi Picoult: "You can always edit a bad page. You can't edit a blank page."
Kaila Schwartz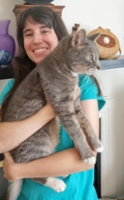 I grew up in South Carolina and Massachusetts and discovered my love of history when exploring all of the neat old stuff in my grandparents' houses. I went to college and grad school in greater Boston, earning a B.A. in history from Brandeis and an M.S. in library science and archives management from Simmons. My dissertation focuses on New England naming patterns from the 1600s through the Civil War, examining what people named their children, how that changed over time and why, and how people used names to build family memory and identity.  In Fall 2019, I taught a section of HIST 121: American History to 1877.  In addition to teaching, I have worked as a tutor of middle and high school students, a fact checker for the Omohundro Institute, a freelance editor, and a TA of Global History.  When I'm not doing history or working in the writing center, I enjoy genealogy, cooking, crafts, and jigsaw puzzles.
Fun Fact: I spent many summers as a toy maker in Nantucket.
Best Writing Advice: The best writing advice I've received is to avoid passive voice and instead use a variety of active verbs like "demonstrate" and "reveal."
Emily Wells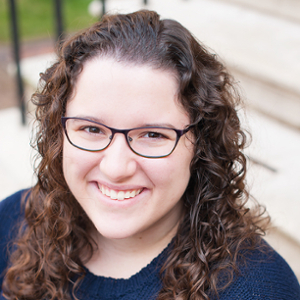 I am a PhD candidate in History and am writing a dissertation on elite, white girlhood in the American South between the Revolution and the Civil War. At William & Mary I've served as a TA for Global History and taught my own course on early American material culture. I have also interned at several museums, including Colonial Williamsburg. When I'm not doing history, I enjoy taking walks down DoG Street, relaxing with my cat, browsing antique malls, and working on overly-ambitious craft projects.
 Fun Fact: I collect needlework samplers from the 19th century and am teaching myself how to embroider my own.
 Best Writing Advice: Read your writing out loud! This is the best way to catch mistakes and develop your writing style.