Students' microplastics research yields urgent call to action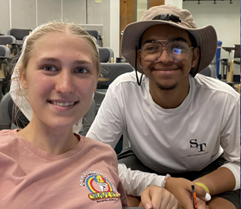 Research can take people to the tops of mountains, to faraway countries, even to the depths of space.

For Chemistry majors Kyle Lewis-Johnson '25 and Kaleea Korunka '25, their research took them somewhere just as thrilling, but a bit smaller: the surprising world of microplastics.

"Being residents of Hampton Roads, we understand how valuable the [Chesapeake] Bay ecosystem is to everyone's lives," explain Lewis-Johnson and Korunka in a joint statement. "Microplastics from W&M are causing harm to the Bay, so we felt it was necessary to take action!"

Already booked and busy working for Leadership by Design and Camp Launch (Lewis-Johnson) and conducting Charles Center-funded research on local eviction statistics (Korunka), these two students nonetheless decided to use their spare time during the summer of 2022 to investigate microplastics in the campus water supply.

They explain that "microplastics, particularly microfibers, are pieces of synthetic polymers shed from larger pieces of plastic. Microfibers are shed by all plastic clothing that enters the environment." These fibers can then work their way from the washing machine to the groundwater, harmfully affecting aquatic plants and animals and ultimately making their way back to humans.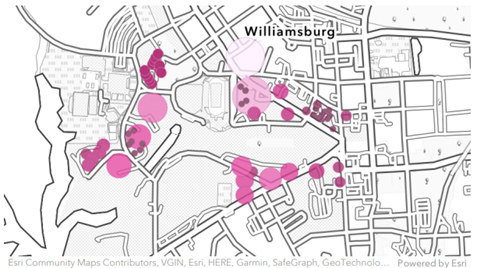 Korunka and Lewis-Johnson's research brought them into contact with experts across campus and beyond, from marine scientists at W&M's Virginia Institute of Marine Science and facilities management workers to clothing manufacturers like True Religion Jeans. Their research resulted in a 35-page report compiling literature reviews, original maps of local water infrastructure, and recommendations for next steps.

Lewis-Johnson and Korunka spent their first year on campus as Sharpe Community Scholars, where they learned about the fundamentals of conducting community-centered research. True to this training, Korunka and Lewis-Johnson have used their research to propose six changes that William & Mary as an institution and as a community can take to reduce microfibers.

Solutions include the mechanical – "put microplastic filters on all campus washing machines" – and the fashionable – "only sell William & Mary merchandise . . .  that can break down in the environment."

As with all great researchers, Korunka and Lewsis-Johnson's final proposal isn't just an academic adventure; it's a call to action.  They are calling on the campus community to "develop research and tools to help mitigate microplastic pollution."

Korunka and Lewis-Johnson are just getting started.
Up next? A presentation at the 2022 Clean Virginia Waterways Convention in Virginia Beach and a forthcoming awareness campaign to alert the campus of the impact of microplastics. Lewis-Johnson and Korunka also aim to continue this research in future summers, making good use of Charles Center Research Grants and the Office of Sustainability's Green Fee Funds.

Interested in getting started with undergraduate research? Check out an upcoming information session and attend the Fall Undergraduate Research Symposium Sept. 30th! 

Applications for Charles Center Summer Research Grants for 2023 will open in late October and will be due in February.