The William & Mary MPP program provides students with an outstanding education at a price that is within reach, regardless of whether one is from Virginia or another state or nation. That fact becomes especially clear when you compare us to other top universities with MPP programs, as the graphic below illustrates for the 2021-22 academic year.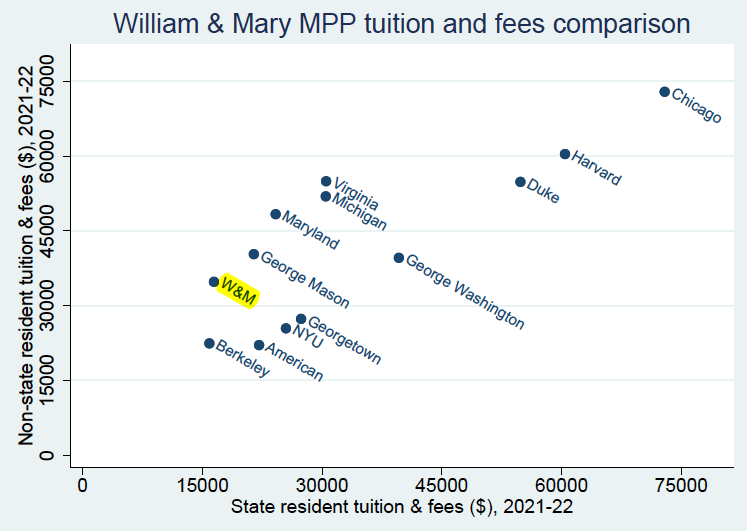 Cost of attendance
The estimated cost of the MPP program varies by a student's residential status. For the 2021-22 academic year, tuition and fees for Virginia residents were $16,440 and for non-Virginia residents they were $34,800. Annual tuition and fees are divided evenly between the fall and spring terms. In addition to these annual costs, all MPP students are charged a one-time Student Activity fee of $400. Combined degree students pay three semesters of MPP tuition and the remaining semesters in their other degree program. Tuition and fees are set each year by the W&M Board of Visitors. The board usually makes those determinations in April in advance of each academic year. Living expenses will vary depending on the type of accommodations students prefer (e.g., graduate student housing on the W&M campus, off-campus apartment or shared residence, or commuting from home), but tend to average around $16,000 per year.
Financial support
Although the cost of the William & Mary MPP program is relatively low compared to our main competitors, the program still makes much effort to provide financial assistance to students. Depending on a student's situation and interests, many streams of funding are available.
Financial aid: All students are automatically considered for financial aid. Financial aid offers are typically made for two academic years of study, conditional upon satisfactory academic progress during the first year. See this resource page for general information on financial aid for graduate study at W&M, which includes resources for those seeking to apply for student loans.
Merit-based assistantships: Most students in each MPP cohort receive assistantships that provide a tuition benefit and a stipend that considerably reduce the cost of obtaining their MPP degree, with the most generous awards going to the top students each year. Students work with faculty as research or teaching assistants. These positions sometimes lead to co-authored publications with faculty and opportunities to present work at professional conferences.
Internal W&M fellowships: The Public Policy Program maintains a suite of competitive fellowships for students with specific interests in areas ranging from law and policy to state and local government, among others.
External fellowships and support: William & Mary has a commitment to helping students who already have taken time to help others. As such, students who are Returned Peace Corps Volunteers can apply for educational assistance through the Paul D. Coverdell Fellows Program. Further, military and veteran students can use G.I. Bill benefits to fund their degree program, in addition to receiving other supports from the W&M Office of Student Veteran Engagement.
Summer internship support: All MPP students pursue a summer internship after their first year. The program maintains funding to help support students during the summer who may choose to take low- or no-pay internship experiences as they pursue their policy interests.
For more information,
check out this link
.