Ryan Buckland (B.A., Public Policy, '13); Senior Systems Analyst, Virginia Hospital Center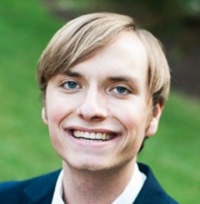 William & Mary graduates include many alums who work in the field of health policy.  The Schroeder Center for Health Policy is pleased to highlight some of these alums through a series of interviews focusing on their career paths, current job responsibilities, and their experiences at William & Mary that helped prepare them for their health-related work.
Below is an interview with Ryan Buckland, who received a B.A. in Public Policy from William & Mary in 2013.
What was your first job after graduating from W&M, and what were your responsibilities? In your current position, what are your responsibilities?
I worked in consulting at Booz Allen Hamilton for about 3 years. I worked for a military health client that was responsible for research and policy recommendations about psychological health and traumatic brain injury. My role was lead editor of the agency's intra-governmental reports to Congress and policy papers. A highlight of that job was helping prepare a briefing for the First Lady on a program for service members and veterans.
After looking for something more analytically oriented, I was fortunate to find my current job as a senior analyst at Virginia Hospital Center, a 390-bed hospital in Northern Virginia. I work in the quality department managing a couple of software products that help us monitor quality and clinical performance at various levels of the hospital. My day-to-day is equal parts IT front-end system administration and analysis of the data that we get from those products. For example, an ongoing project common across healthcare is my work analyzing our 30-day unplanned readmissions across things like discharge status, service line, procedure, etc. This job has helped me realize how much I enjoy data and applied quantitative research; so much so, in fact, that I am headed back to school this fall to start my ScM in Biostatistics at Brown University.
What was your favorite class at William & Mary?  Do you use any of the skills/knowledge learned in that class in your current job?
This is a hard question, because I was a public policy major and had a lot of flexibility to only take classes I wanted to take. I enjoyed Professor Manna's "Intro to Public Administration" because the case studies mirror much of how agencies and different government branches interact today. It's called "Bureaucracy" now, I think. I had an independent study with Professor Stafford that really let me dig deeper into the ACA and the potential for health IT efficiencies as cost-offsetting opportunities, which I've been able to use as a work example in interviews. Finally, "Economics of Healthcare" covers so much that you will find useful, even if you do not pursue a career in healthcare. I have kept my notes and the journal articles from that class because they are still relevant.
What is the most exciting project that you have worked on since graduating from William & Mary?
A readmissions prediction project while at Booz Allen. At the firm, there is an internal funding competition called the Combustion Chamber. Twice a year, the firm opens up an application for staff to submit product ideas on a given topic. About 5-10 are selected and invited to pitch at a "Shark Tank"-style competition with a judges panel consisting of top clients and firm executives. The theme my year was healthcare-related, and the competition was hosted in Atlanta near some of the firm's healthcare clients (e.g., CDC). My team developed a minimum viable product that essentially packaged the LACE mortality/readmission model into a mobile/web app. After much practice, we pitched our product onstage and were fortunate to win significant internal funding to continue development and pilot the app with a client.
What is one thing that current students should not miss while on campus at William & Mary?
Enjoy William and Mary's culture of learning for the sake of learning. It's something I miss and a reason I am going back to school. Pick a class that is not for a job, but something you're interested in. You will end up meeting new people outside of your major or degree and it will challenge you to think differently. I took Kara Thompson's "A Matter of Time" in the American Studies department. The objective of the course was to survey the critical theory/philosophy of time and temporality. I was able to approach my interest in health policy from a wildly different, humanities-oriented perspective, using Foucault and others to interrogate the Disability Adjusted Life Year (DALY) measure used by the World Health Organization.