Support Russian Studies
The Dobro Slovo Scholarship Fund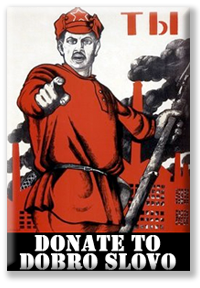 You can contribute online now with your credit card, using our secure web server. Using  the above link to make your gift should automatically designate it for the Dobro Slovo Fund, which supports the Russian program directly.
Contributions may also be sent by check to The College of William and Mary, P.O. Box 1693, Williamsburg, VA 23185. Please make your check payable to the College of William and Mary and include a notation on the check that your gift is intended for the Dobro Slovo Scholarship fund.
The Dobro Slovo Scholarship fund was established in 2004 to support summer study at St. Petersburg University for deserving Wiliam and Mary students. In Spring 2006 Rachel Olcheski won the first Scholarship to study at St. Petersburg University in Summer 2006.  Our most recent scholarship recipient, Rachel Faith, thanks you for the award.  You can read her letter about her experience in Russia here. The Scholarship is named in honor of the National Slavic Honors Society, originally founded as a local honorary society on the campus of the University of California at Berkeley on October 29, 1926. Dobro Slovo exists to recognize academic excellence in the study of Slavic languages, literatures and history.  A local chapter of Dobro Slovo was established at William and Mary by Professor Bella Ginzbursky-Blum in 1994.
More Ways to Contribute
More information regarding private giving is available on the Support Modern Languages page.
Gifts supporting the departments and programs of Arts & Sciences at the College of William and Mary are tax-deductible according to regulations governing section 501(c)(3) of the IRS code.