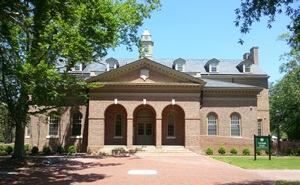 Tucker Hall
Department of English
The Department is located in Tucker Hall. Tucker Hall is located at 350 James Blair Drive (on the Old Campus between the Sunken Garden and Richmond Road). The Department Main Office is located on the first floor in Tucker 112.
Directions from College Corner
On foot: Walk west past the President's House and the Wren Building. Tucker Hall is the first building on the right past the Wren Building.
By car: From College Corner (the V intersection of Jamestown and Richmond Roads), proceed west on Richmond Road to Stadium Drive. Go past the stadium to the Sadler Center and turn left on James Blair Drive. Tucker Hall is the third building on the right.