Raven Pierce '23 inspires with "We Ain't Painting Flowers"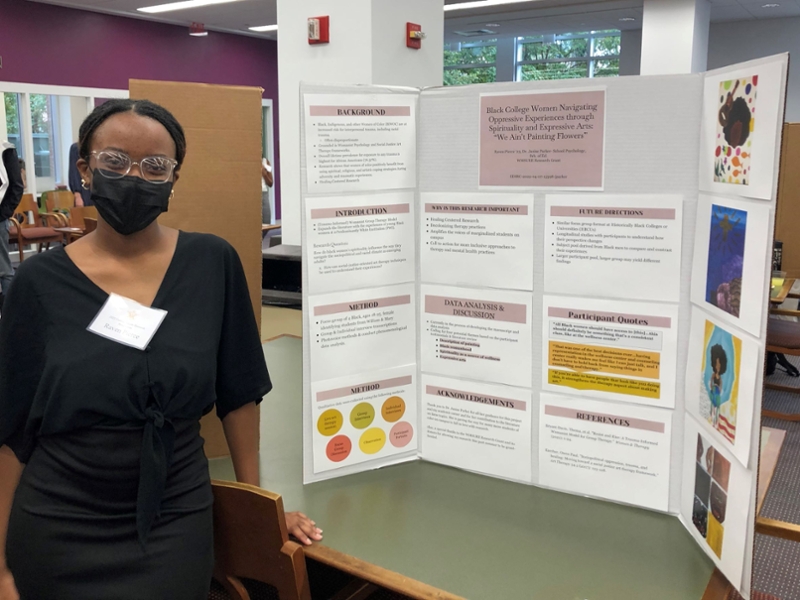 Raven Pierce's poster was hard to miss, even among the 200 presentations on display in the
Fall Undergraduate Research Symposium
held September 30 in Swem Library.
Four brilliant paintings, along with the title, "We Ain't Painting Flowers," caught the eyes of many of the more than 500 symposium guests, giving Pierce '23 plenty of opportunity to explain her research on the power of spirituality and expressive arts to help Black college women navigate oppressive experiences.
To Pierce, the paintings on her poster embody the strength and resilience of the artists, who were all participants in an expressive arts session that she helped facilitate as part of a mentored research project last spring.  "Because of my experience as a Black woman, I relate to the project," said Pierce, "and that fuels my passion for the research." 
Pierce's research began with a critical reflection about the wellness activities available through the
McLeod Tyler Wellness Center
and discussions about how to expand the options available to Black women on campus with her mentor, Assistant Professor of School Psychology Janise S. Parker.  "Normally, when you come into an expressive arts class, the structure is already laid out for you," Pierce said, "but this class was different in that we really built it from the ground up.  We could be as creative as we wanted to be and had access to information that we wouldn't normally have access to in a class."
Pierce continued her research with Parker's guidance this past summer, with a summer research grant through the
W&M Scholars Undergraduate Research Experience (WMSURE)
, a program based in the
Charles Center for Academic Excellence
that supports the intellectual growth of more than 200 students each year through workshops, events, and a range of faculty-mentored research opportunities. 
Parker is one of several WMSURE faculty mentors, who represent a range of perspectives and programs at W&M.  "I love how the students, faculty, and staff affiliated with WMSURE become a mini family on campus," Parker said.  "Our weekly meetings are a safe space for us to chat about our experiences (the highs and lows), support each other, and celebrate one another."
WMSURE is co-directed by Dr. Iyabo Osiapem, Senior Lecturer of Africana Studies and Linguistics, and Dr. Katherine Barko-Alva, Assistant Professor of ESL/Bilingual Education.  Barko-Alva described WMSURE as "a learning community," in which "students are free to learn and explore the research aspect of academia under the support of their peers and professors."  In short, she said, "Our students feel safe and cared for."
Pierce agrees.  "WMSURE was the first place I really ever felt a sense of community on campus," she said.  "The professors—you can really tell that they have a genuine love for students and that they're there to help.  I don't know where I'd be without WMSURE," said Pierce, "because they introduced me to research, to what it is, and the idea that I could get into it." 
Through a distinctive style of mentorship, WMSURE inspires students to grow personally and intellectually, According to Barko-Alva.  "I have seen Raven grow as a leader, peer-mentor, and researcher," she said.  "It is wonderful to witness this process." 
Parker sees the WMSURE program as a community that builds and celebrates "competence and confidence."  In describing Pierce's academic journey through WMSURE, Parker said, "She has developed a remarkable capacity to discuss the conceptual and theoretical underpinnings of her research, while also conveying the implications in a practical way for the everyday person.  That is a skill many academics are still learning, including myself."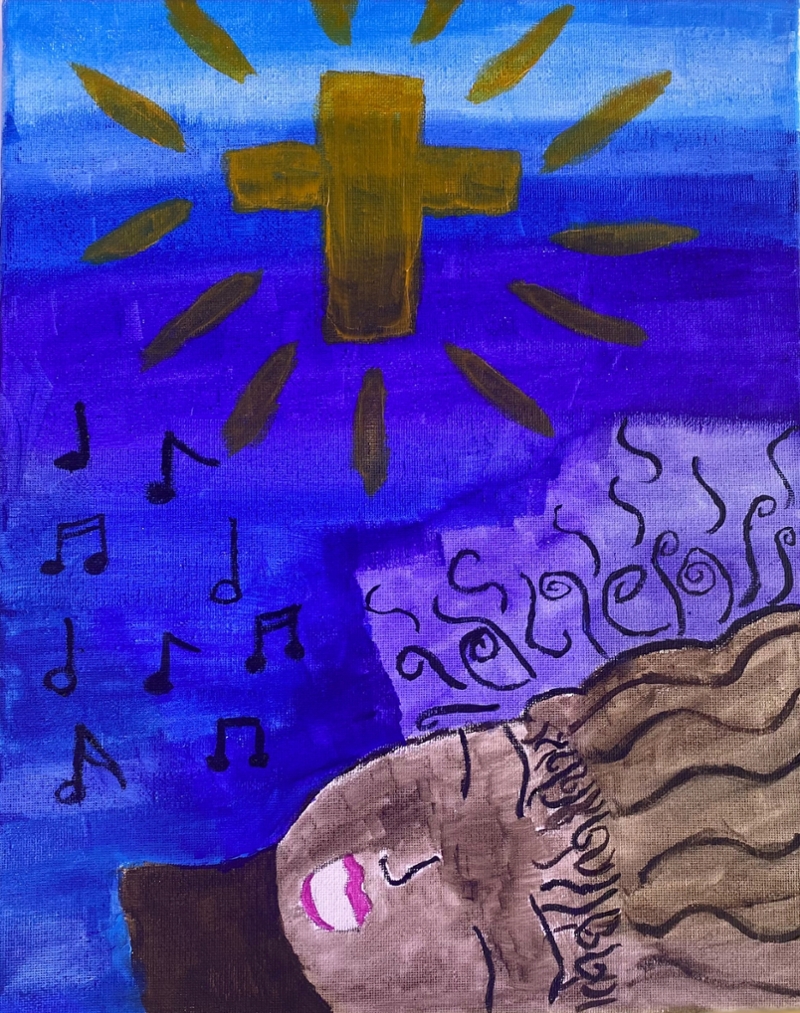 Perhaps it was the blend of theoretical and practical, captured powerfully through art, that compelled many to pause, listen, and engage with Pierce at this fall's Undergraduate Research Symposium.  For Pierce, though, what she presented on her poster is just the beginning.  "This is a big and important project, and I'd like to expand on it, to make it my career," she said. 
Pierce plans to apply to the
W&M School of Education's Clinical and Mental Health Counseling
program.  Beyond that, she said, "I one day dream to be an art therapist in marginalized communities where I can work with young people, to be able to give back and give those kids hope.  That would be my dream."
Interested in getting connected with WMSURE?  Get started
here
.