We are always happy to hear from our alumi! Please send us your news.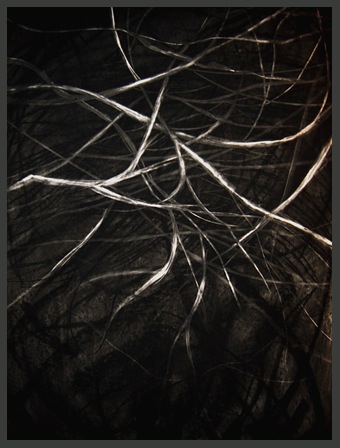 Lana Stephens
Class of 2006
B.A. Studio Art
Lana Stephens graduated with a Masters in Fine Art in May 2009 from American University in Washington D.C. (see image left)
Brian Kelley
Class of 2007
B.A. Studio Art
This year, Kelley obtained his MFA in Painting at Indiana University.  Both William & Mary and Indiana University bought work from him in the spring.  In particular, W&M's Law Library currently has the painting "Ten Levels," a work he made while at Indiana, on display. This summer, Kelley visited Italy, being based in Florence but also traveling across the country making copies and landscapes.  Currently, Kelley lives in Alexandria, VA, where he teaches at George Mason University (Fairfax, VA) and Prince George Community College (Prince George, MD).  To see more of Brian's works check out his new website at briankelleyart.com.
Julia Cohen
Class of 2003
B.A. Studio Art
Juila has recently accepted a Special Events position with Olive Crest, a non-profit that provides homes and services to abused and at-risk children in Orange County, CA.  In addition to the graphic and creative services she provides for her organization, she has been freelancing for clients all over Southern California.
In her free tiem Julia works on Ronda's Dream Center; a visual therapy center that will be installed at Fairview Developmental in Costa Mesa, CA.  For more information on Ronda's Dream Center and to view a website created by Juila vist: www.rondasdreamcenter.org
Christopher Reiger
Class of 1999
B.A. Studio Art
Christopher has recently been awarded a September residency at the Kimmel Harding Nelson Center for the Arts in Nebraska City, Nebraska.  He will be provided with a studio space to conduct his reasearch where he will work on paintings, drawings, and essays.  During his two week residency he plans to explore Nebraska City and the surrounding land focusing particularly on the Lewis and Clark Expedition and the legacy of the 19th century westward expansion.  You can check out his blog, Hungry Hyaena: http://hungryhayena.blogspot.com/  where he will post essays written during his residency.
Christopher had the recent opportunity of working with printer Gabe Greenberg of Greenberg Editions, where he created two limited edition prints: Further Murmuration and Synesthesia #1.  Christopher's next solo exhibition will be at Denise Bibro Platform Gallery and will be on view October 8th - November 7th, 2009.  Opening reception is October 8th, 6:00 - 8:00pm
Catherine Williams
Art History
Catherine has recently received notification she has progressed to the next round for Fulbright. Her application was reviewed at the national level and she was given a "recommended" status.  Her application is now being sent to Indonesia and another board in the State Department.



Lindsay Moroney
Art History
Lindsay is currently working in NYC and attending school part-time at Hunter College.
Sarah Bean
Art History
Sarah is currently working for the Corporation for Public Broadcasting, for a U.S. Department of Education grant, Ready To Learn.  This grant uses educational technology to help children in low-income communities build their literacy skills.  Sarah told us that she is grateful for the analytic and writing skills she learned in the art history department at William and Mary.  Her most exciting project to date at CPB is a suite of three online professional development courses that were  developed in partnership with PBS.  These courses were designed to help childcare workers build the literacy skills of  young children.

Sarah is currently applying for a Masters in Educational Technology Leadership at George Washington University in Washington, DC
Justin Yedor
Class of 2007
Minor Studo Art
Justin will attend Duke Universtiy Law School this fall.

Case Jernigan
 Class of 2008
B.A. Studio Art
Case recently exhibitied new oil paintings at the Joie de Livres Gallery in Salisbury, CT.  They are all paintings of Italy that he finished this summer during a Residency through the Art Students League of NY.
Megan Roberson
Megan currently lives in London and is applying to  Busniess School.
Class of 1998
B.A. Art History
Received master s and doctoral degrees in art history from Bryn Mawr College in 2001 and 2006.  Her dissertation examined the integration of prehispanic and peninsular elements at the sixteenth-century convento of Santiago Apsstol in Cuilapan, a Mixtec community in the state of Oaxaca (Mexico). Served as an Assistant Research Curator in the Departments of Textiles and Amerindian Art at the Art Institute of Chicago in 2006-2008.Currently a postdoctoral research associate at the Center for Advanced Study in the Visual Arts at the National Gallery of Art in Washington, D.C. and would be more than happy to speak with any art history majors interested in pursuing graduate work or museum careers. 
Erin Murray
Class of 2006
B.A. Studio Art in Painting & Drawing
After completing her BA in Studio Art in 2006, Murray took a year off to work as an elementary art educator and arts administrator for the Children's Art Network and P. Buckley Moss Foundation for Children's Education in western Virginia. She also spent that time working as a fine art framer and applying to graduate programs. Murray is currently in her second year of a two-year MFA Painting program at the University of New Hampshire where she is currently teaching. Erin spent the summer of 2008 in a painting program in Ascoli Piceno, Italy where she indends to return in the summer of 2009.  Erin's work is currently on view in the 2009 MFA Thesis Exhibition II at the University of New Hapshire in Durham.
Susanne Earls Carr
B.A Fine Arts/Architecture

Growing up within a family exposing me to the arts, living in old houses while moving about a bit, and with the ability to draw, fine arts, architecture and Colonial Williamsburg were a great inspiration.
In those days professors like A. Lawrence Kocher (former Hd. of U. Va. School of Arch. and editor of Arch. Record) and Howard Dearstyne (student of and associate of Ludwig Mies van der Rohe, as well as writer/scholar of Germany's Bauhaus School, and a recognized photograper [exhib. At MOMA, NY, etc.] who engaged students in its processes), along with James Cogar (Curator of Colonial Willaimsburg, who taught the Social History of the 18th c.), were all on the distinguished staff of Colonial Williamsburg Foundation.
Through a letter of introduction from Mr. Cogar I had the pleasure of meeting Mrs. Marion Beardsley, an interior designer here in NY who had done the Williamsburg Inn and projects for the then President of Colonial Williamsburg, Mr. Kenneth Chorley, In the architecture course, surprisingly two of us won prizes for contemporary houses we designed for a southern association competition: Bob Sanderson, 1st prize, and I, 2nd. Encouraged, and certainly tempted, to continue studies in architecture following graduation, another surprise came my way, prior to graduating. I was selected by Head of Personnel of B. Altman & Co. who had come to visit the college's Placement office, to join their Training Squad of about 22 college graduates from such as Colgate, Princeton, Smith, Stanford, that I did under condition I might become qualified to join their nationally recognized Decorating Department (the White House, etc.) To qualify, I also earned a certificate from The New York School of Interior Design, finally becoming a full interior designer there.
Marrying, with one daughter, and becoming involved with various pursuits related to my family life, a career path continued to beckon. As time went on, I was called by the industrial design firm of Raymond Loewy-Willaim Snaith (Mr. Loewy's first noted achievement, designing the locomotive for Pennsylvania R.R.) (stores, hospitals, ships, planes including Air Force One and The Bull & Bear at the Waldorf, etc.), Audre Fiber, Inc. (she was a Board member of A.I.D., A.S.I.D., N.Y.S.I.D. invitational lecturer), David Barrett, Inc., Dorothy Draper, Inc. (where I had fun of working on projects locally and in Louisiana, Bermuda, Palm Springs, Ca. as well as being assisted by a college design student for credit one summer), and then meeting Albert Hadley, I was invited to became one of the interior designers at Parish-Hadley here in NY, working closely with Mrs. Henry "Sister" Parish on projects locally as well as in Maine and Barbados.
In between these callings, I worked on my own, as I am now with my own client/projects.I have found this a rewarding field of endeavor as it requires utilizing my drawing skills, meeting new people, some travel, fascinating research, utilizing the best in architecture, new and antique furniture, materials, talents of the creative trades...to create appropriate surroundings for each client and project.
I credit William & Mary in Colonial Williamsburg with so very much in a never-dull career that offers endless possibilities without limitions of time or place.
Julianna Bynoe
Class of 1999
Studio Art
Julianna Bynoe was recently appointed Coordinator of the College of Behavioral and Social Sciences at the University of Marryland in College Park. Formerly she served as Weekend Docent at the Corcoran Gallery of Art in Washington, DC
Christine "Tina" Epps
Class of 1982
B.A. Fine Arts Education
Once again Christine will take a tour group to Europe. They will travel to France and England July 14-23 of 2009. This tour includes the areas of London, Canterbury,Paris, Chartres, Normandy, St. Malo Island and Mt. Saint Michel. Naturally, they will say hello to Mona Lisa at the Louvre.
Alberta Boone
Class of 1993
Studio Art
Since graduating, Alberta received her MFA in ceramics from the University of Massachusetts, Dartmouth in 2005. She is presently at the Archie Bray Foundation for Ceramic Arts in Helena, Montana as the 2008 Lincoln Fellow. Anyone wanting further information about the Archie Bray Foundation can visit the website: www.archiebray.org
Laura King Manno
Class of 1994
Studio Art
After graduating in 1994 Laura completed her Masters in Architecture and accepted a position with one of the most renowned architecture firms in the world - Skidmore Owings & Merrill where she practiced for 10 years. Over the past 2 years Laura was married to Philip L. Manno (alum '94) and had their first child, Lorenzo. She is now practicing with Grimm & Parker Architects in the Washington DC Metro area. Laura visits W&M annually to speak with students interested in learning more about Architecture as a profession.
Michele Lucas
Class of 2004
Art History
Since graduating Michele has been a docent at the National Museum of Women in the Arts in Washington DC. She recently moved to Raleigh, NC in September 2007.
David Lasky
Class of 1990
Studio Art
David has just completed the art and design of an educational comic book about Influenza that will be distributed throughout the US. The book focuses on how to prepare for a potential pandemic, with special emphasis on informing immigrant communities who may not be reachable through the mainstream media. This was a meaningful and personal project for David, as his great-grandmother was an immigrant who died in the 1918 pandemic.

Aside from the book, David has been teaching the art of comics and storyboarding part-time at the Art Institute of Seattle and Seattle-area middle schools. He continues to draw comics, design posters, and maintains an active exhibition schedule
Courtney Benzon
Class of 2007
Art History
After spending a year as an AmeriCorps construction crew leader for DC Habitat for Humanity Courtney will be attending Rice University next fall for my masters of architecture.
Bart Shepherd
Class of 1992
Art History
Bart currently resides in San Francisco with his wife Kathy (Bello, Class of 1990) and their two daughters Charlotte (3) and Cecelia (1).

In May 2005, Bart was hired as the Curator of the Steinhart Aquarium, part of the California Academy of Sciences. They are now in the final stages of a $484 million renovation, and will reopen our Renzo Piano designed building to the public in the fall of 2008 (see calacademy.org for details). This has been an exciting couple of years for Bart, with the project allowing him to travel, SCUBA dive in the Philippines, and work hand-in-hand with architects, exhibit designers and fabricators. He has also been in the press and on TV many times, including Mythbusters, and will appear in several other soon-to-be-released documentaries.
Marc Thompson
Class of 1987
Art History
A few years after graduating from GW, Marc went on to law school and became an attorney. He practiced condominium association law for a time, and is now employed by the US Attorney's Office in DC, in criminal appeals.

Marc says that having an art history education has been valuable and worthwhile. Not only does it make travel more interesting for him, but also the skills and knowledge he acquired in studying art history were very adaptable to the study of law.
Lisa Junkin
Class of 2000
Art History
In the spring of 2007, Lisa Junkin completed her Master's degree in School of the Art Institute of Chicago. While a student, she worked as a teaching artist at the Hyde Park Art Center and created a number of in-school and after-school art programs for various organizations.

She was recently hired as a Project Coordinator at the Jane Addams Hull-House Museum in Chicago on the University of Illinois campus. She is working to develop the museum's education department and support the wide range of programming offered.
Brendan Codey
Class of 2001
Studio Art Minor
Since graduation, Brendan has attended the Vermont Studio Center for a sculpture residency and spent two summers at the Chautauqua Institution's Summer Fine Arts Program in Sculpture. In 2005, he received a Post-Baccalaureate Certificate from the School of the Art Institute of Chicago. In 2007, Brendan received an M.F.A., also from the Art Institute. His work has most recently been exhibited in several group shows at Gallery 2 in Chicago, IL and the Chashama Gallery in Manhattan, NY. In March, he will be a part of a three-person show at the Shane Campbell Gallery in Chicago, IL.

In December of 2007 Brendan released a four song EP entitled walkandcarryabig through the Chicago based artist collective Bailliwik. The album is now available for free download at myspace.com/brendancodey. Brendan has shared with us that he has fond memories of the W&M art department and invites all to view his website at brendancodey.com.

Kristine Scharf Kainer
Class of 1986
Studio Art
After earning her M.Ed. and working for years as a mathematics teacher in Virginia, Kristine Scharf Kainer finally realized her dream of becoming an artist.

With her family's encouragement, Kristine recently launched her new website, www.KKArtStudios.com, where visitors can view her artworks in oil, acrylic, watercolor, and charcoal. With studios in Georgetown and Schulenburg, Texas, Kristine's name is making the rounds in local art circles and her paintings can be found in private collections throughout the United States and Canada as well as local galleries in Texas.
Lynn Curlee
Class of 1969
Art History
Lynn Curlee spent his freshman and sophomore years at W&M, and then transferred to University of North Carolina at Chapel Hill, where he graduated Phi Beta Kappa in Art History. Although he did not graduate from W&M, it was there he first studied art history. After graduating from UNC, Lynn received a doctoral fellowship to the University of Pennsylvaniacurleeart.com. in Philadelphia, where he earned an MA in Art History, specializing in 19th century architecture and quattrocento painting. After which he moved to New York City and became a professional artist, with a long career in the gallery scene. His later interests shifted to writing and illustrating. Lynn is the author/illustrator of 12 nonfiction books for children, with more to come. You can check out an archive of his career at his website
Peter Krebs
Major: Interdisciplinary Studies / Focusing on 19th Century French Studies
Minor: Studio Art
REECENT EXHIBITON: Interactions: Peter Krebs, Drawings
Gallery Info:
119 Fifth Street SE
Charlottesville, VA 22902
Tue - Sat 11-6; Sun, Mon by appointment;
434-293-2200 www.migrationgallery.com
George Hanley
Class of 1967
B.A. Art History
George currently serves on the Board of Trustees at the Greenville, N.C. Museum of Art.
Shelley Nix
Class of 1975
B.A. Fine Arts & Spanish
For the past 20 years Shelley Nix has been living in London, going there initially to set up and manage the Education and Training Department of a UK/European branch of a small computer company headquartered in California. After working for this company 7 years, she began to fulfill a long-cherished dream of becoming a translator, obtaining a Master's Degree with Distinction in Technical and Specialized Translation from the University of Westminster in London in 1995.
Shelley set up as a freelance exactly 12 years ago, and has never looked back. She specializes primarily in medical, pharmaceutical and healthcare translations and work from Spanish, French, Italian, Portuguese and Catalan into English. Medical translations account for about 90% of her work, with the remainder consisting of translations in the fields of art and art history.
Over the years Shelley has worked on several fascinating, high-profile assignments in these areas: a group project for the translation of audiocassette guides for the Louvre; a group project for translation of the exhibition catalogue of Art in Rome in the 19th Century for the Philadelphia Museum of Art; translation with a colleague of Luc Besson's 'The Story of the Fifth Element', his account of making the movie of the same name; translation of the review of a book about Italian memorial sculpture; and more recently, providing the French to English web site translation of a description of the Marc Chagall exhibition at the Foundation Pierre Gianadda in Martigny, Switzerland. Shelley is glad that she can put her art, art history and language background and training to good use.
Brian Kelly
Class of 2007
BA Fine Arts
Brian Kelly is currently an MFA Painting candidate at Indiana University in Bloomington, IN. He has exhibited at the PFAC in Newport News, VA and in the Gallery on Merchants Square in Williamsburg, VA. Brian is also included in public and private collections including the William & Mary Presidents Collection and the private collection of the Director Emeritus of the Corcoran Gallery. View more of Brian's work.
Some other alumni/ae achievements: Cynthia Robinson, '84 is Associate Professor of Medieval and Islamic Art History in the departments of New Eastern Studies and Art & Archaeology at Cornell University. She is the author of several books and articles. Lewis Nelson '90 is Associate Professor of Architecture at UVA, Guiliana Graham '07 is the events planner for the New York Studio School. Andrews Coombs '03 completed his MFA degree at the Rochester Institute of Technology this year. Thomas A. Wong '83 stopped by to say hello in March. He is a doctor of chiropractic in Hong Kong. Peter Krebs '93 sculpts and draws in Williamsburg, New York City. Dave Stephenson '89 continues to create jewelry and small sculptures for charity events in addition to his commercial line. San Francisco is where Ian Hart '98 has established his studio. Anna Metcalfe '01 is completing her second year of a three-year MFA program in ceramics at the University of Minnesota in Minneapolis. Rick Hoffman '84 has purchased an old building in downtown Covington, Kentucky to become a teaching studio for ceramics classes and gallery space.
Post Your News: We invite you to submit news items using our online form.