"My tool for change is my paintbrush..."
Alumni Sarah Jayne Bleiweis: in her own words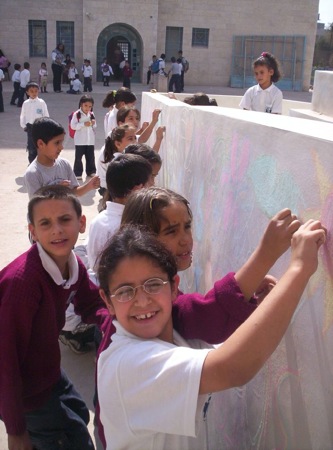 During my undergraduate studies at William and Mary, I majored in the Studio Arts. I held leadership positions as an elected Class Officer for Student Government and Vice President of the Student Fine Arts Club. My leadership experience and passion for the fine arts led to my growing interest in the field of art education and its ability to promote positive change in the world.
My tool for change is my paintbrush… being my ability to not only create art, but to teach and inspire my passion for art in others… I have an earnest desire to make a difference in the world, and art education is the way I envision myself doing this.  About a year after graduation, I decided to pursue an adventure that would allow me to challenge myself, both personally and intellectually. I was ready to experience the positive difference I could make in the world through art education. I also realized it was time for me to challenge my perceptions of the Middle East. My interest in this part of the world was sparked from growing up with a Jewish and Israeli family. I wanted to learn about the life and culture of the Palestinian people through direct experience, and with my own eyes, so I arranged to travel to Israel and to the Palestinian Territories.
While volunteering as an art teacher at Palestinian summer camps for at-risk youth in Bethlehem, I noticed that art education was a rare commodity amongst Palestinian children. I envisioned myself staying in Bethlehem to become an art teacher, because I wanted to continue working with Palestinian children who had yet to encounter art in their lives.

I extended my stay in Bethlehem when I convinced a school principal to hire me as the full-time art teacher at the SOS Hermann Gmeiner School, a facility of the SOS Bethlehem Children's Village. The SOS Children's Village is a part of SOS Kinderdorf International, the world's largest social development organization, which provides long-term care facilities & schools for orphaned and abandoned children, in over 132 countries around the world.