The William & Mary Center for Archaeological Research was established to provide cultural resource research services for public and private agencies and organizations. Services include cultural resource management studies, archaeological survey, testing, data recovery, material culture analysis, historical research and interpretation, GIS applications, architectural survey, National Register nomination, historic building conditions analysis, maintenance plans, restoration plans, stabilization plans and historic building materials analysis.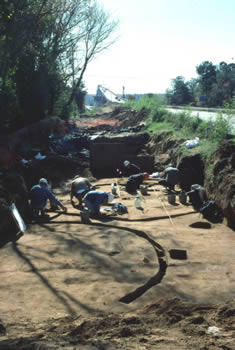 The Center's professional staff has wide-ranging expertise with both prehistoric and historic-period sites and artifacts from Canada to the Caribbean. The Center's facilities include offices, laboratories and collection storage with access to specialized computer and materials testing equipment.
The Center performs cultural resource management studies for federal, state, and local governmental agencies, environmental and engineering firms, and planners and developers. Professional assistance is provided in identifying cultural resources, determining their nature and extent, evaluating their eligibility for the National Register of Historic Places and data recovery efforts. This assistance includes archaeological surveys and excavations, historical research, preparation of cultural resource planning overviews and preparation of cultural resource reports for inclusion in Environmental Impact Statements (EIS).
The Center also offers undergraduate and graduate students an opportunity for practical experience in the growing field of public archaeology.
Artifact conservation is provided by the affiliated William & Mary Archaeological Conservation Center. Under the direction of Curtis Moyer, M.A., this facility is staffed and equipped to perform the following services: complete conservation of organic and inorganic materials, retreatment of previously conserved items, and consultation on the proper storage and handling of conserved artifacts. The Conservation Center contains equipment for electrolytic reduction, airbrasive units, vacuum impregnation chambers and complete radiographic and photographic capabilities.
Selected Project Sponsors