Memories of Douglas Point
Memories of Douglas Point
Recollections by a local resident
An interview with Mr. Calvert Posey
As part of the study of the Douglas Point area and the Chiles Homesite, we interviewed Mr. Calvert Posey. A lifelong resident of the area, Mr. Posey was able to provide some insight as to the more recent history of Douglas Point as well as regional history that impacted the area and helped to make it what it is today. He passed away in January of 2006.
Mr. Posey was born in 1924 and was raised in Nanjemoy. He spent his life working in the area as a biologist and as a chemist for the Navy. His keen interest in area history led to the discovery of an important contact-era Indian village now known as the Posey Site. However, his interest was not limited to archaeology alone. Throughout his life he paid particular attention to the natural and historic setting of the Nanjemoy/Douglas Point areas.
From his recollection the Douglas Point area was an exclusively high-status area prior to the Civil War. Well-to-do families made their homes on the river with lower-class whites and blacks living farther from the Potomac. After the Civil War, the plantation system failed and many of the elite river-front houses were either abandoned or torn down for firewood. By the time Mr. Posey lived in Nanjemoy as a child, fewer people lived in the area then ever before in memory. Many people had migrated out of the region in response to an industrial boom in urban areas.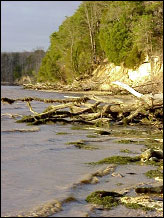 Douglas Point was used during the late-19th and early 20th century for its wharf. A wood bank was established here where locals could bring cut and split wood to be sold to firewood merchants hauling it to cities such as Washington D.C. and Baltimore.
Of Galleons and Ghosts
According to Mr. Posey local fishermen told tales of a sunken Spanish galleon in the Potomac near Douglas Point, one of the many mysteries which has never been substantiated. There is also the tale of Ida Chiles, the daughter of Reverend Chiles. She died of diphtheria at age 5 and was buried in the Chiles family cemetery there beside the house. Locals tell of hearing her ghost gasping and crying at night.