DYK Series: Shewlyn Chen-Stewart and Louis Hubert
William & Mary Information Technology is comprised of intelligent and hardworking individuals who exemplify the university's core values of belonging and respect. Our "Did You Know?" series gives us the opportunity to shine a spotlight on members of our team and introduce others to their work, as well as the unique things that make them tick.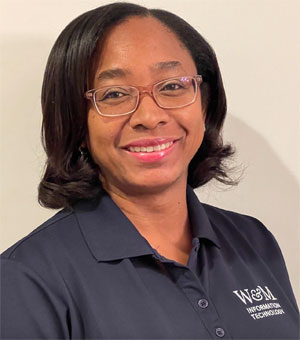 Shewlyn Chen-Stewart and Louis Hubert are long-time members of the IT team who have recently taken on new roles and responsibilities on the technology team. Shewlyn started at W&M 13 years ago as a senior programmer analyst, and now she is the manager of systems integration and automation. Louis started as a level one technician in the Technology Support Center and moved up through the ranks to his new position as the manager of applications administration.  
In her new role, Shewlyn handles systems analysis for Banner. If anyone at the university wants to integrate with a third-party vendor or anything that interacts with Banner, she is responsible for analyzing the need for that new system and assigning the necessary talent on her team to get the work done. With 13 years of programming support under her belt, a lot of knowledge resides with Shewlyn. She leads a team of three, so a big part of her role is designing what needs to be done and training new talent.  
Louis also leads a team of three and while his role is not entirely new, it is still one he is fleshing out. In a nutshell, Louis is responsible for being a liaison between vendors and users on campus for the applications he and his team manages. He advocates for the campus user in that regard and provides support while maintaining the platform. Each application administrator on Louis's team has a portfolio of the apps they manage, which includes all the apps in Office 365, Box, Qlik, Slate and others. Each app admin has about 10-15 apps they manage.  
Shewlyn is a unique member of the IT team because she spearheaded remote work far before the pandemic ever had anyone working from home. In 2011, Shewlyn's family relocated to Tennessee and because she was such an invaluable member of the team, IT was lucky enough to keep her on board and she has telecommuted ever since. "When we relocated it was not common to have remote work at William & Mary," she recalls. "There wasn't a lot of guidance on it. We did a lot of digging, chasing and asked the right questions."  
This was before a time when the university had tools like Microsoft Teams to help with communication and collaboration in a remote work environment, so Shewlyn relied on tools like Panopto and Zoom. Prior to that, she used Shoebot, which was essentially an iPad on wheels that enabled her to roll around Jones Hall and talk to people as if she were there in person. Shewlyn says the flexibility telecommuting afforded her, especially with young children, has been one of the many reasons she has loved working for IT for all these years.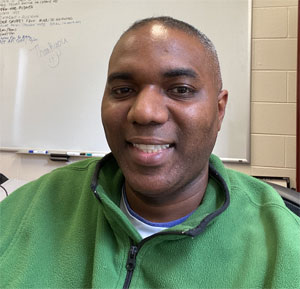 For Louis, his favorite part about working in IT is the variety of projects and technologies he gets to work on. Whether it be data crunching, project planning, a one-off project in Excel or Teams or a big platform like Microsoft Office 356, the ability to go into all those different things as needed keep things interesting. 
Did you know?  
When they are not at work, Shewlyn and Louis love to spend time outdoors. For Shewlyn, she enjoys hiking, bike riding and camping. For Louis, it is long distance "bike packing" or bike riding with camping along the way (though he admits biking and staying in a hotel is more his style). He recently completed a ride from Maryland to Georgetown and has his sights set on a 300+ mile ride from Pittsburgh to Maryland next. 
Louis is into building electronics, with a recent example being a name tag that changes colors (#badgelife). Also, before working at W&M, Louis worked at the Williamsburg Library as an A/V Technician and used to work at the Newport News Library. Because of his background he visits the library in every city he visits. He says he does not really have a love of books, but a love of libraries.  
Shewlyn and her husband eloped in Las Vegas and were married by - you guessed it - an Elvis impersonator. They got up one Saturday morning, drove to Vegas, went to the courthouse, got a marriage license, and by the time they left the courthouse the different wedding chapels were competing to get them to pick their venue. It is something they still laugh about with their loved ones.