Deputy CIO reflects on more than two decades in W&M IT
Berni Kenney

to

retire on February 9

th

 
In February, William & Mary Information Technology will bid farewell to a longtime leader and friend of the university. For more than two decades, Bernadette "Berni" Kenney has driven innovation and built bridges between IT and offices on campus, as well as within her own department.  
Kenney came to W&M in 2002 as director of enterprise information systems, where she was charged with implementing the Banner enterprise resource planning platform. Before coming to W&M, she worked at Bates College in Lewiston, Maine, the University of North Carolina and the University of Vermont.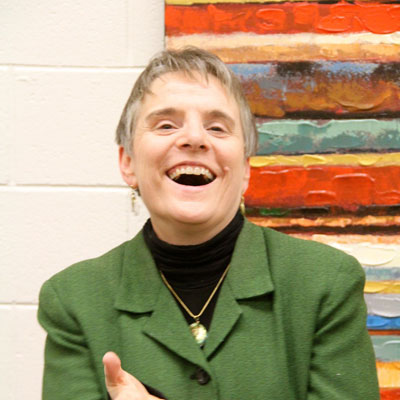 "In my previous position at Bates College I had implemented Banner, so I was confident in my ability to do that again," Kenney said. "It was comfortable for me. They had already begun the implementation when I joined IT, and on my first day we made the first item available, which was a web form for admissions where recruits could fill out their interest in the university." 
A native of New England, Kenney had visited Williamsburg as a tourist and walked the W&M campus. During that trip, she thought to herself, "I could work here." Two years later, she saw a listing for the director of enterprise information systems in the Chronicle of Higher Education and, as it was approaching the application deadline, sent in what she describes as her "worst cover letter ever." Little did she know it would kickstart a 20-year career at the nation's second oldest institution of higher education. 
Kenney says the fact that she had implemented Banner before really caught the attention of the hiring committee. "I knew what to do and was ready to do it again," she said. "It was a four-year project, and the biggest technology project I have been a part of during my time here." 
Having served as director of enterprise information systems and deputy CIO, there was no one better suited to take the reins as interim CIO when Courtney Carpenter announced his retirement in 2019. One thing Kenney never could have anticipated was that she would be leading IT's team of more than 100 employees into a global pandemic where their collective and individual expertise would be critical to the success of the entire university.  
In the blink of an eye, W&M IT needed to transition everyone to remote teaching, learning and work. It was a daunting task, but Kenney held down the fort and led with grace until the current CIO, Dr. Edward Aractingi, assumed the position in June 2020.  
"Berni has had a remarkable career at W&M and her contributions to this team are immeasurable," said Aractingi. "Everyone who interacted with Berni over the years considers her a close business partner and many people in IT have looked to her as a mentor. I am personally grateful for her support and counsel on which I have relied since coming here. The team and I will miss working with her immensely! 
In addition to the implementation of Banner, Kenney notes that the expansion of wireless, establishing the Chief Data Officer role to drive whole university data-centered thinking and initiating a technology procurement review process 14 years ago that has evolved to what it is today were some of the most notable initiatives she had the pleasure of witnessing and working on during her tenure.  
When asked what she will miss most about working at W&M, Kenney says it is the people. "I have made a lot of friends, professionally and personally, and it will be different not seeing them and interacting with them on a regular basis," she said. "Those friendships and relationships I have built will be the thing I miss the most, by far." 
"Berni put the information in information technology," said Chief Technology Officer Corinne Picataggi. "She loved being in the center of the information flow and was a strong advocate for IT being a part of conversations across campus. Berni cultivated relationships over her long career here and leveraged those to connect people with need to people with solutions." 
"Berni has been such an important colleague and friend to me during my W&M tenure," says Associate Provost & University Registrar Sallie Marchello. "Our collaborations were always productive and usually involved a lot of laughs to go along with the hard work and negotiations. Berni leaves an incredible legacy not just in IT but at the university writ large. We'll miss her tremendously but wish her all the best in a well-deserved happy retirement." 
Looking ahead, Kenney says she is most excited about having no plans and having the ability to just putter. She and her husband, Larry, split their year between Williamsburg and their cabin in Rome, ME where she is looking forward to some down time, free of work or obligations.  
A self-professed Darth Vader fanatic, even Kenney's text message ringtone is the unmistakable sound of Darth breathing. Longtime colleague and Chief Information Security Officer Pete Kellogg said, "I never understood Berni's thing with Darth. Darth is destructive, whereas she is intelligent, amiable, collaborative, reasonable and open-minded. Berni's force is constructive, and the force is strong with her." 
Kenney says what she will miss about working with the IT team is the camaraderie. "IT is unique because we get a lot of really challenging work," she explained. "There is so much to do and there is a lot of early morning and late-night work that often goes unnoticed by many on campus, but we notice. We have a support structure that puts great emphasis on work-life balance. We have always understood the importance of putting family first, and our team is made up of genuine, good people. I will miss them."