Trailblazing African-American women to be honored at William & Mary Commencement
U.S. Sen. Mark Warner to give keynote address
Katherine Johnson, a NASA mathematician who helped make the first human spaceflight possible, will be honored at William & Mary's 2018 Commencement ceremony, scheduled for May 12 at 9 a.m. in Zable Stadium. U.S. Sen. Mark Warner LL.D. '02 (D-Va.), a longtime supporter and advocate for higher education and William & Mary as both Virginia governor and senator, will serve as the speaker for the ceremony.
Johnson, whose story was featured in the film and book Hidden Figures, will not be able to attend the ceremony due to health issues, but she will address graduates via video remarks. She will be represented by her daughters, Katherine Moore and Joylette Hylick. Prior to the Commencement ceremony, W&M President Taylor Reveley will bestow an honorary Doctor of Science degree on Johnson, who turns 100 this summer. The event will be held just miles away from where she made history at NASA Langley in Hampton, Virginia. Three other history-makers will also be recognized at the event: W&M's first African-American residential students, Lynn Briley '71, Karen Ely '71 and Janet Brown Strafer '71, M.Ed. '77. The university has been commemorating the 50th anniversary of their arrival on campus throughout the 2017-18 academic year with a series of special events, lectures and performances. Known as the "Legacy 3," all three women will receive honorary doctorates. Warner was awarded an honorary degree at William & Mary's 2002 Charter Day ceremony.
W&M Chancellor Robert M. Gates '65 will offer welcoming remarks. The ceremony will also mark the last Commencement that Reveley presides over as president of the university. He will give closing remarks. Reveley will retire on June 30 after more than a decade in that role.
"One of our nation's most dedicated public servants will speak at this year's Commencement, and we will honor the extraordinary journeys of four women of color," said Reveley.
"Katherine Johnson's achievements are legendary. It's marvelous that her inspiring example has not passed quietly into obscurity.
"No less courageous are our three alumnae, Lynn Briley, Karen Ely and Janet Brown Strafer, who arrived on campus in 1967 as the first African-American residential students at William & Mary. They led the way.
 "Senator Warner has been a stalwart friend of William & Mary and higher education for many years. Over the past decade he has been an especially strong advocate for members of the military and worked closely with our Law School's Puller Clinic to ensure veterans have better access to benefits."
Katherine Johnson
Born in White Sulphur Springs, West Virginia, Johnson excelled in school, skipping ahead several grades so that she was attending high school on the campus of West Virginia State College at the age of 13. She enrolled at that college five years later, graduating with highest honors in 1937 before taking a teaching position at a black public school in Virginia.
Johnson was one of three black students selected to integrate West Virginia's graduate schools, enrolling in West Virginia University's graduate math program. She left the school at the end of the first session to start a family and later went back to teaching when her children were older. She moved to Virginia for a position in the National Advisory Committee for Aeronautics' Langley laboratory, starting work in its all-black West Area Computing section in 1953.
She was soon assigned to a project in the Maneuver Loads Branch of the Flight Research Division, where she spent the next four years analyzing flight test data, including the investigation of a plane crash caused by wake turbulence. In 1957, she provided some of the math for a document that served as a compendium to a series of lectures given by engineers who helped form the core of the Space Task Group, the nation's first foray into space travel.
After NACA became NASA in 1958, Johnson continued her work. In 1960, she and engineer Ted Skopinski co-wrote a report that provided equations for an orbital spaceflight with a specific landing location. She was the first woman in the Flight Research Division to receive credit as an author for a research report. Johnson also completed the trajectory analysis for Alan Shepard's May 1961 mission Freedom 7, the nation's first human spaceflight.
The following year, astronaut John Glenn asked that Johnson run the orbital equations for his Friendship 7 mission, numbers that had been calculated by a new network of computers and tracking stations, which the astronauts did not trust. Glenn's successful mission, becoming the first American to orbit the Earth, marked a turning point in the space race between the U.S. and the Soviet Union.
Johnson also did the calculations to synch Project Apollo's Lunar Lander with the moon-orbiting Command and Service Module and worked on the Space Shuttle and Earth Resources Satellite. She retired in 1986 after 33 years at Langley. Throughout her career, she published 26 research reports. In 2015, President Barack Obama presented her with the Presidential Medal of Freedom. In 2017, NASA Langley opened a new computational research facility named for her.
The book Hidden Figures by Margot Lee Shetterly, in which Johnson and several other trailblazing women at NASA are featured, was part of William & Mary's common book program for all incoming freshmen in 2017.
Mark Warner
A native of Indianapolis, Indiana, Warner was the first person in his family to graduate from college, earning a bachelor's degree in political science from George Washington University in 1977 and graduating as the valedictorian of his class. While in college, he worked for Sen. Abe Ribicoff (D-Conn.) and Rep. Chris Dodd (D-Conn.) He received a law degree from Harvard in 1980. During his time there, he coached the school's first women's intramural basketball team.
Warner spent 20 years as a technology and business leader, investing early in the cellphone industry. He cofounded the company that would become Nextel and has invested in hundreds of start-up companies as founder and managing director of the venture capital firm Columbia Capital.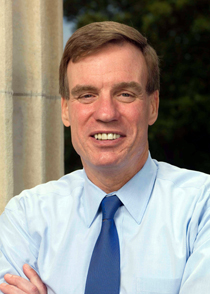 Inspired to go into politics by his eighth-grade social studies teacher, he engaged in a number of public service opportunities and in his first elective office, he became the governor of Virginia in 2002. During his four years in that position, Virginia was ranked as the best state for business, the best managed state and the best state in which to receive a public education, according to Warner's biography.
In 2008, the same year he gave the keynote address as the Democratic National Convention, he was elected to the U.S. Senate; he was reelected in 2014. He currently serves on the U.S. Senate's finance, banking, budget and rules committees as well as the select committee on intelligence, where he serves as vice chairman.
Warner is known for working as a bipartisan leader who has worked to increase government performance and accountability, promote private sector innovation and job creation and address national debt. He is also known for his advocacy for military members and veterans. He has been closely connected to William & Mary Law School's Lewis B. Puller Jr. Veterans Benefits Clinic, and in 2013, announced its status in joining the Department of Veterans Affairs' Fully Developed Claims Community of Practice. That same year, he also announced that the clinic was designated as a best practice model by the VA; it was the first law school clinic in the nation to receive the status.
Warner has made multiple other visits to William & Mary throughout his career, giving lectures and touring facilities. In 2011, he provided the Commencement address for W&M Law School.
Lynn Briley, Janet Brown Strafer and Karen Ely
A native of Portsmouth, Virginia, Briley graduated with honors from I.C. Norcom High School in 1967, the same year that she, Strafer and Ely would make history when they arrived on W&M's campus as its first residential African-American students. She graduated from the university in 1971 with a degree in English and started working as a teacher in her hometown the following year. She went on to earn a master's degree in communications from Norfolk State University in 1977.
In addition to teaching language arts and English between 1972 and 1986, Briley also taught in adult literacy programs and worked as a teacher trainer. In 1987, she completed a certificate of advanced study in educational administration at Old Dominion University and pursued post-graduate studies in educational leadership at William & Mary. She later served as assistant principal at Cradock, Manor and Churchland high schools, principal of the EXCEL Campus alternative high school and principal of Churchland Middle School and I.C. Norcom, where she had graduated. She retired in 2013 after 41 years of service to Portsmouth Public Schools. She now serves as an adjunct instructor Tidewater Community College's Portsmouth campus.
Ely graduated from W&M with a degree in biology before earning her master's in science education from Old Dominion University. She worked as a middle school science teacher at Wadleigh Secondary School in New York City for eight years. Now a registered radiation protection technologist, she has worked in the radiation protection field for more than 27 years, including 14 in the Radiological Control Office at Norfolk Naval Shipyard.
Ely currently serves as a health physicist at the Navy and Marine Corps Public Health Center in Portsmouth. In that role, she is responsible for regulating the use of radioactive materials for naval medical and research facilities through the Navy's Master Materials License issued by the Nuclear Regulatory Commission. As part of the Radiation Health Team, Ely is a license/permit reviewer and inspector for the medical and research use of radioactive material worldwide.
Strafer earned a bachelor's degree in elementary education and a master's degree in education from W&M. She was a teacher and guidance counselor for the Williamsburg-James City school system before embarking on a 35-year career in federal service. She began as an education counselor for the Army in Berlin before becoming an education specialist and team leader of subject matter experts at the Army Engineer School. She next served as a management analyst for the National Guard Bureau before assuming several other positions in the Pentagon, including program director for the Army Strategic Leadership Development Program.
She later received a special assignment in the Center for Land Warfare, where she served as the lead on tasks assigned by the National Defense Panel during a Congressionally-mandated review of the structure of the Armed Forces. Prior to retiring, she also was the branch chief and senior policy analyst in the Combating Weapons of Mass Destruction and Proliferation Policy Division. In addition to her federal service as a civilian, Strafer served as a member of the Maryland Army National Guard for 22 years with multiple assignments.
All three of the alumnae have visited campus many times throughout the 50th anniversary year. They led W&M's new students through the Wren Building during Convocation in August and served as the grand marshals for the Homecoming parade in October.