Seven W&M students to be commissioned at May 11 ceremony
Seven William & Mary ROTC cadets will be commissioned as officers in the U.S. Army during a May 11 ceremony on campus.
Lt. Gen. Theodore D. Martin, deputy commanding general/chief of staff of the U.S. Army's Training and Doctrine Command, will commission the cadets and speak at the ceremony, scheduled for 12:30 p.m. in the Commonwealth Auditorium.
W&M Chancellor and former Secretary of Defense Robert M. Gates '65, L.H.D. '98, W&M President Taylor Reveley and Army Maj. Dustin Menhart, chair of the university's military science department, are also expected to provide remarks.
Menhart, a W&M professor of military science, took over as department chair last summer after Army Lt. Col. James M. Kimbrough retired after four years at the university and 22 in the U.S. Army.
"I am so proud of and confident in our newly commissioned second lieutenants," Menhart said. "They have the ability and leadership skills to instantaneously contribute to the Army.  Our program here at William & Mary continues to safeguard leaders of character and quality second lieutenants for the Department of Army, thanks to the support we receive from the faculty, administration and staff."
The cadets to be commissioned are:
Christian Alexander Chisolm, Armor/Signal Corps, Active Duty
Thomas William Garcia, Medical Service Corps, Active Duty
Max Michael Sterling, Infantry/Military Intelligence, Active Duty
Madeline Rose Stolpe, Transportation Corps, Active Duty
Duncan Cary Stone, Branch Unassigned, Reserve Duty
Harrison Armstrong Tamke, Field Artillery/Military Intelligence, Active Duty
Veasna Cedric Tan, Branch Unassigned, Reserve Duty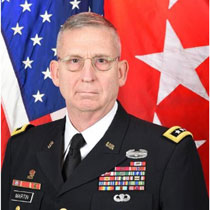 Martin assumed duties as deputy commanding general/chief of staff at TRADOC in March.
Martin's family military heritage goes back more than 10 generations to 1776 when Pvt. Daniel Martin enlisted in the 1st New Jersey Infantry Regiment and fought the British during the American Revolution, including service at Valley Forge. Lt. Gen. Martin graduated from the United States Military Academy in 1983 and was commissioned a second lieutenant of armor.
His military education includes the Armor Officer Basic Course (Cavalry Track), the Infantry Officer Advanced Course, the Naval College of Command and Staff and the Army War College. He holds a master's degree in national security & strategic studies from the Naval War College, a master's degree in strategic studies from the Army War College and a master's degree in business from Webster University.
W&M's Commencement will take place May 12 at 9 a.m. at Zable Stadium, and for the second year red, white and blue graduation cords will be available for student veterans to wear at the ceremony.