More events honor 50 years of black students at W&M
The 2017-2018 academic year marks the 50th anniversary of the first African-American residential students admitted to William & Mary. In 1967, Lynn Briley, Janet Brown Strafer and Karen Ely arrived at William & Mary. The university honors them and William & Mary's entire African-American community, past and present, this year through "Building on the Legacy," a series of special events, guest speakers and performances. All events are free and open to the public, unless otherwise noted.
The commemoration's theme is Sankofa, which, in the Akan Language of West Africa, reflects the idea that "it is not taboo to go back and fetch what you forgot." The philosophy is famously represented by the Adinkra symbol of a bird with its head turned backward, taking an egg from its back. "Building on the Legacy" calls back to the Sankofa teaching that the past must be known and understood in order to move forward and make the most of the future. – Ed.
March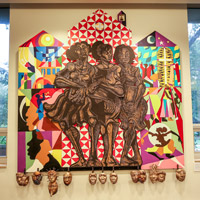 The work of African-American artist and educator Steve Prince is the focus of a special exhibition, "Communal Resurrection," in Andrews Hall running the month of March. Prince has visited William & Mary before, teaching middle-school students and working with a summer class to develop a mural that launched the yearlong commemoration. He will also participate in the Lemon Project Symposium (below). A reception, Leah Glenn Dance Theatre performance and gallery talk for "Communal Resurrection" will be held on March 15 at 4:30 p.m. in Andrews Hall, partially funded by the W&M Arts & Sciences Annual Fund.
Some of the first African-American alumnae and faculty will return to William & Mary at 6 p.m. on March 15 for "Learning from the Past to Shape the Future," a panel discussion hosted by the School of Education's Higher Education Program that will explore the experiences of these trailblazers as well equity and inclusion in higher education. Moderated by Assistant Professor Stephanie Blackmon, the panel will be held at the School of Education's Holly Room. It will include two of the three African-American students first in residence at William & Mary — Lynn Briley '71 and Janet Brown Strafer '71, M.Ed. '77 — who both went on to be educators. Joining them are James M. Patton, professor emeritus, and Brenda Williams, professor emeritus.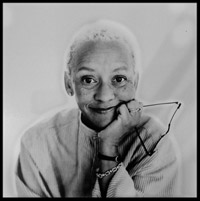 The Lemon Project and the 50th commemoration committee have joined forces for this year's spring symposium, scheduled March 16-17 and themed "Desegregating Higher Education in Virginia: William & Mary in Historical Context." The March 16 events will be held in the Commonwealth Auditorium, while the March 17 events are scheduled at the School of Education. Poet Nikki Giovanni is the keynote speaker, scheduled for 9:30 a.m. on March 17. The two-day event features presentations, panels and performances, plus a hands-on workshop with artist Steve Prince, who with W&M students created the mural "Lemonade: A Picture of America" to launch the 50th commemoration:
"The Second Line: Redressing American Systems of Education" is a talk offered by Prince at 9:30 a.m. on March 16.

A roundtable at 10:15 a.m. on March 16 will discuss the relationship between William & Mary and the local African-American community. Featuring Anthony Conyers, Edith Heard, Virginia Wells and Clarence Wilson.
A roundtable at 1 p.m. on March 16 will explore the work of Nikki Giovanni in a larger context.
Steve Prince will lead the "Lemon Revival" workshop at 3 p.m. on March 16.
Colonial Williamsburg interpreter Valerie Gray-Holmes will perform "The New Gatekeepers" at 7 p.m. on March 16.
The Leah Glenn Dance Theatre will perform to Nikki Giovanni's poetry at 9:30 a.m. on March 17 to introduce the poet before she delivers the keynote address.
A panel will explore "Seeing the Unseen and Telling the Untold: Institutions, Individuals and Desegregating the University of Richmond" at 10:45 a.m. on March 17.
"Desegregating Education: Placing W&M in Historical Context" at 1 p.m. on March 17 invites the personal narratives of those who were at William & Mary during the pivotal era of desegregation. Moderated by Law School Dean Davison Douglas, the panel will include Lillian Ashcraft-Eason Ph.D. '75, Lynn Briley '71, Jane Brown Strafer '71, Michael Engs '69 and Sam Sadler '64, M.Ed. '71.
"Building on the Legacy" at 2:30 p.m. on March 17 examines William & Mary's next steps in its path toward reconciliation. The panel includes Karen Ely '71, Terry Meyers, Clarence Rodwell and Ron Simms.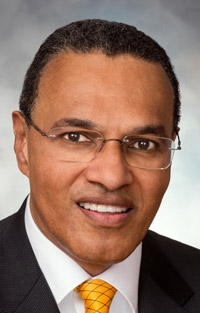 The final talk in the School of Education's Diversity Lecture Series will feature Freeman A. Hrabowski, president of the University of Maryland, Baltimore County, at 6 p.m. on March 21 in the school's Matoaka Woods Room. Hrabowski was named by former U.S. President Barack Obama to chair the President's Advisory Commission on Educational Excellence for African-Americans. He was named one of the 100 most influential people in the world by Time Magazine in 2012 and one of America's best leaders by U.S. News & World Report in 2008. Hrabowski's most recent book, Holding Fast to Dreams: Empowering Youth from the Civil Rights Crusade to STEM Achievement, describes the events and experiences that played a central role in his development as an educator and leader. The lecture series is supported by the late Robert Stanley Hornsby '41, J.D. '49 and Lois Saunier Hornsby as well as the W&M Center for Gifted Education.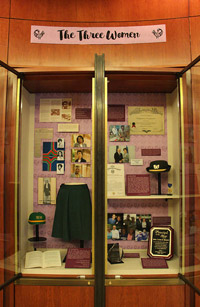 Swem Library will continue to display "Brave Enough to be First: Exploring 50 Years of African-Americans in Residence at William & Mary," an exhibition of artifacts detailing the university's history with African-Americans, from slavery to the present day. The exhibition will remain available in the first floor rotunda's Marshall Gallery through May 13.
April
The 50th anniversary culminates with Legacy Weekend April 12-14, featuring special events and performances.
Storyteller and author

Onawumi Jean Moss will perform at 5:30 p.m. on April 12 in Sadler Center's Tidewater A and B rooms. W&M's Botetourt Chamber Singers, plus Deborah Hudson on the piano, will accompany her.
Opera in Williamsburg will host African-American singers for a black opera recital at 7 p.m. on April 13 in the Commonwealth Auditorium. The gala will feature African-American contributions to and influences on opera. General admission is $30, $10 for William & Mary students.
Terry Meyers, Chancellor Professor of English emeritus, with Mosaic Fellow Mallory Walker, will lead a walking tour exploring sites of African-American significance at William & Mary at 10:30 a.m. on April 14 beginning in the Tucker Hall lobby.
A panel discussion with the "Legacy Three," the first African-American residential students, will be held at 1:30 p.m. on April 14 in the School of Education's Dogwood Room. The alumnae will discuss their experiences integrating William & Mary and answer audience questions.
An awards dinner honoring the Legacy Three and recognizing other African-American alumni will be held at 6 p.m. on April 14 in the business school's Brinkley Commons. Journalist Charlayne Hunter-Gault, who was one of the students that integrated University of Georgia, will be the keynote speaker. The evening will also include performances by Russell Taylor '96, DeLauren Davis '18, Harris Simon's Jazz Trio and others. The cost is $125 per person.
On April 19, a special ceremony will be held as two plaques are dedicated at the Wren Building. One plaque recognizes the 50th anniversary of the first African-American students in residence, the other recognizes the 100th anniversary in 2018 of the first women students at William & Mary. The university will commemorate that milestone during the 2018-2019 school year.
May
The W&M Choir will publicly premiere composer Jeraldine Herbison's "Messages to the Human Heart" at Commencement on May 12. The work was commissioned to honor the 50th anniversary of the first residential African-American students at William & Mary.