How can you control speed of a genetic circuit? W&M's iGEM team knows
An iGEM project is an excellent example of how science is done in the 21st century — team-based, multidisciplinary, quantitative and focused on the solution of difficult problems.
iGEM is about synthetic biology. The acronym stands for International Genetically Engineered Machine. Each year iGEM hosts the largest synthetic biology competition in the world. Hundreds of student teams from the world's major research institutions are preparing for the iGEM Grand Jamboree, Nov. 9-13 in Boston. Each team's synthetic-biology creation will be judged in a multi-faceted competition.
A William & Mary team won the iGEM Grand Prize in 2015, bringing home what some have called the World Cup of Science. The 2017 team is finishing up months of work on an iGEM project that they believe will be competitive — and more importantly, useful.
It's the fourth consecutive year for the university to send a team to the Grand Jamboree in Boston. Margaret Saha, Chancellor Professor of Biology, has been the team's advisor for all four years. She says William & Mary teams have a reputation for doing incredibly well and attracting large audiences for their presentations.
"The first year — not having the benefit of attending a Jamboree yet — we got a bronze medal," Saha said. "Of course, the second year we won the Grand Prize. Last year, we were among the final three for the best poster, and we were among the final three for best foundational advance — and we got a gold medal. Our track record is pretty amazing."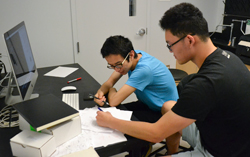 The 2017 team has two returnees from the 2016 group and Saha says, "They're both invaluable." The veterans are team leader Ethan Jones '19, who majors in computational and applied mathematics and statistics (CAMS) and biology, and Callan Monette '19, a neuroscience and CAMS major.
Other team members and their majors are Sejal Dhawan '20, neuroscience; Theresa Gibney '18, biology; Christine Li '20, biology; John Liu '19, math; Alyssa Luz-Ricca '20, neuroscience; Xida "Cedar" Ren '20, computer science/math; and Cici Zheng '20, biology.
iGEM projects are collaborative and interdisciplinary, requiring contributions from fields including — but not limited to — biology, mathematics, chemistry and engineering.
Saha said each iGEM project begins in the spring with the student team collaboratively deciding on the project they wish to pursue. iGEM is an open challenge, and the field of synthetic biology has a nearly limitless set of frontiers to explore. So the first task for each team is to figure out a project.
"In spring, everyone comes up with ideas. We discuss the ideas and narrow it down. A project generally emerges," she said. "It doesn't even require a vote, per se. As we discuss project ideas, one just rises to the top. Most importantly, the discussion is student-driven."
Each iGEM team receives a starter kit of BioBricks, an assortment of biomolecular components that can be assembled into biological circuits, much as an electrical engineer assembles resistors, diodes, etc. into circuits.
"We do like to make the comparison to electronic circuits when we talk about synthetic biology or bioengineering, because that's really what bioengineering is all about," Monette said. "It's about taking these biological parts and bringing them together in a way that we can actually create new applications using an engineering mindset."
She explained that the team puts together biological circuits of genes that are included in the iGEM BioBricks set. The idea is to engineer a synthetic chain to produce a desired output.
"A circuit is made up of multiple sets of genes. A gene is a segment of DNA that codes specifically for a type of protein,' Monette said, adding that the protein-coding is known as gene expression. "Proteins are a really diverse group of molecules that do all kinds of different jobs throughout the cells."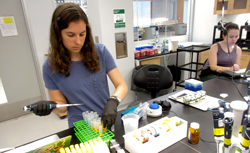 The spring project selection process gave birth to a challenging and potentially valuable project idea: figure out a way to control gene expression speed.
"As you might guess from the name, it has to do with how fast circuits work," Jones said. "There's no easy, simple, predictable way to change the speed of a genetic circuit. We're working on a way to allow teams to change the speed of any gene or circuit that they want to build. And we want that to be really easy for people to do."
He said the idea is to harness protein degradation — the breakup into constituent amino acids — as a means of controlling circuit speed. As in many synthetic-biology initiatives, it has a considerable computational aspect — very "bio-mathy," as the team says, making the most the contributions of the math, CAMS and computer science majors. The predictive qualities of their mathematical analyses of circuits have pointed the way to specific speed-control solutions.
"To regulate speed, you have to — you must — change the degradation rate of a given protein in a genetic circuit," Jones said. "Using that as a property, we're developing a library of parts — a component-based kit — that can allow any team to essentially alter their genetic speed."
Jones explained that the iGEM ethos encourages teams to take on projects that build on earlier work, and also to create something that future synthetic biologists can use as a basis for the next level.
"That's not just in line with iGEM and with William & Mary's goals, but it's also in line with how science is supposed to work," he said.
Beyond the project itself, the iGEM competition strongly encourages each team to spread the synthetic-biology gospel beyond their lab and beyond their institution. The 2017 team has a dedicated outreach chair in Alyssa Luz-Ricca.
"That has worked fantastically well. Alyssa has been amazing," Saha said. Outreach initiatives have included arranging a number of visits to the lab by state and U.S. officeholders.
 Luz-Ricca also spearheaded a speaker series featuring talks by William & Mary scientists. A number of local Girl Scouts were introduced to the wonders and possibilities of synthetic biology through the outreach program and many important collaborations were established with local teachers with the help of State Senator Monty Mason. Mason, 1989 graduate of William & Mary, pronounced himself a fan of the team, and said he was particularly impressed by the outreach component.
"The innovative work produced by this group of students is not only impressive in substance but should also be lauded for their greater goal of exposing future students to their modern research," Mason said. "The William & Mary iGEM team went the extra mile in not only doing the research but following it up with outreach to further their impact. This is what a team effort looks like and I look forward to seeing what they have in store for the future."
It's an inescapable fact that engineering speed requires a lot of time. Saha talks of team members logging days of 12, 14 and 18 hours on the project during the summer. The team has been working since spring, and the November Grand Jamboree is later than other years — usually the competition is held in September. She said the extra time to hone the project is a benefit, but also has a considerable down side.
"All of these students are full-time students, and they all have full-time loads of very difficult, challenging courses. And the project doesn't stop when classes begin. So they're really balancing all their course work with iGEM," Saha said.
The team is getting academic credit in the form of a one-semester course, Research in Synthetic Biology, she said. Saha added that the work won't end after the team presents its findings in Boston.
"Instead of working on a project and then seeing it vanish after a Jamboree, our goal is to make this more sustainable by taking interesting aspects and bring them to fruition in a paper," she said.  "This happened last year, with a paper in the works, and I am sure that this absolutely remarkable team will make this happen again."