Muscarelle publishes book of artwork celebrating the life of 1st Lt. Todd Weaver '08
Jeanne Weaver to sign book at William & Mary Bookstore Saturday
Local artist Jeanne Weaver on Saturday will sign copies of her book, Losing Todd: A Mother's Journey, honoring her son and William & Mary alumnus 1st Lt. Todd Weaver '08, who was killed in Afghanistan in 2010. The book was published by the Muscarelle Museum of Art and William & Mary.
Jeanne Weaver will begin signing books at 10 a.m. this Saturday, Sept. 12, at the William & Mary Bookstore in Merchant's Square, 345 Duke of Gloucester St. in Williamsburg.
The book features Jeanne Weaver's oil paintings, along with essays written by former Secretary of Defense and William & Mary Chancellor Robert M. Gates '65, William & Mary President Taylor Reveley and Todd Weaver's friends, professors and military colleagues.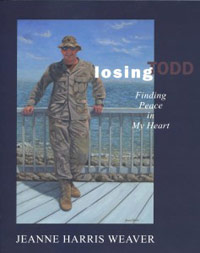 Todd Weaver attended Bruton High School in York County, excelling in academics, football and baseball. He continued to succeed at William & Mary, graduating in 2008 with Phi Beta Kappa distinction. Todd Weaver was killed two years later, on Sept. 9, 2010, while leading his platoon in Afghanistan's Arghandab Valley. He was 26 years old. He left behind a wife — his high school sweetheart — and a small daughter, along with grieving parents, siblings and countless friends.
That same day, Jeanne Weaver closed down her art studio. It was months before she returned, ready to channel her pain and grief. She worked for days on end, eventually producing 21 snapshots of Todd's life, each based upon the stories and memories of those who knew him best. In her work, Jeanne Weaver captures a parent's sorrow over the loss of a child, chronicling her journey through the series of oil paintings.
Today, the paintings in the book are in Weaver's personal collection, except for one that belongs to the President's Collection at the Muscarelle. It is displayed in the Earl Gregg Swem Library.
Jeanne Weaver has been married to her husband Donn for 45 years. She is a mother of four, a world traveler and an artist noted for a special skill in oil painting, honed over the last 15 years. Two more of her four children also attended William & Mary.
Aaron De Groft, Muscarelle's director and CEO, said William & Mary lost an immense treasure the September day Todd Weaver lost his life. He was the second alumnus W&M lost to the wars in Iraq and Afghanistan, after Ryan McGlothlin '01 was killed in 2005 while serving in Iraq. To honor these losses, William & Mary last year erected a
plaque
in the historic Wren Building.