Tree dedication ceremony to be held for Todd Weaver
Just days after the holiday on which America asks its citizens to remember veterans, the William & Mary community will honor one of its own who recently gave everything in his service to the country.

The Veterans Society of William & Mary is hosting a tree dedication ceremony in honor of Army 1st Lt. Todd Weaver at 2 p.m. Nov. 14 in the Wren Building's Great Hall and the Wren Yard.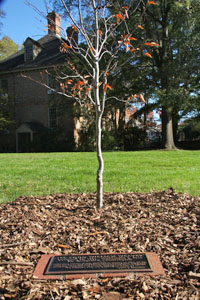 The event will begin in the Great Hall at 2 p.m. At approximately 3:30 p.m., the participants will move outside near the Wren Kitchen where an American beech tree has been planted and plaque has been placed in honor of Weaver. An open microphone will be available for people who would like to speak during the outdoor segment of the event.

Jeremy Stout '12, a Marine veteran and president of the Veterans Society, said that he'd like to see many people from the campus and local community come to the Sunday afternoon event to honor Weaver.

"There is no better source of satisfaction for an American veteran than the support of one's fellow countrymen," said Stout. "The College of William and Mary Veteran's Society welcomes you to pay tribute to Todd Weaver's life and legacy. Please come out and commemorate a great American hero who gave the ultimate sacrifice."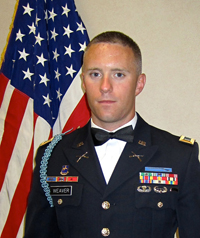 Weaver, a member of College's Class of 2008 and graduate of Bruton High School in York County, died Sept. 9 in Kandahar, Afghanistan, of wounds suffered when insurgents attacked his unit with an improvised explosive device, according to a release by the U.S. Department of Defense. He was assigned to the 1st Battalion, 320th Field Artillery Regiment, 2nd Brigade Combat Team, 101st Airborne Division (Air Assault), Fort Campbell, Ky.

The lieutenant was well known on campus as an exceptional student and a star ROTC cadet. During his time in the ROTC, he served as a cadet battalion commander, a position assigned only to top cadets for excellence in leadership, scholarship and physical fitness. After commissioning into the Army, Weaver spent additional time with the College's ROTC as a gold bar recruiter.

"William and Mary ended up being an important part of who Todd was," said Donn Weaver, Todd's father. "He found a home in the ROTC Program and the school itself and Williamsburg continued to be his home base, even after graduation."

Adrianna Vargo, Todd's sister and a 1996 graduate of William & Mary, said that her family has been "extremely moved by the outpouring of support from the College and the Williamsburg Community."

"In many ways it is a testament to the extraordinary person my brother was, but it also affirms that there are people who have not forgotten - this is the greatest gift you can give to any family going through such a tremendous loss," she said.

A memorial service was held for Weaver in Williamsburg in September, and he was buried in Arlington National Cemetery in October.

The tree that has been planted on campus in honor of Weaver was delivered to the College by members of the Veterans Society of George Mason University. The Veterans Society of William & Mary is still accepting donations to help fund the tree planting event and a scholarship. Donated funds will first go toward the event's cost and any extra money will go toward a scholarship that was set up by Vargo. For more information, contact Stout at jwstout@email.wm.edu or the W&M Gift Accounting Office at 757-221-1008.