W&M mourns the loss of Todd Weaver '08
The William & Mary and Williamsburg communities are mourning the death of College alumnus and Army 1st Lt. Todd W. Weaver, 26, of Hampton, Va.
Weaver, a member of College's Class of 2008 and graduate of Bruton High School in York County, died Sept. 9 in Kandahar, Afghanistan, of wounds suffered when insurgents attacked his unit with an improvised explosive device, according to a release by the U.S. Department of Defense. He was assigned to the 1st Battalion, 320th Field Artillery Regiment, 2nd Brigade Combat Team, 101st Airborne Division (Air Assault), Fort Campbell, Ky.
A memorial service for Weaver will be held at 2 p.m. Saturday, Sept. 25, at Williamsburg Community Chapel. The chapel will open at 1 p.m. He will be buried with highest honors at Arlington National Cemetery On Oct. 14 at 3 p.m.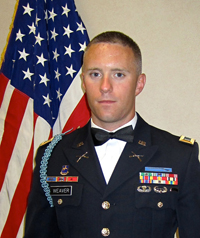 The lieutenant was well known on campus and is being remembered as a exceptional student and a star cadet while in the ROTC.
"He was just a wonderful young man," said Vice Provost for Academic Affairs Kate Slevin, whose daughter went to school with Weaver at both Bruton High School and William & Mary. "He was very patriotic. He felt he owed it to his country to go serve. He was incredibly bright, engaged and full of life."
According to a 2005 William & Mary News article, Weaver joined the Army National Guard after the Sept. 11, 2001, terrorist attacks and served a 10-month deployment in Iraq in 2004. At William & Mary, he received his bachelor's degree in government and was inducted into the Phi Beta Kappa Honor Society in 2008, and he was commissioned into the U.S. Army through College's ROTC program.
"Todd Weaver was an outstanding student and leader, one of the very best in his class," John McGlennon, chair of the government department. "We in the government department share in the deep sense of loss that comes with news of Todd's tragic death."
Lt. Col. Barbara Streater, chair of military science, said that Weaver served as a cadet battalion commander during his time with the ROTC, a position assigned only to top cadets for excellence in leadership,scholarship and physical fitness.
"Clearly, he was the best of the best," she said.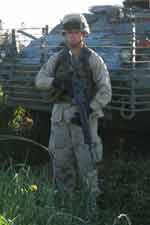 After commissioning into the Army, Weaver spent additional time with the College's ROTC as a gold bar recruiter.  Many of the cadets and instructors still at William & Mary knew him well and were hard hit by news of his death.
"We are heartbroken and saddened by the loss of our brother-in-arms," said Streater.
During their Sept. 11 wreath laying event Saturday morning, the College's Queens' Guard will lay a second wreath by the Sunken Garden in honor of Weaver.
Weaver is survived by his wife Emma, one-year-old daughter Kiley and several other relatives, including mother-in-law Ellen Cloyed, who works as a serials cataloger in the College's Swem Library.