Holmstedt brings unique genre, experiences to writer-in-residence position
Kirsten Holmstedt carries a passion for writing stories that make a difference, as evidenced by her exemplary work in "Band of Sisters" and "The Girls Come Marching Home," which focus on women in combat in Iraq and Afghanistan and what happens to them when they return to the United States.
She also has a third book in the making, a love for teaching, a six-year familial history with Williamsburg, a yearning for fun, and a hankering to mix them into a unique, inspiring experience.
In short, the
Donaldson writer-in-residence
position at William & Mary could have been created with her in mind, and she contacted the College to express her deep interest.
"I knew it would be a great location for writing because of its close proximity to D.C.," Holmstedt said recently. "Like my first two books, the third book has a military theme to it. I believe the College will benefit from the timely subject matter of my books, ensuing discourse with faculty and students, and my passion for writing stories that make a difference."
Holmstedt, whose work has been lauded as "lyrical, visceral and potent," and "a must read for anyone concerned about women or war," will spend the school year teaching a class in creative non-fiction. She is the 30th writer to come to campus since the program's inception -- but only the second who specializes in non-fiction. Professor emeritus Scott Donaldson and wife Vivian established an endowment in 2006.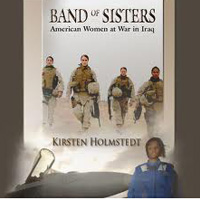 "We were delighted when Kirsten contacted us about her interest in the position," said Nancy Schoenberger, professor of English who chairs the writer-in-residence committee. "We like the idea of expanding our students' exposure to different kinds of writing, especially since memoir and nonfiction have gained prominence in the publishing word in the past decade or so."
Schoenberger adds that the nature of Holmstedt's subject matter – women in combat – should appeal not only to the College's literary and creative-writing students, but also to students in Women Studies.
"We felt that they would find this subject compelling," she said.
Holmstedt describes creative non-fiction as that which "focuses on the human desire to tell -- and be told -- compelling stories. The term nonfiction means that real people, actual events, genuine places, and the author's authentic thoughts and observations are being described. The word creative relates to the method of storytelling—a careful and skillful application of literary techniques."
At the core of creative non-fiction is a systematic interview technique. The style can vary from student to student, writer to writer, but there is one universal constant: each must have a purpose, a plan.
"They will definitely work on honing their interviewing skills," Holmstedt promised. "I think all non-fiction writing requires critical thinking skills and those skills play a key role in the interviewing process. Whether they are writing memoir, essays, profiles . . . they need to know what questions to ask, when to ask them, how to follow up and so on.  Individual writers can have their own style but they need to go into their interviews with a purpose, a plan.  We'll discuss a variety of techniques."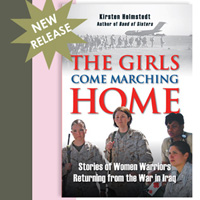 In addition to extraordinary writing and interviewing skills, and the commitment to teach her love for them in a "contagious" manner, Holmstedt plans to bring into play one other notable attribute rarely touched on by her predecessors.
It's the art of promotion.
"I've basically been on a book tour since my first book came out in 2007, so my students will learn a lot about not only what it takes to write stories and books that make a difference, but also what it takes to promote them," she said.  "As a creative writing student, I was inspired by the personal stories my professors told about the challenges and rewards of writing and publishing."
Schoenberger, acclaimed co-author of the summer's hottest book release, "Furious Love," agrees that publishers these days reserve their promotion budget for their top sellers, leaving many "mid-list" authors to fend for themselves.
"Particularly in this age of the blog, the website, Facebook, and Twitter, it's very much to the advantage of prospective writers to learn about self-marketing," she said. "So far, we haven't concentrated on this aspect of the writer's life, but we think it could be useful."