W&M student bests 448 Army ROTC peers in physical fitness test
College of William and Mary junior Sheila Wilson recently finished ahead of nearly 500 other Army ROTC cadets in the Army Physical Fitness Test (APFT) held as part of cadet training held at Joint Base Lewis McChord, Wash. Passing the test is a prerequisite for becoming commissioned as a U.S. Army lieutenant.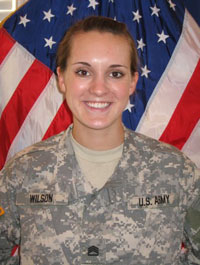 "Cadet Wilson is a tremendously talented student, gifted athlete, and solid leader with unlimited potential," said Lt. Col. Barbara Streater, chair of the College's military science department. "This accomplishment represents one of her initial grades at the Leader Development and Assessment Course, and sets her off remarkably strong, as measured against her peers. Based upon her performance and preparation here at the College of William and Mary, she will no doubt continue to excel in the remaining events. I am proud of her accomplishment, as well as the very impressive performances of all our cadets. Cadet Wilson, along with all the William and Mary cadets, are simply doing an awesome job. They have worked incredibly hard and it clearly shows."

Thousands of college students from around the globe travel to the base each summer to attend Army ROTC's capstone training and assessment exercise, the 29-day "Leader Development and Assessment Course."

Wilson, an education major at the College, scored 333 points on an extended scale; 300 is the army standard maximum score. Her achievement on the APFT placed her in the top two percent of her 449-person regiment. The test, which measures the student's strength and endurance, consists of sit-ups and push-ups, each timed over two minutes, and a two-mile run. Scores are aggregated into an overall official Army score.

Each cadet must pass the APFT on their fourth day of training.

This year, over 6500 ROTC cadets will attend LDAC in 14 ROTC regiments. Each 500-person regiment will undergo a 29-day cycle of progressive training, culminating in the regimental graduation ceremony.

LDAC is the single most important event in any cadet's student career. Successful completion of the 29-day training cycle is prerequisite to commissioning. Last year, 4,300 second lieutenants were commissioned through ROTC.