W&M alumnus Thomas Shannon Jr. named acting secretary of state
William & Mary alumnus Michael Shannon Jr. '80 is acting secretary of state as of noon on Friday, according to an announcement from White House Press Secretary Sean Spicer Thursday.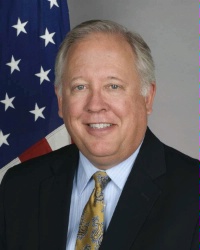 Shannon, who holds a bachelor's degree in government and philosophy and was a member of Phi Beta Kappa at W&M, will temporarily take the helm of the Department of State while the confirmation process continues for President Donald Trump's nominee Rex Tillerson. Shannon is among 50 President Barack Obama appointees across the federal government who will remain on staff short-term.
The appointment temporarily makes Shannon the highest-ranking diplomat in the country. Under the Obama administration and former Secretary of State John Kerry, he served as undersecretary for political affairs since February of 2016. Previously, he served as counselor of the department and senior advisor to the secretary.
Shannon's career in the Foreign Service spans more than 30 years. Following his graduation from W&M and subsequent master's and doctorate degrees in politics from Oxford University, he served in U.S. embassies in Guatemala, Brazil, South Africa, Venezuela, Cameroon, Gabon and Sao Tome and Principe.
From 2005 through 2009, Shannon served as assistant secretary of state for western hemisphere affairs, leading the operation of U.S. diplomacy in countries in the western hemisphere. In 2009, he was selected to serve as the U.S. ambassador to Brazil, where he stayed for four years. 
Shannon's position as acting secretary of state will remain in effect until the Senate Foreign Relations Committee votes on Tillerson's nomination, which could happen next week according to media reports.