Joshua Gert participates in "A Night of Philosophy"
Hi-Phi Nation is the first sound and story-driven show about philosophy, weaving philosophy with narrative storytelling, investigative journalism, and sound design.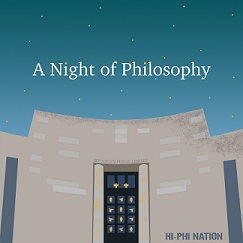 In this episode, Hi-Phi Nation stays overnight at the Brooklyn Public Library during the 2018 Night of Philosophy. From 7pm to 7am on a Saturday night, thousands of New Yorkers swarmed the central library for acrobats, musicians, and philosophy. Meanwhile, Hi-Phi Nation presented philosophy shorts about the definition of life, the nature of good and the morality of revenge, and moral relativism. At the event, producer Sandra Bertin confronts some white privilege, while Barry Lam wanders the floors trying to get people to differentiate between philosophy and bullshit.
Guest voices include George Yancy, Cian Dorr, Kieran Setiya, Ian Olasov, with philosophy by Emily Parke, Joshua Gert, and David Wong. Listen here (William & Mary's Professor Gert is from about 18' to 25'):
HI-PHI NATION, Season 2, Episode 8, A NIght of Philosophy