Five faculty members named 2016 Alumni Fellowship Award recipients
The following article originally appeared in the fall 2016 W&M Alumni Magazine. Photos by Eric Lusher - Ed.
Every year, the William & Mary Alumni Association honors a select group of outstanding young faculty members. This year's recipients, who reflect William & Mary at its very best, are:
John Lombardini
Barkley Associate Professor of Government
Originally a biology major during his time as an undergraduate, Lombardini found himself jealous of students in his dorms taking classes on politics and government. "Lots of people were coming back from the library with books like John Locke's Two Treatises of Government," says Lombardini. His hallmates' reading material included ideas behind politics, the best political order and how those ideas have changed over time. Lombardini became interested in the subject matter, and his professors only furthered that interest. "I had fantastic professors who were really talented at communicating the excitement and wonder that one can bring to studying politics," he says. "They certainly serve as a model for my own teaching style."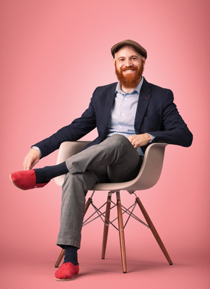 Now an associate professor of government and a faculty fellow at the Center for Liberal Arts, Lombardini seeks to engage his classes so they can apply age-old philosophy and law to current times. "It's tempting as contemporary citizens to ask, 'why are we reading these?'" Lombardini says. "It's a valuable approach to engage the texts because you're not necessarily agreeing with one perspective." He hopes that this method helps students develop reasoning skills and take ownership of their learning.
"I want to make it so that my presence is almost unnecessary," says Lombardini. "I want them to engage the texts on their own."
Lombardini first came to William & Mary in 2010, after a postdoctoral fellowship at Columbia University. "The thing that attracted me to William & Mary were the colleagues I met during the interview. The department as a whole is smart, generous and really down-to-earth. They are approachable in a way that they're happy to talk about their research."
Lombardini teaches political theory, and currently has a book under contract. The Politics of Socratic Humor looks at the relationship between the ethics of laughter and democratic politics in ancient Greek political thought.
Fun Facts
Seating Arrangement
"I change my seat every class — it doesn't matter where we sit. There's no front of the classroom."
Lingo
Lombardini can read six different languages.
Tara Grove
Professor, School of Law
Grove remembers the exact moment she decided to enter the field of law. "My sixth-grade English class used one of the more gory editions of the 'Three Little Pigs' in which the pigs cooked the Big Bad Wolf," she says. "I was acting as a defense attorney for the third little pig. My team argued a theory of self-defense. It was a bit of a stretch, but we actually won the case."
That early school experience piqued her interest. In college, Grove not only decided to pursue law as a career but also resolved to teach constitutional law in a university setting.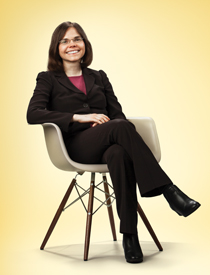 "Teaching is the single most important part of what I do," says Grove, who joined the William & Mary Law School faculty in 2011. She maintains an open-door policy when it comes to office hours, where students can come if they have questions about the reading, career advice or even personal problems.
In the classroom, Grove asks a lot of questions with a lecturing style that works to foster discussion. Rather than call on one or only a few students, she questions people using the popcorn method. "This means I move around and no one is on the spot for too long," says Grove. "This approach helps ensure that everyone is prepared every single day while also ensuring that people won't be on the chopping block." For Grove, the most rewarding comments on course evaluations are from students who had been terrified to speak in class, but were later grateful for the practice. "You need to be able to respond on the spot with a cogent answer. The practice makes speaking less of a big deal. Eventually, students get more relaxed about it."
Grove also teaches her students the value of different perspectives, as often the law is about interpretation. "I encourage them to embrace the uncertainty, since the Constitution does leave room for disagreement," she says. "The lack of clarity means that people from different perspectives can owe their allegiance to it. I think that is why the document has stood the test of time as a symbol of our nation."
Fun Facts
Hot Spot
The Wren Building. "It symbolizes W&M's age, rich history and traditions. Dating all the way back to George Wythe, St. George Tucker and Thomas Jefferson, the Wren Building serves as a reminder of judges and attorneys that walked here before me."
Who Knew?
Sen. Elizabeth Warren was Grove's professor in law school. "She was the kind of professor I wanted to be. Her students were her No. 1 priority."
Christopher A. Freiman
Associate Professor of Philosophy
Believe it or not, Freiman has known that he wanted to be a philosopher since childhood. Looking back, he cites conversations with his family at the dinner table as first sparking his interest.
"I was totally doing philosophy without even knowing it," Freiman says. "And then, when I started to learn that philosophy was actually an academic discipline and that you could actually become a professor with a job and get paid to do this for a living, that's when I thought 'this is what I want to do.'"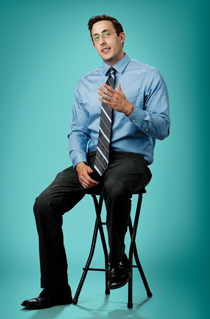 And that's exactly what he did. Freiman, who got his bachelor's degree in philosophy from Duke University and his Ph.D. in philosophy from the University of Arizona, has been with W&M since 2010. He is currently an associate professor of philosophy who teaches classes on political philosophy and applied ethics. Outside the classroom, Freiman conducts research on the social influences of public policy.
When asked his favorite part of teaching at William & Mary, Freiman says, without hesitation, the students.
"It's not just that they are smart and well-prepared, but they actually get excited by big ideas," Freiman says. "It's pretty rare to be able to find a college where you can get a classroom together of 35 students who want to talk about abstract ideas. It makes it very fun to come to class and teach them."
More than anything, Freiman hopes that students leave his classes questioning the world around them, actively challenging ideas which are often blindly accepted.
"It's very natural to come into a philosophy course and have these preconceived notions about what counts as right and wrong, but we probably haven't subjected all these beliefs to the right amount of scrutiny," Freiman says. "I want students to leave my classroom thinking, 'Oh, this is a lot more complicated than I thought.'"
Fun Facts
Roots
Freiman grew up in the small town of New Britain, Pennsylvania.
Favorite Campus Spot
James Blair Hall, home of the Philosophy Department. "I like just going into my office, opening up the windows, hearing the sounds and being close to the Sunken Garden. It's my favorite spot."
Kristin L. Wustholz
Associate Professor of Chemistry
If you visited one of Wustholz's classes, you might hear her refer to a molecule's chemical makeup as a squishy bag of electrons.
Wustholz teaches with enthusiasm, drive, and to students' delight, many illustrative metaphors. "I was a pretty goofy kid," Wustholz says. "I like to incorporate my personality into my lectures to show students that I'm human."
A double major in chemistry and philosophy, Wustholz found her passion investigating the physical existence of color, as well as the idea of color from a philosophical standpoint. Wustholz says connecting her research with philosophical, artistic and even historical questions can make chemistry more relatable. "Sure this is a color," she says pointing to the color red on a page, "but how does light interact with the material to create color? I'm motivated to understand how light exposure affects the chemical soup that is paint on the canvas."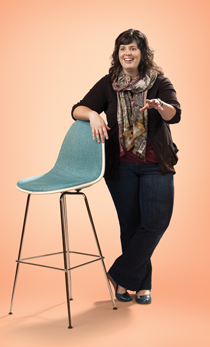 Wustholz uses spectroscopic tools to identify materials that make up paints in colonial art. Having Colonial Williamsburg right down the road helps, since some of those pieces have been exposed to light for centuries. Along with informing her own research and interest in art, her findings can help curators and conservators inform best practices for conservation science.
Her interest in understanding the chemistry in pigment makes her a great fit at William & Mary, where students have the opportunity to double major in chemistry and art history, exploring many facets. Coming from a liberal arts background herself, Wustholz found the College a perfect fit, with excellent undergraduate research and a size that has given her the opportunity to work with students one on one.
Wustholz's quest to understand color can also be applied to understanding processes that surround potential solutions to global climate change. Materials in plants called chromophores are used to create paint, but are also used to create next-generation solar cells. "We're facing a huge energy crisis, and I hope my students can use the skills they learn in my laboratory to go on to make a positive impact in the alternative energy arena," Wustholz says. "Global climate change is the most significant problem we can address."
Fun Facts
Mantra
"I think that my mantra involves encouraging and supporting students to follow their gut instinct and to pursue what they love to do. If that's chemistry, I'm happy to geek out with them. If not, that's okay, too."
Mentor
"I keep in touch with my students after graduation. I call them my 'scientific children,' making sure to check in every now and then."
Pieter Peers
Associate Professor of Computer Science
Peers wants to create the Matrix. Yes, like the Keanu Reeves film, though Peers says "much better than the movie, of course."
Peers is an associate professor of computer science at William & Mary who specializes in computer graphics and generating images with the ultimate goal of digitizing the world around us — just like "The Matrix."
Peers, originally from Belgium, has been with the university since 2010 and says that, by far, his favorite part of teaching at William & Mary has been the students.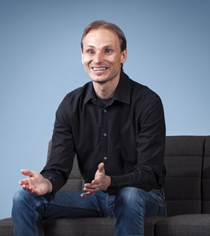 "They're very engaged, they're really strong, they're incredibly smart," Peers says. "You can just keep dumping information on them and they'll keep sucking it all up — they're like sponges. You can't satisfy their intellectual curiosity — they just want to know more and more and more. They're a joy to teach."
Peers' favorite course to teach at William & Mary is Computer Graphics. His interest in computer science dates back to age 12 when he wrote his first computer program — essentially digital flashcards to help him memorize words for a class he had to take on Latin.
Peers' research specialty is in digitizing the way materials reflect light and how light travels through the world around us. Peers has worked to incorporate his research findings into the classes he has taught, some of which include Introduction to Game Design and Game Development, Fundamentals of Computer Graphics, and Advanced Computer Graphics.
But Peers hopes that his students take more away from his classes than just a new set of technical skills, such as critical thinking and teamwork.
"I hope that students get out of my lectures that there is so much out there and that knowledge is really important," Peers says. "The more you know, the more you can do and achieve."
Fun Facts
Outdoorsman
"I just like to do things that relax the mind. Hiking, working in the yard, playing with the kids — those are the things I really enjoy."
Who Knew?
Peers' work focuses on the generation of realistic images from 3D descriptions of virtual worlds, but he is stereo blind, and sees the world in 2D. Peers says this actually helps him analyze images in his mind.