Donor-Sponsored Initiatives
Donor-Sponsored Initiatives
Great things have happened through the vision of our donors. Below we describe some of our sponsored initiatives, and provide links to current programming. Thank you!
Andrew W. Mellon Foundation Grants
Generous support from the Andrew W. Mellon Foundation has funded major undergraduate initiatives launched through the Charles Center, including the interdisciplinary program in Environmental Science and Policy, the Center for Geospatial Analysis, and the Environmental Science and Policy postdoc program. 
English-Stonehouse Fellowship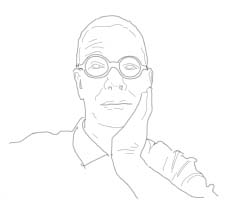 This fellowship is made possible by the generosity of Cory English. It also honors the memory of his wife, Katchen Stonehouse. The award provides a stipend of $2,000 per year, for two years, for the English-Stonehouse Faculty Fellow; $4,000 per year, for two years, for the English-Stonehouse Student Fellows, and $1,000 per year for research-related expenses. Read more.
Cory is the retired CEO of SST Planners, a specialized laboratory consulting and design firm that has built over a million square feet of high-quality scientific research space in the United States, Canada, Mexico, and Europe. Cory's firm designed the first two phases of the Integrated Science Center on the William & Mary campus. He developed an admiration for the dedication that William & Mary faculty have for their students and he created this program to support their collaborative research. The fact that Cory supports our students and faculty both financially and intellectually is particularly inspiring. Cory has a deep knowledge of scientific research and science education in the United States and he has singled out William & Mary to honor with this program.
Gaither-Johnson Summer Research Fellowship
Through the generosity of the Gaither-Johnson family, undergraduate students conduct research on their topics of choice and have an opportunity for personal growth and academic discovery. In conjunction with the Lemon Project and championing its goals, this fellowship gives students a resource to investigate the rich history of African-Americans and in a larger context, the African Diaspora. Read more.
Andrew Ojeda, on behalf of the Gather-Johnson family, writes: "Like other African-Americans who toiled in slavery and then endured the cruel conditions of Jim Crow, my ancestors made sacrifices to ensure that their children had a better life. This fellowship honors those that paved the way for us."
Margaret Glauber Faculty-Student Research and Scholarship Fund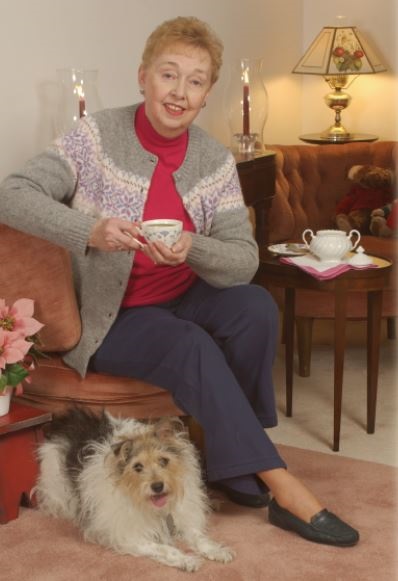 This fund was made possible by the generosity of Margaret "Maggie" Glauber '51, of Fort Belvoir, Virginia, and supports faculty-student research collaborations in the humanities and social sciences, as well as need-based scholarships for the participating students. Read more.
As a young 17-year-old arriving on campus, Maggie realized quickly that William & Mary would become her extended family. Involvement in Delta Delta Delta, the Backdrop Theatre Club, and the Chorus and Music Clubs, along with a concentration in government, prepared her well for life as a military wife to her husband, Jim. Together they spent years living in Japan, Germany, France, and Greece before returning stateside.
An avid dog lover, with Joey as her faithful companion, Maggie enjoys keeping connected with, and giving back to, William & Mary. Maggie proudly acknowledges that "William & Mary was good to me, and I like to give back in a meaningful way that helps students and faculty. William & Mary is my family." We are grateful for Maggie's devotion and generosity.
Sharp Seminar collaboration with the Pulitzer Center
The Sharp Seminar, established through a generous gift from Anne and Barry Sharp, is a joint initiative between the Pulitzer Center and William & Mary. It pairs Pulitzer Center-sponsored journalists with William & Mary students invited by faculty to apply to the program. Students have the opportunity to learn how to communicate to a broad audience about topics they have studied and care deeply about. Read more.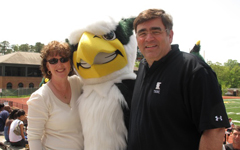 The Sharps are parents of Katherine "Katie" Sharp '14. Mr. Sharp is president and CEO of Imagine Schools, Inc., an Arlington-based not-for-profit company and largest operator of K-12 charter and private schools in the U.S. Before joining Imagine, he served as CFO for AES Corporation and held various positions with Arthur Andersen & Co. Mrs. Sharp is a former secondary school English teacher. The Sharps have been active volunteers with William & Mary. Mr. Sharp serves on the Mason School Advisory Board and the Business School Foundation board. Mrs. Sharp serves on the W&M Foundation board. The Sharps also generously established the Sharp Public Writing Program and live in Fairfax Station, Virginia.
Weingartner Global Initiative
The Weingartner Global Initiative was initiated in 2008 thanks to the generosity of Werner and Mary Anne Weingartner. The initiative creates a two-year term Professorship and funds two to six student research positions each year devoted to the study of international policy issues. Read more.
Weingartner's family emigrated in 1939 from Germany to the United States. He describes their experiences across two generations in One Plus One (2002), a collection of stories about "people caught in political and technological changes, which markedly alter the direction of their lives."
For many years Weingartner taught mathematics at the Bronx High School of Science. After first retiring to Hilton Head, S.C., he and his wife moved to Williamsburg and immediately became involved in the life of William & Mary. "As a mathematician, I can tell you that if we want different outcomes, we have to change the elements in the equation. By empowering student voices, by bringing their knowledge and idealism to the table, I believe we can achieve better outcomes than we've seen in the past."
Woody Internship in Museum Studies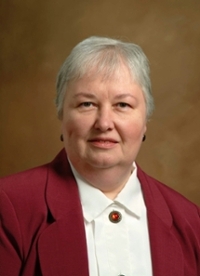 Thanks to the generosity of alum Carol Woody '71 and Robert Woody, William & Mary 
has established the Woody Internship Scholarship in Museum Studies. Students with an interest in museum administrationreceive funding to intern, research, and study at a respected museum that exhibits material to the public. Read more.
A mathematics major as an undergraduate, Carol earned an MBA from Wake Forest University and a Ph.D. in information systems from Nova Southeastern University. Since 2001, she has been a senior member of the technical staff at Carnegie Mellon University's Software Engineering Institute. Her lifelong love of music was fostered at William & Mary, where she sang in the choir and was a member of the music fraternity Delta Omicron. Robert enjoyed a 50-plus-year career as an antiques dealer, specializing in silver pieces. They have funded Woody Museum Interns across the country during the summers, including Colonial Williamsburg, The Getty in Los Angeles, the Phillips in D.C., Winterthur in Delaware, and the Taft in Cincinnati.