2021 grad headed for D.C. and an elite foreign policy fellowship
William & Mary senior Caroline Duckworth '21 is among a group of 12 students from across the country to be selected for a 2021-2022 fellowship with the James C. Gaither Fellows Program at the Carnegie Endowment for International Peace (CEIP), a foreign policy think tank in Washington, D.C.
Duckworth is the second student in two years from William & Mary to be selected for the prestigious fellowship; Grace Kier '20 joined the program last year.
Duckworth, a double major in international relations and data science, will provide research support and data visualization, including GIS mapping, as a research assistant to Carnegie's senior scholars. Her one-year appointment in D.C. will begin in August.
Growing up, Duckworth dreamed of being a veterinarian, but a capstone class in current events during her senior year in high school, followed by Introduction to International Politics in her freshman year at William & Mary, sparked a deep interest in global affairs. "I didn't look back after that," she said.
She began honing her skills in research as an intern tracking unreported foreign aid from the Chinese government on the Transparent Development Footprints team at AidData, William & Mary's research and innovation lab that seeks to make development finance more transparent and effective.
The following year, she was selected as a research intern for the Project on International Peace and Security (PIPS), an undergraduate think tank in which students craft novel policy solutions to emerging international security challenges. As an intern, she partnered with senior Lindsey Washington '19 to research China's efforts to corner the market on graphene, a flexible and lightweight but extremely strong "wonder material" that can be used in highly efficient batteries and super armor.
"Lindsey was such a wonderful mentor in PIPS and continues to be a very influential person in my life," said Duckworth. Together, the white paper they produced highlighted the possible economic and military threat posed by China's near monopoly on the production of graphene.
When it came time to choose her own topic as a research fellow at PIPS, she looked for a way to weave together her many interests and experiences.
"At PIPS, the fall semester is all about identifying your topic," she said. "It's a really collaborative process in which you pitch bad idea after bad idea until you come up with something that the rest of the group finds interesting. It's an incredible environment of feeling both supported but also challenged."
Returning to her love of biology, paired with the research and subject matter expertise she'd gained by studying China the previous year, she settled on researching how asymmetric ethics between China and the U.S. would allow China to outcompete us in biotechnology.
"Our competitors, specifically China, have different ethical practices and attitudes related to biotechnology, for instance the use of stem cells, gene editing and human enhancement technologies," she said. "In the U.S., many of these practices are highly controversial, and the legislative policies that govern them can shift quickly, while China is able to pursue a longer-term strategy due to a different government structure and perceptions on these issues."
The solution she proposed is one that focuses on international collaboration, with the U.S. formalizing its guiding principles for biotechnology and promoting these ideals through international institutions. 
Duckworth presented her work at the U.S. Army Training and Doctrine Command (TRADOC) Mad Scientist Initiative at Fort Eustis, as well as to the Joint-Forces Staff College.
Dennis Smith, co-director of PIPS, said in a nomination letter for the fellowship, "Caroline is an outstanding researcher who has an aptitude for identifying emerging science and technology challenges in the national security space."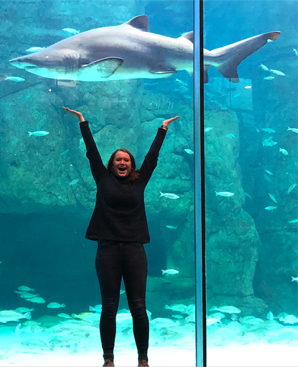 Amy Oakes, director of the International Relations program, added, "Caroline is an incredibly creative thinker—she has a knack for unearthing important, but overlooked, issues in national security. She also has a prodigious work ethic, seeks out challenges, embraces constructive criticism, and is an extremely capable writer and researcher."
Successfully completing two majors, as well as a series of challenging internships brought its share of stress, but Duckworth says she has tried hard to maintain a sense of balance. Participating in the W&M club rowing team has played a huge role in that.
"Rowing gave me a two-hour period almost every day when I didn't have to think about school," she said. "It introduced me to some of my best friends and created this network of people that has been so supportive. Signing up for that club my freshman year was the best decision I could have made and really got me to where I am."
She also studied abroad in Cape Town, South Africa, taking a course in dance and even going cage-diving with great white sharks — both experiences that she says took her well outside her comfort zone.
Looking to the future, she hopes to continue contributing to the field of national security and pursue graduate study.
"I've gained so many skills in both data analysis and research through my experiences at William & Mary," she said. "Both paths are really interesting to me and I'm excited to see where they take me."