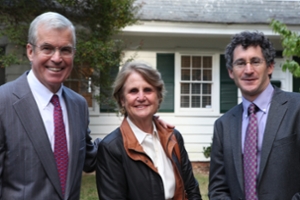 Nearly twenty years ago, William & Mary launched a scholarship program designed to bring students to the university who, by any measure, would be considered among the nation's very best. It was called the Murray Scholars Program. Made possible through a leadership gift by Jim Murray J.D. '74, LL.D. '00 and his wife Bruce, it has been a remarkable success.  
Today, the program continues to thrive, now under a new name - the 1693 Scholars Program. Many of our scholars continue to be supported by the Murray family and are designated as Murray 1693 Scholars. The Murray family encourages other donors to support scholarships and other donors have joined the 1693 Scholars Program.

In the fall of 2012, the program was able to expand by two additional scholars thanks to the generous support of the Stamps Scholars Program. E. Roe Stamps IV and his late wife Penny are deeply committed to education, supporting projects and scholarships at over 40 universities nationwide. In the fall of 2014, the Stamps Scholars Program increased their support and helped the program enroll an additional Stamps 1693 Scholar. Therefore, we are now able to enroll three Stamps 1693 Scholars in every incoming class. Meet our current Stamps 1693 Scholars.
Additional donors of the 1693 Scholars Program include:
Jean Berger Estes '75 and Robey W. Estes Jr. '74
H. Thomas Watkins III '74 and Wendy R. Watkins
Sally Ives Gore '56
Walter J. Zable '37, LL.D. '78* and Betty Carter Zable '40*
W. Edward Bright '78
*deceased