After preliminary work at the Front Street sites, we removed the mixed, upper layers of soil in search of undisturbed deposits beneath. This effort was richly rewarded. Extending into the subsoil we found 123 archaeological features. These "time capsules" of soil and artifacts are often the most prized components of a site because they are so informative. Not only are they the traces activities or buildings at the site. The artifacts, food remains, and other debris discarded into them also hold clues about daily lives of people who lived at that site. With so many features present, we could only excavate 18 of the 66 features at Site 44PY178 and 20 of 57 features at Site 44PY181.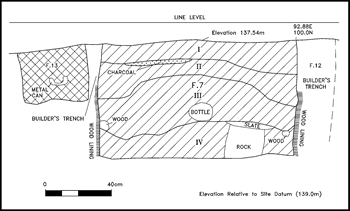 Below, we describe and illustrate two prominent types of features at the site, privies and slop holes.
Privies
Before city sewerage hookup in the mid-twentieth century, Front Street residents depended on these outdoor "earth closets" for sanitation. Four of these informative features were found at each site. Depth and construction characteristics as well as the contents had a lot to tell us about living conditions at these sites (see Millworker Life).
Slop Holes
Several of these "informal" features were identified at both sites. They covered a range of shapes and sizes and many contained human waste. Residents seem to have dug slop holes as needed, probably when privies were overdue for cleaning.
Photos below: (left) A probable slop hole, Feature 16 at Site 44PY181 contained 255 artifacts, including pieces of dinnerware, bottle glass, a bone button, animal bone, and a porcelain doll fragment. (right) Bedrock is visible at the bottom of fully excavated Feature 17 at the same site.