Our Research
The Center's exemplary studies of the functions and structure of traditionally ignored, small prehistoric sites have set a statewide standard. Other prehistoric research interests include Late Archaic cultural adaptations in the Dismal Swamp region, Middle Woodland settlement patterns on the James-York Peninsula, Late Woodland village organization and innovative ceramic and lithic sourcing studies.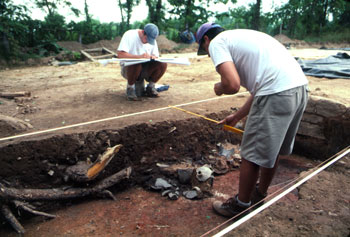 The breadth of research on historic-period sites is no less impressive. The Center has made important contributions to the understanding of early colonial lifeways through excavation of seventeenth-century sites on Jamestown Island, and in Hampton, Gloucester County and Chesterfield County. Among the most significant eighteenth-century sites are Turkey Island plantation, slave quarters in James City County, the colonial gallows in Williamsburg and the historic campus of William & Mary. Nineteenth-century research topics include free black settlement, Civil War camps and temporary structures, Shenandoah Valley pottery production and distribution, and site layout and material culture at small farmsteads.
The Center's credentials extend beyond conventional archaeological studies. Examples of specialized projects include a statewide assessment of underwater resources for VDHR and preparation of several regional and county preservation plans. In 1996, the Center computerized all archaeological and architectural records stored at VDHR.
Sharing the Knowledge
In addition to the technical reports prepared for each project, the Center is committed to wider dissemination of its research. Two publication series provide important research results to the scholarly community in affordable yet comprehensive formats. Several publications were compiled on CD-ROM for distribution by the Virginia Department of Transportation. The staff also regularly presents papers at regional and national conferences and in a variety of publications. The Center reaches more general audiences through public exhibits, popular brochures, open houses and this website. Frequently, the staff delivers talks to schools and civic groups.
The Center has participated in the Christopher Wren Association, a continuing education program sponsored by W&M. Classes have focused on the historical archaeology of the Tidewater region and have included fieldwork projects at sites along the James River. According to one course coordinator, these programs have "kindled a real interest among our members in local archaeological activities."