Equipment Descriptions - W&M Campus
Profilm3D surface profiler provides sub-nanometer vertical resolution using vertical-scanning interferometry (VSI) and phase-shifting interferometry (PSI). Software capabilities include measurements for surface roughness, topography, and step heights. Common roughness parameters can also be measured on both flat or curved surfaces.

Tof-SIMS is an analytical technique that uses a primary ion beam in an ultrahigh vacuum environment to probe the surface of a solid material. Tof-SIMS provides spectroscopy for characterization of chemical composition and imaging for determining the distribution of chemical species and depth profiling for thin film characterization.  Performance capabilities include one parameter tuning used for insulating samples, library of high mass resolution reference spectra and high-speed SIMS imaging setup and acquisition.  Analytical applications include statistical analysis of trace (ppm) contamination and multiple defects on silicon wafers and magnetism analysis of surface contamination, drug delivery cross-section media, high spatial resolution surface and cross-section samples and failure analysis samples, and trace sensitivity for routine problem solving of contamination and defects for failure analysis and ultra-thin films.
The Phenom ProX desktop SEM includes an optical color camera and an elemental identification feature with fully integrated EDS that will enhance our current analysis capabilities.  Advantages of the Phenom ProX system include easy operation and simple sample preparation.  A wide range of sample types, such as  metals, polymers and biologicals, can be viewed at magnifications between 80x to 130,000x.  Samples up to 32 mm in diameter and 100 mm in height can be loaded in less than 30 seconds.  The Phenom ProX system includes a 19 inch flat panel touch screen monitor which is used to view, compare, and measure sample images at a maximum 2048 x 2048 pixel resolution.  Images can also be saved to a USB flash drive for future use.  The Phenom ProX is a very compact, quiet, and a low maintenance addition to the lab.

The Hitachi S-4700 FE-SEM is a cold field emission high resolution scanning electron microscope.  The FE-SEM has a magnification range between 30x and 500,000x.  Spatial resolution of up to 1.5 nm at 15 kV, 12 mm WD and 2.5 nm at 1 k, 2.5 mm WD.  Digital images may be acquired in BMP, TIFF, or JPEG file formats.  Elemental analysis of a sample can be performed using EDAX Energy-Dispersive X-Ray Spectroscopy capabilities. (User Instructions) \ Sample Holder Assembly Video
Phenom G2 Pro Tabletop SEM,
Small Hall Maker Space
       The Phenom is a high resolution desktop scanning electron Microscope (SEM) with a light optical color camera.  Advantages of this Phenom system include easy operation and simple sample preparation.  A wide range of sample types, including metals, polymers and biologicals can be analyzed.  Samples up to 25mm in diameter and 30 mm in height can be loaded in less tha 30 seconds. 
TEM, ISC2-2107B
With the Empyrean, PANalytical has set the new standard for a multipurpose diffractometer. In developing the ultimate X-ray platform for the analysis of powders, thin films, nanomaterials and solid objects, the PANalytical R&D team has redesigned all key components of the X-ray diffractometer from the ground up. It is PANalytical's answer to the challenges of modern materials research, where the lifetime of a diffractometer is considerably longer than the horizon of any research project.
This XRF allows for x-ray diffraction and elemental analysis of samples with greater flexibility over bench-top models while using the same vacuum technology.  The XRF also utilizes lap-top based analytical software with real time spectral displays.
FT-IR spectroscopy is used for molecular characterization of solids, liquids, gases, and on surfaces.  The diversity of materials that the FT-IR can examine and the ease of sample preparation are what makes it so appealing.
Features:
11,000 - 375 cm-1 Range
0.125 cm-1 Resolution
Transmission, ATR and DRIFT operation available
DTGS detector
FT-IR is currently optimized for mid-IR spectroscopy.
The new HIROX KH-7700 digital microscope is not only more user friendly than our old equipment, but also provides more accurate measurement, analysis, and output capabilities.  Enhanced 3-dimensional image synthesis and image comparison are now available.  A new report generation feature will save a significant amount time and standardize our documentation. This compact system includes a digital camera, light source, LCD monitor, computer and software which are all integrated into one compact unit.  Zoom capabilities ranging from 10x to 7000x magnification can be achieved by using a variety of lenses.
Ellipsometry is a technique used to characterize optical properties and thicknesses of thin films by measuring the change in polarization state of light reflected from the surface of (or through) a sample. Calculations are carried out by using physical models of specified layered structures to simulate the interaction of polarized light on the sample.
Available model layer types include Alloy, Temperature, Cauchy, Lorentz Oscillator, Graded, Anisotropic, Kramers-Kronig, Delay, Virtual Interface, and Surface Roughness.  Xenon lamp source provides continuous spectral range of 220-2000 nm, with sharp lines between 800 and 900 nm, allowing for a thin film thickness measurement range of about 5-1000 nm.  Available configurations include both ex-situ and in-situ.
This is an extremely accurate high precision surface measurement system.  Analytical functions include parameters for roughness, waviness, step height, and geometry.  Available styli include sub-micro, 2.5 mm, 12.5 mm, and 25 mm.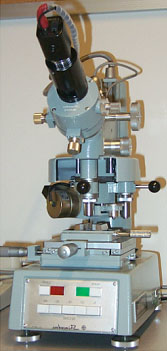 The Vickers Microhardness Tester is primarily used for fine wires, thin plates, super-hardened surfaces, thin films, implanted materials, and the precise hardness of other materials.  It is equipped with a Computer Assisted Measurement System (C.A.M.S.) and imaging capabilities.
The Vickers Microhardness Tester uses a square based diamond pyramid whose opposite sides meet at the apex at an angle of 136 degrees. The Vickers number is known as HV and is calculated using the following formula:
HV(applied load) = 1.854 (F/D2)
(F = applied load in Kgm-force)
(D2 = area of indentation in mm)
(2 MakerBots Available for Reservations)    
The Makerbot Replicator Mini is housed in a rigid frame which is open at the front, on the sides, and on top, permitting easy access to the print bed and easy viewing of prints in progress. Printing can be initiated from a computer over a USB or Wi-Fi connection, as well as over Wi-Fi from an iOS or Android phone or tabloid with the MakerBot Mobile app installed.  A camera in an upper corner of the Mini allows monitoring of print jobs from a computer or mobile device.  The Mini's build area is 3.9 x 3.9 x 4.9 inches.  Small (0.5-pound) spools of 1.75mm polylactic acid (PLA) filament are required and are available at the lab in several colors.
Research-Grade Confocal Raman Microscope (from https://www.blue-scientific.com/renishaw-invia/):
The Renishaw inVia is easy to use, delivering outstanding performance and reliable results. Acquire detailed chemical images and highly specific Raman data from discrete points. Analyse both large volumes and minute traces of material.
Perform all types of Raman measurements:                                                         
Time series – How your sample alters over time
Temperature ramps – Phase changes with a hot/cold cell
Line scans – Profile your sample across the surface or into its depth
Area mapping – Horizontal images at fixed focus across the topography, or vertical slices.

 

More details…
Volume scans – 3D views of your transparent sample's internal structure
Transmission mapping – Analyse large volumes of material and produce depth-averaged 2D images of bulk material homogeneity
Specialist measurements – Trigger data collection from your own equipment (eg control system on a synchrotron beamline)
The easy-to-use software allows you to collect the data you need, analyse and display it as you want to.
AFM Dimension ICON, Bruker, ISC3-1223
AFM Dimension 3100, Bruker, Jefferson Lab, TED Building, Newport News