Global innovation challenge expands in scope and embarks on a new research mission
The fifth annual Global Innovation Challenge (WMGIC) experienced momentous growth after last year's unexpected pivot online within ten days. 
On March 19th & 20th, WMGIC V welcomed 30 student teams from 15 top universities, including William & Mary, Harvard, UPenn, Georgetown, and Singapore's Nanyang Technological University. Additionally, the executive team of ten William & Mary undergraduates hosted a 30-table Career and Networking Expo through a partnership with the Cohen Career Center, and the number of participating mentors and judges doubled from 20 to 40 since last year's event.
Expanding the case competition's scope and access was one of the main priorities for WMGIC's Executive Director, Thomas Liu '22. 
"WMGIC serves as a highly interactive platform for undergraduate students to get exposed to the field of international and sustainable development," said Liu, who is currently taking a gap year and who ran the event from Taiwan. "Student teams receiving direct access to and guidance from our dedicated network—including young professional mentors, industry judges, and for the first time, an esteemed panel of final judges—serves as the secret to WMGIC's success."
The final judging panel of senior-level policymakers and practitioners included USAID's former Chief Innovation Officer Alexis Bonnell of Google and Craig W. Broderick '81, P '16, Corporate Director and former Chief Risk Officer at Goldman Sachs. 
"WMGIC provides a wonderful opportunity for students to address complex real-life issues, and in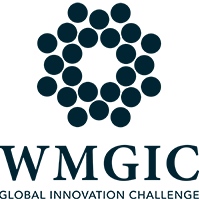 doing so, requires creative multi-disciplined thinking," said Broderick, a William & Mary Alumni Medallion recipient. "Further, the diverse panel of final judges [was] reflective of the multiple constituencies whose views and concerns would need to be addressed."
After hearing pitches from each of the top-ranking teams relevant to the research question "Reducing Barriers to Regulation in the Kalimantan Palm Oil Industry," the final judges named Team BAFKIN International Associates the Grand Prize Winner of WMGIC V. Their solution sought to leverage the investment and consumer base of Whole Foods & Amazon in order to maximize global impact through a palm oil certification scheme, vertically-integrated supply chain, and land buy-back program.
"WMGIC highlights the value of fast thinking, nimble problem solving, and crazy dreaming," said Nathan Liu '22, a member of team BAFKIN International Associates. "By working with teammates from very different academic backgrounds, we could dream big and spotlight opportunities we would have missed."
Dow Martin, a final judge for WMGIC and a senior manager for the World Resources Institute's (WRI) Global Restoration Initiative, commented that "in my day job, I manage data and monitoring products aimed at reducing deforestation and promoting restoration of degraded landscapes. Relevant to the winning WMGIC proposal, WRI has received $100 million from Bezos Earth Fund to develop a satellite-based monitoring system to advance natural climate solutions around the world." 
WMGIC V's virtual format allowed the competition to increase participation, despite the ongoing pandemic. WMGIC saw participants and guests from France, Indonesia, Singapore, Russia, the United Kingdom, and throughout the United States. 
Finalist Ariana Gueranmayeh from the University of Virginia said she appreciated that WMGIC's virtual format attracted a wide audience.
"Working remotely on WMGIC V was a really fulfilling experience," Gueranmayeh said. "We enjoyed the opportunity being fully remote gave the WMGIC exec to bring in a diverse group of mentors from all over the world because their perspectives positively aided us." 
With more than 175 mentors, judges, and students participating worldwide, the momentous leap forward taken during WMGIC V was the largest variation of the event since its founding in 2017.
WMGIC's growth was not solely based on numbers. The executive team is also expanding the competition's scope beyond just 24 hours by incorporating a new research initiative with William & Mary's Institute for Integrative Conservation (IIC). The new blended competition-research model will leverage the executive board's expertise and build upon the winning teams' creative solutions to translate innovative ideas into new, unconventional solutions to pressing global challenges. 
"WMGIC's new innovation-driven research model will enable the team to work alongside external partners to conduct research that will translate the innovative, student-generated solutions from WMGIC into applied solutions to global conservation and development challenges," said Erica Garroutte, Program Manager of the IIC. 
"We look forward to the possibility of working with the WMGIC research team to collaborate on innovative research models and bringing fresh ideas to life," said Martin from the World Resource Institute. 
The IIC wasn't the only partner who was pivotal in helping shape WMGIC's new approach, Development Director Hannah Garfinkel '22 said.
"The Global Research Institute has been the primary sponsor and champion of our organization since its inception," Garfinkel said. "They were the first to suggest expanding our model into applicable research, and their successful record with student innovation-driven projects demonstrates the knowledge and leadership to advise us as we embark on this journey."
In 2019, the Committee on Sustainability (COS) supported WMGIC with Green Fee funding, allowing the team to rebrand the case document around the UN Sustainable Development Goals, and this year, the Green Fee award went towards case development and student research funding. 
Moving forward, the executive team will work with the IIC and external partners to develop a researched deliverable based on the team solutions through the innovation-driven research model. The applied research coupled with the case competition's crowdsourcing will serve as a platform to introduce novel ideas in the conservation and development space. 
After learning about the event's expansion and the new innovation-driven research, WMGIC's co-founders Sarah Martin '17 and Samyu Jothishankar '17 were astonished by the impact their initial idea made in five short years. 
"We take immense pride in the growth of WMGIC in becoming the premier hack-a-thon style international and development case competition in the United States," they said. "As a student-run organization, WMGIC highlights some of the best William and Mary has to offer, from driven and intelligent students to chances to create meaningful, impactful change."