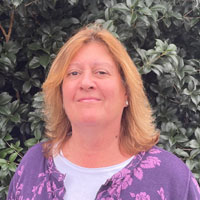 Kathryn Baldwin
Executive Director, Systems Automation & Integration
Office: Hugh Jones Hall 324
Email: [[kmbaldwin]]
Phone: 757 221 7602

About Kathy
Kathy Baldwin has been a member of the W&M IT team for over a decade and leads the Systems Integration & Automation team. Her team supports the campus enterprise resource planning system, also known as Banner. They also create and support integrations between Banner and many third-party systems, like Simplicity and Chrome River. They also automate manual processes in order to gain efficiency and free people up to do more analytical work and less manual, repetitive work.
Kathy is an avid reader who reads newspapers and higher education web articles daily to stay on top of current technology and trends. She also loves reading mysteries and nonfiction in her free time as well as walking and spending time outdoors. 
Kathy says she loves working in IT because it's a great group of people who are open to innovations and aren't afraid of a little trial and error in order to explore new ideas.