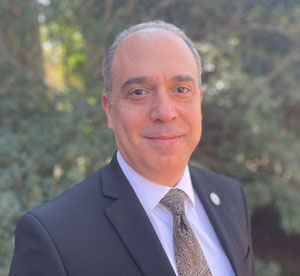 Edward Aractingi
Chief Information Officer
Office: Hugh Jones Hall 210
Email: [[cio]] (Monitored by Staff)
Phone: 757 221 2001

Edward "Ed" Aractingi is William & Mary's Chief Information Officer. As W&M's CIO, he leads Information Technology, a critical partner in every aspect of learning and work at the university. Ed is responsible for bringing together diverse groups to identify and implement strategic, university-wide IT solutions for teaching, learning, research and operations.
Ed holds a bachelor's degree from Damascus University, a master's degree in information systems from Marshall University and a Ph.D. in information technology from Capella University.
Prior to coming to William & Mary in June 2020, Ed was the CIO for Marshall University where he also worked as an adjunct professor teaching computer science classes in the College of Information Technology and Engineering. He is the recipient of various awards including Strayer university's Provost Circle Award and Marshall University's Dedication to Student Life Award, selected by the student body. 
He has been a principal investigator and collaborator on federal grants, including one from the National Science Foundation for a project to build a higher-speed research network. Additionally, he has served as a review panelist on National Science Foundation research panels.
He is passionate about the transformational effect technology has to empower people to achieve their goals and the profound impact it has on student's lives and their pursuit for their dreams. He believes in collaboration and teamwork as the strongest tool for facing uncertainty and drive innovation.
Ed is active in the community as he previously served on local non-profit boards like St. Joseph Catholic School advisory board and the Holy Spirit Church Parish council in Huntington, West Virginia. He is married to his childhood friend Omayma and they have two teenage children, Doria and Charles. He enjoys reading, hiking, biking and the occasional artwork painting as he is fascinated by the fine arts.
Related Information