Three to receive W&M Alumni Medallion
The following story originally appeared in the winter 2020 issue of the W&M Alumni Magazine. - Ed.
The Alumni Medallion is the highest and most prestigious award given by the William & Mary Alumni Association. Meet our 2020 recipients, who represent outstanding dedication, commitment and assistance to William & Mary; exemplary professional accomplishments; and leadership in civic engagement.
This year's recipients are Frances C. "Fran" Engoron '70, William C. "Bill" Mims '79 and Peter M. Nance '66.They will receive the medallion at a ceremony in the Sadler Center's Commonwealth Auditorium on Feb. 8 at 10 a.m.
Frances C. "Fran" Engoron '70
Fran Engoron leads by example, bringing her thoughtful and deep commitment to all she has accomplished — breaking down barriers in her career, designing and leading major initiatives at William & Mary, serving her community and preparing the next generation for leadership.

"Fran Engoron has been a leader throughout her life and has also applied these leadership skills, as well as her talents and generosity, to William & Mary and the Raymond A. Mason School of Business," says Barbara Pate Glacel '70, P '98, P '02, who received the Alumni Medallion in 2001. "She has a strong and enduring commitment to giving back and sharing her experience, her wisdom, her skills and the rewards of her success with the university and with other worthy causes."

Engoron's career at Price Waterhouse, now PwC, spanned 27 years, during which she led consulting projects for Fortune 500 companies, large government entities, universities and medical centers. She rose quickly through the ranks for her ability to assemble and facilitate talented, diverse, high-performing teams. She became the first female member of PwC's global and U.S. leadership teams, and since retiring in 2004 serves on their Retired Partners Committee.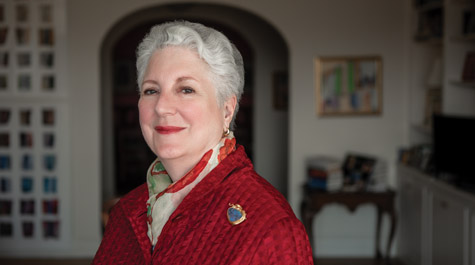 Now, she continues to empower women through her work on the board of Golden Seeds, an early-stage investment firm focused on women's leadership and entrepreneurship. She has served on the boards of American Red Cross Greater New York, Plays for Living and the Bronx Charter School for the Arts. She has also been a board advisor for the Commission on Catholic Health Care Ministry and a mentor with Mentors Inc. in Washington, D.C., schools.

"She's generous with her time," says Janet Brown Johnson '70. "She teaches, mentors and coaches, so that she leaves organizations in good hands. And she brings women along with her. When we first got out of school in 1970, all the doors weren't open to us — and they still aren't — but Fran has been a real mover and shaker to make a difference for women."

Engoron was instrumental in the creation of the Society of 1918, William & Mary's giving society by and for women, becoming a charter member and serving as its first chair. Under her leadership, William & Mary Women's Weekend in September 2018 was a resounding success, with almost 500 women members of the W&M community gathering on campus to make new connections, learn from each other and commemorate 100 years of coeducation at the university.

Never one to shy away from an ambitious goal, Engoron led the way for the society to raise more than $4 million for the Alumnae Initiatives Endowment, which enriches programming and enhances opportunities for women across the W&M community.

Engoron also served on the Raymond A. Mason School of Business Foundation Board for more than 20 years. She and fellow board member Joyce House Shields '64, who received the Alumni Medallion in 2014, created the Leadership Development and Ethics course, designed around six crucial tenets of leadership. Each student in the program has their own executive coach from the Executive Partners program, providing opportunities for mentorship from professionals in the field. She has also supported the leadership program and scholarships for minority applicants with direct and planned giving.

"Our role as a business school is to prepare our students for lives of principled achievement," says Larry Pulley '74, dean of the business school. "To my mind, few better exemplify living a life of principled achievement than Fran Engoron, a close mentor, advisor and friend."
William C. "Bill" Mims '79
It could be said that Bill Mims caught the bug for public service when he was a student at William & Mary. While earning his undergraduate degree in history, he served in student government and eventually was elected student body president — the beginning of a lifetime of service to William & Mary and to the people of Virginia. Mims is a justice on the Supreme Court of Virginia, a position he has held since 2010. As the state's 100th justice, he is only the second person in Virginia history to have also served as attorney general and as an elected lawmaker, experience that informs his decisions in Virginia's highest court. As he serves his state with integrity, he also takes time to participate in the life of his alma mater and help the next generation.

"Bill Mims is one of the great Virginians of our day," says William & Mary Law School Dean Davison Douglas. "He has been so deeply involved in the public life of this state. He is a man of deep character, ethics and compassion."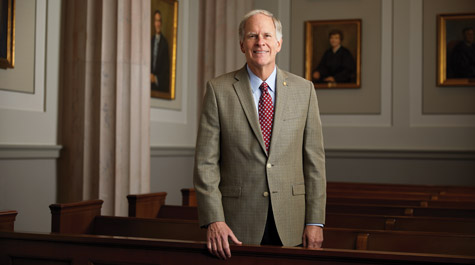 After being elected to serve Virginia's 32nd district in the House of Delegates and then the 33rd district in the Virginia Senate, he was called to be the chief deputy in the Attorney General's Office. A testament to his skills and good character, he was unanimously elected by Virginia's General Assembly in 2009 as attorney general.

In 2010, he was elected to the Virginia Supreme Court by the General Assembly for a 12-year term.

"I admire Bill's dedication to serving others. It's a sincere reflection of his goodness," says classmate and longtime friend Kathy Yankovich Hornsby '79. "Bill's appointment to the Virginia Supreme Court in 2010 was a source of pride for so many of our classmates."

Mims also continues to serve his alma mater. He was a member of the first William & Mary Washington Council, established by President Timothy J. Sullivan '66 to provide strategic advice about the university's presence in Washington, D.C. He is a frequent speaker at law school and alumni events and he continues to mentor and hire William & Mary law school students.

"Bill is an indispensable friend to William & Mary," says former rector Michael K. Powell '85, D.P.S. '93. "The Board of Visitors frequently relied on his tireless support, guidance and counsel in navigating many challenges facing the university. His love and devotion is evident by his frequent visits, his willingness to speak at alumni events and his assistance to the law school."

Mims also serves his community, taking on leadership roles in his church and in the areas of mental health and foster care. He serves on the boards of Voices for Virginia's Children, the Richmond Behavioral Health Authority and the Virginia Health Care Foundation. He has served on the Board of Governors of the Virginia Bar Association and Virginia's Commission on Mental Health Law Reform.

Mims memorably and impactfully served as Convocation speaker in 2015 and spoke at President Katherine Rowe's inauguration during Charter Day 2019. There, he reminded the audience of a principle he lives by: "Our lasting significance is measured not by fame or fortune. Rather it is measured by the sincerity of our service and the depth of our care for others."
Peter M. Nance '66
Peter Nance is known for his warm spirit, his sense of fun and how deeply he throws himself into everything he takes on.

"I think of Peter as a happy warrior — by that I mean he's focused, energetic, cares deeply about things he's involved in, and does it with a joyful heart," says Glenn Crafford '77, P '15, P '18, P '20.

When Nance graduated from William & Mary, he immediately answered the call to service, joining the U.S. Army and serving in Vietnam. He left the Army in 1969 as a first lieutenant, having earned a Bronze Star, and began a 37-year career with General Reinsurance Corporation (Gen Re).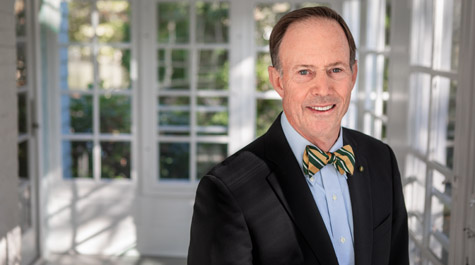 His career took him around the world, starting as an underwriter and working his way up to senior vice president of marketing and operations and member of the board of directors. He retired in 2006. Due to Nance's efforts, Gen Re now sponsors a risk assessment activity for students at the Raymond A. Mason School of Business.

"The Alumni Medallion singles out people who have given the best to society as a representative of William & Mary — personally and professionally. Pete is the best example," says Joe Plumeri '66, D.P.S. '11, who was an Alumni Medallion recipient in 1996.

Nance was a founding member of the board of directors for the Fund for William & Mary (formerly the Annual Fund), which he and his wife Judy Poarch Nance '69 co-chaired from 1991 to 1993. He and Judy were also involved with the Alumni Admission Network and the first Alumni House expansion, earning them the Alumni Service Award in 1997. They've also provided significant support for the current Alumni House expansion. He is an emeritus trustee of the William & Mary Foundation and served on the Alumni Association board, of which he was president from 2011 to 2013.

Nance has served as a chair of his reunion gift committee four times over the years. As a co-chair of his 50th Reunion committee with Patrick Walsh '66 and former W&M president Tim Sullivan '66, he helped raise a record-setting $26 million, a credit to his hard work and the relationships he has built with his classmates.

Pete and Judy's only child, Sara, tragically passed away from cystic fibrosis when she was only 26. Her condition inspired Pete's active participation in many charitable causes, including the Cystic Fibrosis Foundation and Families and Friends Supporting Cystic Fibrosis Care. He served on the boards of A Better Chance, which provides opportunities to inner-city children, and Kids in Crisis, a shelter for abused children, and is a mentor for Take Stock in Children Palm Beach, which provides opportunities for youth to escape poverty through education.

In Sara's honor, Pete and Judy established an endowment for a professor of English at William & Mary and a study abroad fund at Vanderbilt University, their daughter's alma mater. They have also established the Nance Study Abroad Endowment and the Nance Library Endowment at William & Mary and provided significant financial assistance through scholarship support to recruit students from the Northeast.

In recognition of Peter and Judy's outstanding generosity to their alma mater, they are members of numerous William & Mary recognition circles, including the James Blair Society and the Honorable Robert Boyle Legacy Society.

"Pete is among the most generous people who have graduated from William & Mary. He loves this university," says Terry Thompson '67. "He has been so willing to do everything and anything he can for William & Mary — a true lifetime of commitment."