U.S. Sen. Tim Kaine to join W&M Chancellor Robert M. Gates for 'Crucibles of Leadership' discussion
U.S. Sen. Tim Kaine (D-Va.) LL.D. '06 will join William & Mary Chancellor Robert M. Gates '65, L.H.D. '98 for a discussion on "Crucibles of Leadership: U.S. Foreign Policy Past, Present and Future" at the Sadler Center's Commonwealth Auditorium Feb. 6.
The event, which begins at 8 p.m., is free and open to the public. Doors open at 7:15 p.m., and seating will be offered on a first-come, first-served basis. Overflow seating will also be available.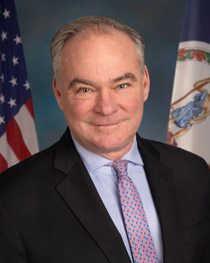 Kaine will join Gates, a former U.S. secretary of defense and CIA director, to discuss their personal journeys as public servants, learning from the past to shape present-day foreign policy and the future of U.S. leadership in a rapidly changing world. Samantha Custer, director of policy analysis for AidData at W&M's Global Research Institute, will moderate the discussion. William & Mary President Katherine A. Rowe will introduce the talk.
Gates will be visiting William & Mary next week to participate in the university's annual Charter Day ceremony, which celebrates the founding of the university in 1693. At last year's ceremony, Gates was re-invested as the university's 24th chancellor, a role he has held since 2012. This year's ceremony is scheduled for Feb. 7 at 4 p.m. in Kaplan Arena.
A history major at W&M, Gates went on to a long career in public service. In addition to leading the CIA and defense department, Gates also led Texas A&M as its president. He is currently a partner with the consulting firm Rice, Hadley, Gates & Manuel LLC.
Throughout his career, he has remained closely connected to the university. As chancellor, he participates in W&M's largest traditions and often participates in other special events. He received an honorary degree from the university in 1998 and an Alumni Medallion in 2000.
Kaine served as Virginia's lieutenant governor from 2002 to 2006 and governor from 2006 to 2010. He was elected to the U.S. Senate in 2012 and reelected in 2018. Kaine, who served as chair of the Democratic National Committee from 2009 to 2011, ran for vice president of the U.S. in 2016.
Kaine has visited W&M many times throughout his career. In 2006, he served as the  Charter Day speaker and received an honorary degree from the university. He has also served as a speaker at such events at W&M Law School's graduation ceremony in 2016 and the 2014 W&M Coastal Policy Conference.
Editor's note: This story, originally published Jan. 30, 2020, has been updated to reflect the addition of U.S. Sen. Tim Kaine to the event.