Choi selected as Charter Day student speaker
William & Mary sophomore Heein Choi has been selected to reflect on the university's royal charter during the 2015 Charter Day Ceremony. The event will be held at 4 p.m. on Friday, Feb. 6, at William & Mary Hall.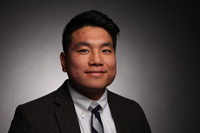 Choi '17, a double major in Asian American studies and finance, is a South Korean immigrant whose family moved to Silver Spring, Maryland, when he was four.
He currently serves on the Asian American Student Initiative's executive board and plays club basketball.
Choi has created a program for North Korean refugees living in South Korea to learn English via Skype. He has also served on multiple mission trips to build churches and to work with children in Belize.
It is a new tradition, dating to 2012, for Charter Day ceremonies to feature a student reflecting on the charter's meaning to William & Mary – and the university's meaning to the student. Students apply for the honor annually.
The 2015 Charter Day celebrates the 322 years since College namesakes King William III and Queen Mary II issued the royal charter that gave birth to the university.