Four to be honored with Alumni Association Medallion
The following article will appear in the winter 2014 issue of the William & Mary Alumni Magazine. Photos by Adam Ewing and Cade Martin. - Ed.
The highest and most prestigious award given by the William & Mary Alumni Association, the Alumni Medallion is presented to those who truly embody what the College has stood for during its revered history. Through their leadership, professional accomplishments and commitment to alma mater, the 2015 recipients are perfect examples of what it means to be William & Mary alumni.
Elizabeth Anderson
Elizabeth "Betty" Anderson '62 is a science person. More specifically, she's an organic chemistry, toxicology and pharmacology person. When she graduated from William & Mary, she never imagined the accomplishments and accolades that would stem from her time at the College.
Anderson earned her master's degree from the University of Virginia and her doctorate from American University, but she remains a Tribe member at heart. "William & Mary totally changed my life," she said. "I have always loved that it has such a strong learning setting woven together with its unique social community. I might have been buried in my laboratories if I'd gone to some huge university.
"The Sunken Garden is one of my favorite spots on campus because for me it's the College's quaint crossroads of its social and academic aspects," she continued. "William & Mary is such a wonderful setting for that combination."
Anderson's postgraduate professional endeavors have established her as one of the College's most successful alumni in the sciences. Since 2006, she has served as principal scientist and group vice president for Exponent, an international engineering and scientific consulting firm. Prior to that, she worked for the U.S. Environmental Protection Agency and was president and CEO of Sciences International, a health and environmental consulting firm she founded in 1993.
Dedicated to giving back to the William & Mary community, Anderson serves as a member of both the Virginia Institute of Marine Science's Council and its Foundation Board of Directors. She chaired the Class of 1962's 45th Reunion Committee and was a member of the 50th Reunion Gift Committee.
Anderson is honored to be receiving an Alumni Medallion from the school that so positively shaped her successes. "Being a member of the Tribe really taught me that reaching goals and solving problems are done best as collaborative efforts," she said. "You can't do anything if you just focus on yourself— it's not that kind of world. You get achievement when everyone works together."     
Virginia McLaughlin
No one in Virginia McLaughlin's '71 high school had ever gotten into William & Mary — so of course that's where she wanted to go.
When McLaughlin arrived on campus, she was certain she was not going into education. "I think I was determined not to do what was expected for women at that time," she said. But during her last two years, she took some electives and became interested in special education. "My father wondered why he was paying tuition for me to take those classes. I explained that, while students on other campuses were protesting through marches and sit-ins, William & Mary was studying the issues."
McLaughlin feels that education is work that matters for our society as a whole. "The challenges are huge, complex and ever-changing. The current threats to our public education system are very real, and we need well-informed advocates."
McLaughlin went on to earn her master's and Ed.D. in special education and teach in South Carolina public schools. After teaching on the faculty at Clemson University and Old Dominion University, McLaughlin returned to her alma mater, where she served as former President Timothy Sullivan's '66 chief of staff and associate dean of the School of Education, eventually attaining the deanship.
During her tenure as dean, McLaughlin guided the School of Education to many successes and was instrumental in the construction of a new state-of-the-art facility for the school.
"A public university, especially its school of education, has a mission to serve the community," McLaughlin said. Her freshman roommate, Virginia Carey '71, M.Ed. '79, Ed.S. '93, Ed.D. '97, emphasized that McLaughlin had done just that. "She spent her professional life building (literally and figuratively!) a pillar of the William & Mary community," Carey wrote in nominating McLaughlin for the Alumni Medallion.
McLaughlin held the deanship for almost two decades, stepping down in 2013 and returning to teaching at the College. "I've been committed to concluding my career just as I began — as a faculty member," she said. "It's the best role ever."
Russ Brown
To Russ Brown '74, there were no strangers.
According to his wife, Dottie '74, upon first meeting him you were either going to hear a great Russ Brown story or become a part of one. "He quickly became a friend you'd never forget," said Dottie.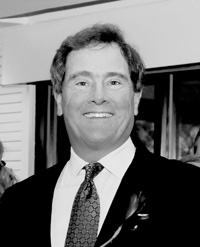 Last August, Brown passed away after a 27-month battle with acute myeloid leukemia, leaving behind not only his family, but also those friends who will never forget him. "The list of acquaintances who call him a best friend is staggering," Dottie said. "These friends would often call him simply to get a dose of Russ Brown optimism."
After graduating from the College in 1974, Brown spent two years in the NFL playing for the Washington Redskins and the New York Giants. When an injury ended his football career, he went into real estate. In 1993, Brown formed RBC Enterprises, a real estate development, sales marketing and property management company.
According to Dottie, Brown mentored countless people to success in the real estate industry. And these lessons carried over to their private lives as well. "As many have told me, Russ made them better people," Dottie said. "His goal was to make a positive difference in people's lives. And to that end, he was truly successful."
With his success, Brown didn't forget the school that started it. He served on the boards of the Alumni Association and the William & Mary Athletic Foundation, and served on the College of William & Mary Foundation's Board of Trustees. Proud of his alma mater and grateful for the football scholarship he received, Brown felt it was only natural to repay that debt, and he created endowments to honor his mother, father and brother-in-law. "Whether it was a round of golf, a business deal or his good fortune, for Russ everything was better when shared," Dottie said. "So sharing his financial success with the College was an easy decision."
Throughout his battle with leukemia, Brown was an inspiration to those around him, maintaining his optimism. During his chemo treatments when he had to stay in the hospital, he would convince the nurses to unhook him from his IV so he could work out in the hospital gym, earning him the nickname Superman.
"He never once asked, 'Why me?'" Dottie said. "He simply accepted that this was one of those tests life sends your way and resolved to fight it with every fiber of his being. And that he did. He taught me so much about grace, compassion and bravery."
Martin Walsh
This year Martin "Art" Walsh '66, J.D. '73 nominated a friend to receive the Alumni Medallion Award, so when he got a phone call from the president of the Alumni Association informing him that he was one of this year's recipients, he was adamant that it was a mistake. Walsh insisted that he wasn't a candidate, but unbeknownst to him, his twin brother, Patrick, had nominated him to receive the award.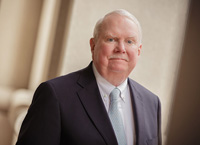 In addition to serving on the Alumni Association Board for six years and being a generous contributor to many causes at William & Mary, including the development of a concentration in real estate at the Mason School of Business, Walsh has received special recognition for his work in the realm of land use law.
"He represents many of the most prominent developers and corporations in the world," said Patrick. "He has mastered the art of compromise in ensuring that the projects that are approved are a win-win for the communities and developers. This is the secret to his tremendous success."
Of his many accomplishments, Walsh is most proud of the success of his law firm, which he began with four friends in 1983. While many thought it was too risky, Walsh said a combination of hard work, good fortune and wonderful clients ensured the firm's success.
"I enjoy the fact that every case is different and every client is different," he said. "Every day produces a new array of challenges and opportunities. The education I received gave me a unique opportunity to pursue ambitions and dreams that I would never have been able to pursue otherwise."
In 1997 Walsh and his firm started an annual golf outing to raise money for the Juvenile Diabetes Research Foundation. His younger brother, John, and the younger sister of a former classmate both died due to compli-cations from the disease. To date, the outing has raised over $1 million.
Walsh, whose generosity and accomplishments have inspired many other alumni, said that his own inspiration came from his parents. "My parents inspired me and my brothers and sisters to have faith, work hard and be humble," he said. "It is that legacy that we all try to honor on a daily basis."
— Ashley Murphy '15