Ludacris to perform at William & Mary
Grammy Award-winning rapper Ludacris will headline the 2015 Charter Day concert at William & Mary. Singer-songwriter Andy Grammer will open.
The Feb. 7 event will begin at 8 p.m. in William & Mary Hall's Kaplan Arena. Tickets for the concert go on sale Jan. 19 at 9 a.m. Tickets are $15 for students with ID, $25 for faculty and staff with the use of a special discount code, and $30 for members of the general public. The discount code for faculty and staff will be distributed through the W&M Digest.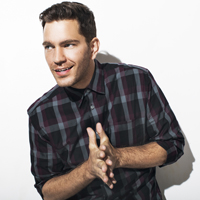 Tickets can be purchased at www.tribeathletics.com under the "tickets" tab. Tickets may also be purchased in person at the Tribe Ticket Office in William & Mary Hall or over the phone at 757-221-3340 during the office's regular business hours. At the door, tickets will be an additional $5 for students and an additional $10 for faculty, staff and the general public.
Ludacris released his first album, Back for the First Time, in 2000 and has since sold more than 20 million albums in the U.S. and 7 million abroad. His music has earned him multiple honors, including 17 Grammy nominations and three Grammy Awards: Best Rap Song in 2006 for "Money Maker" with Pharrell Williams, Best Rap Album in 2006 for Release Therapy, and Best Rap/Sung Collaboration for "Yeah!" with Lil Jon and Usher. In addition to his music career, Ludacris is also an accomplished actor who has appeared in TV shows such as Law & Order: Special Victims Unit and movies, including Crash, Hustle & Flow and several of the Fast and Furious installments. He has earned multiple honors for his acting, including Critics' Choice and Screen Actors Guild awards. In 2014, he hosted the Billboard Music Awards and served as a judge on the ABC singing competition Rising Star.
Grammer's self-titled debut album was released in 2011, and his second, Magazines or Novels, came out in August 2014. Some of Grammer's most well-known songs include "Fine By Me" and "Keep Your Head Up," the latter of which was featured in the movie Pitch Perfect. He has performed at locations across the country with artists ranging from Taylor Swift to Train, appeared on several national TV programs, and earned two BMI Pop Music Awards.
The concert is part of William & Mary's annual Charter Day weekend, which celebrates the day on which the university received its royal charter in 1693. Wiz Khalifa and Chevy Woods performed at the 2014 concert.
The concert is sponsored by the William & Mary Student Assembly and the College's student programming board, Alma Mater Productions.