Mother, son alumni write book about W&M during Civil War
A passion for history runs deep in the Heuvel family. Sean Heuvel and his mother, Lisa, not only share a love of history, they share an interest in how history has shaped two of the places they hold most dear: their hometown of Williamsburg and their alma mater, the College of William & Mary.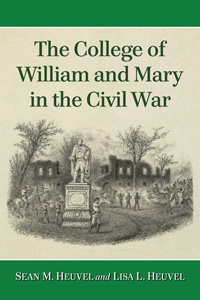 After nearly three decades of collective research, this mother-son team decided to join forces to write a book about the College during the Civil War.
"Co-authoring as mother and son and as alumni of the College has been an extraordinary experience," said Lisa.
Their book, The College of William and Mary in the Civil War, explores the war experience of the College's students, faculty and alumni, and examines William & Mary's role in shaping pre- and post-war education in the South. It features materials from Swem Library's special collections, including diaries, letters, faculty writings and photographs from the Civil War era. Swem will celebrate the release of the book with a reception at the library on Friday, Aug. 2.
Sean credits his experiences as an undergraduate student at William & Mary for sparking the idea for the book.
"I was always captivated by the Civil War memorial tablet in the Wren Building and wanted to learn more about the experience of the College and its people during that conflict," he said.
Sean earned a bachelor's degree in 2002 and master's in education in 2005 from William & Mary, as well as a master's in history from the University of Richmond in 2006. He is currently pursuing a doctorate in higher education administration at William & Mary, and is a history and leadership professor at Christopher Newport University.
It was at the University of Richmond that Sean began exploring the topic of William & Mary during the Civil War. The topic would become his master's thesis, which would later serve as the foundation for the book.
Sean decided from the start that he would need a co-author – one with extensive knowledge of Williamsburg during the Civil War and who had strong connections to William & Mary.
"Luckily my mother fit all of the requirements I needed in a co-author perfectly, so we decided to team up for this project," Sean said.
Lisa's interest in Williamsburg history began 40 years ago, when she worked at the Colonial Williamsburg Visitors Center, and grew as she served as a writer for the College's communications office.
She earned a bachelor's degree from William & Mary in 1974, and returned to the College for a master's in 2005 and doctorate in education in 2011.
Her passion for history has followed her throughout her career, from writing history stories as a free-lance journalist to working for the Jamestown-Yorktown Foundation and Colonial Williamsburg Foundation to becoming a museum administrator.
When Sean approached her about the book, she saw an opportunity to fulfill her fascination with the entwined history of William & Mary and Williamsburg.
"I was intrigued by the potential to examine connections in military history, social history and the history of higher education," Lisa said. "Both Sean and I wanted to understand why this historic period was overshadowed by the Colonial era. It seems to me that we now understand not only why that happened, but how."
The Heuvels considered Swem Library their "home base" for research, studying student diaries, papers of past College presidents, board meeting minutes and other documents. Lisa particularly enjoyed reading the Ewell family papers and those of other Williamsburg families.
"So many voices and moments in time came alive from the words of people living in the years before, during and after the Civil War," she said.
For Sean, his research revealed the little known roles that W&M alumni played during the Civil War, as well as unearth rare photographs from the era.
"One thing that really excites me about the book is that several of the images contained in it – from Swem's special collections – are being seen for the first time in print," he said.
A book release party will be held at 2 p.m. Aug. 2 at Swem Library's Special Collections Research Center. The event is free and open to the public. RSVP by July 29 to swemrsvp@wm.edu.