Professors to defend their disciplines during the 2012 Raft Debate
The 2012 Raft Debate, a much beloved William & Mary tradition, will be held at Sadler Center's Commonwealth Auditorium on Nov. 7 at 6:30 p.m.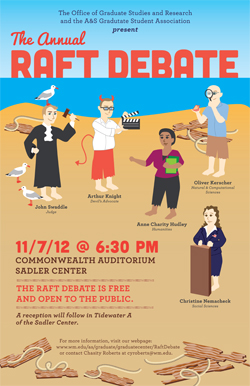 During the event, three survivors of an imaginary shipwreck -- a scientist, a social scientist and a humanist -- achieve a delicate balance between comedy and lecture as they debate the value of their respective disciplines for the rest of humanity.
Only one of the professors can return to civilization in the life raft. A fourth faculty member, a devil's advocate, joins the survivors and argues sarcastically that none of the academic disciplines are worth saving. The winner of the debate is chosen by a judge based on audience reaction.
This year's survivors representing their disciplines and the fate of humanity are:
Humanities: Professor of Community Studies Anne H. Charity Hudley (English and education). Charity Hudley's research addresses the relationship between English language variation and K-16 educational practices and policies. Her book, "Understanding English Language Variation in U.S. Schools," was published in 2010 by Teachers College Press. She is currently at work on another book titled: "We Do Language: English Language Variation in the Secondary English Classroom," which will be published by Teachers College Press in 2013. At W&M, she directs the William & Mary Scholars Program and teaches courses at the intersections of linguistics, English, Africana Studies, community studies and education.
Social sciences: Alumni Memorial Term Distinguished Associate Professor Christine Nemacheck (government). Nemacheck's research focuses on judicial politics, particularly on the role of the courts in a separation of powers system. Her book, "Strategic Selection: Presidential Nominations of Supreme Court Justices from Herbert Hoover through George W. Bush," was published in 2007 in the Constitutionalism and Democracy Series at the University of Virginia Press. Her work has also appeared in a number of edited volumes and political science and law review journals, and she is a coauthor of several editions of the American government textbook "Government by the People."  At W&M, she teaches introduction to American politics, American legal process, civil rights and civil liberties and a number of courts-related seminars. She is an associate chair of the government department, the co-director of the H. Stewart Dunn Civil Liberties Project, and the College's pre-law advisor.
Natural and computational sciences: Associate Professor Oliver Kerscher (biology). In his laboratory, Kerscher studies how budding yeast cells transmit and maintain their genetic information during cell division. His NSF-funded research program is mostly concerned with the functional interplay of SUMO and ubiquitin, two small proteins that are conserved from yeasts to humans. At W&M, he also teaches courses in genetic analysis and genethics.
The devil's advocate will be played by Associate Professor Arthur Knight (American studies and English). Knight also teaches in the literary & cultural studies and film studies programs. Much of his research has focused on African Americans and American film and popular music and film, including his book "Disintegrating the Musical: Black Performance and American Musical Film" and his co-edited essay collection "Soundtrack Available: Essays on Film and Popular Music." His current book project is tentatively titled "Black Star: A Cultural History of African Americans and Fame." He started American studies' on-going "Williamsburg Documentary Project" to explore the Williamsburg area's 20th century social and cultural history.
The judge will be played by John Swaddle, dean of graduate studies and research in Arts & Sciences.
The Raft Debate, sponsored by the Office of Graduate Studies and Research, the Graduate Center and the A&S Graduate Student Association, is free and open to the public. A reception will follow in the Tidewater A room of the Sadler Center. For more information, visit the webpage or contact Chasity Roberts at cyroberts@wm.edu.