Joseph J. Plumeri '66 to address W&M graduates
Joseph J. Plumeri, a member of William & Mary's undergraduate Class of 1966 and the chairman and chief executive officer of one of the world's largest and most successful insurance brokers, will deliver the 2011 commencement remarks at the College.
Plumeri, who has led Willis Group Holdings for the past decade and was named last year as one of the world's "100 Most Influential People in Finance," will receive an honorary doctorate degree during the May 15, 2011 ceremony in William & Mary Hall. In addition, C-SPAN President Brian Lamb and Marian Wright Edelman, president of the Children's Defense Fund, will receive honorary degrees at the ceremony.
"Joe Plumeri has moved mountains in the world of international business," said President Taylor Reveley, "and he has been a great force for good in the not-for-profit world as well. By any measure, Joe is among William & Mary's most faithful and generous alumni, and he is always a riveting speaker. We're delighted whenever we can welcome Mr. Plumeri back to campus.
"William & Mary is also delighted to be able to honor at commencement Marian Wright Edelman, a marvelous advocate for the country's disadvantaged children and their families, and Brian Lamb, whose C-SPAN network has pioneered public affairs television over the past three decades."
Joseph J. Plumeri
From his humble beginnings in Trenton, N.J. to today's success as a top business executive, Plumeri has combined hard work, integrity and generosity to build an extraordinary record as both a visionary leader and a philanthropist.
As chairman and chief executive officer of the Willis Group Holdings, Plumeri's leadership solidified Willis' position as one of the world's leading insurance brokers during an era of unprecedented change. The company – known for its "One Flag" culture of teamwork that is centered on client advocacy – now delivers its global expertise through more than 400 local offices in nearly 120 countries. Those offices include landmark structures such as The Willis Building in London (opened in 2008) and one of the nation's most well-known buildings, Chicago's Willlis Tower. Formerly known as the Sears Tower (renamed in 2009), Willis Tower is the tallest building in the Western Hemisphere.
Willis was privately owned by Kohlberg Kravis Roberts when Plumeri was appointed in October 2000. He successfully returned the company to public ownership in 2001. Over the last decade, Plumeri has pressed for greater transparency, client service and innovation throughout the industry. He has led the fight against contingent commissions and the controversial year-end bonuses insurance companies pay brokers for increasing premium volume and profitability – payments which can lead to conflicts of interest. In 2004, Willis became the first and only insurance broker to abolish the practice of accepting contingent commissions for retail clients and the first to establish a Client Bill of Rights. In recognition of these efforts, St. John's University School of Risk Management named Plumeri 2006 Insurance Leader of the Year. In 2008, Plumeri led the largest insurance brokerage deal in the last decade, Willis' $2.1 billion acquisition of Hilb Rogal & Hobbs. In 2009 and 2010, he was named to Treasury & Risk magazine's list of "100 Most Influential People in Finance."
Prior to joining Willis, Plumeri enjoyed a successful 32-year career at Citigroup and its predecessor companies. As CEO of Citibank North America, he led the integration of the consumer businesses at Citicorp and Travelers Group. Plumeri also served as chairman and CEO of Travelers Primerica Financial Services, vice chairman of the Travelers Group, and president and managing partner of Shearson Lehman Brothers.
An active and committed community leader, Plumeri has been honored by numerous civic and philanthropic organizations, including the Insurance Industry Charitable Foundation in 2009 for his impact on the reputation of the insurance industry, and the Jackie Robinson Foundation in 2010 for his career achievements. He also has been honored by the Sons of Italy Foundation, the Intrepid Foundation, the Boy Scouts of America, and the Make-A-Wish Foundation, among others.
Among his philanthropic endeavors, Plumeri funded construction of the Samuel & Josephine Plumeri Wishing Place. Named in honor of his parents, the facility serves as the headquarters of the New Jersey chapter of the Make-A-Wish Foundation. Plumeri also funded the development of a new sports complex at the College of St. Rose in Albany, N.Y. The facility is named in honor of his late son, Christian.
Plumeri is a generous supporter of the College of William & Mary. In 2008, he established the Plumeri Awards for Faculty Excellence. The awards, which include a $10,000 prize for each recipient, are given annually to 20 members of the William & Mary faculty. In addition, Plumeri annually supports the Tribe baseball team and in 1996 he provided funds to build the College's baseball stadium — Plumeri Park. He has also endowed scholarships for student-athletes, provided support to Gateway William & Mary (need-based financial aid for Virginia families with the least financial resources) as well as contributed to the Mason School of Business, funded the renovation of a local residence for William & Mary visitors, which is now the Plumeri House; and established the Plumeri William & Mary Pro-Am, a golf tournament that raised well over two million dollars in financial support for the College's Olympics sports programs.
Plumeri, who graduated with a Bachelor of Arts degree in
history
and
education
from the College, remains an active part of the campus community. From 2000 to 2008, he served two terms on the William & Mary Board of Visitors. He is also a past member of the Alumni Association's Board of Directors. In 2006, Plumeri was tapped to serve as Grand Marshal of the College's Homecoming Parade.
Brian Lamb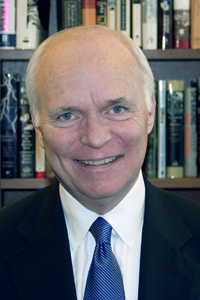 Lamb helped found the Cable-Satellite Public Affairs Network (C-SPAN) in 1979.
A non-profit organization, C-SPAN was first created to provide live, gavel-to-gavel coverage of the U.S. House of Representatives. It has grown into a service that provides a variety of public affairs programming 24 hours a day. The roster also includes C-SPAN2 (launched in 1986 to cover the U.S. Senate), C-SPAN3 (launched in 1997 to provide additional public affairs programming), and C-SPAN radio, which is broadcast nationwide through XM Satellite Radio and internationally on C-SPAN.org.
Since the beginning, Lamb has served as the company's chief executive officer and a regular on-air presence. He has also hosted "Booknotes" since the program began in 1989, and published three books on the series.
Prior to C-SPAN, Lamb, a graduate of Purdue University, worked in Washington as both a journalist and political press secretary. Immediately following college, Lamb joined the U.S. Navy and his service included work in the White House during President Lyndon B. Johnson's administration. He later worked in the Pentagon public affairs office during the Vietnam War. Following his service, Lamb worked as a freelance reporter for UPI Audio, a Senate press secretary, and a White House telecommunications policy staff member. In 1974, he began publishing The Media Report, a biweekly newsletter, and also covered communications issues as Washington bureau chief for Cablevision magazine. Under Lamb's leadership, C-SPAN launched in March 1979 and delivered the first televised session of the U.S. House of Representatives to 3.5 million households. Today, more than 86 million households can tune into C-SPAN's flagship television network.
Marian Wright Edelman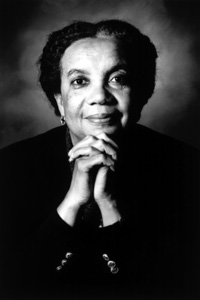 Under Edelman's leadership, the Children's Defense Fund (CDF) has become a powerful national voice for disadvantaged children and families.

A graduate of Spelman College and Yale Law School, Edelman's career began in the mid-1960s when she directed the NAACP Legal Defense and Educational Fund office in Jackson, Miss. She was the first black woman admitted to the Mississippi Bar.

In 1968, she moved to Washington, D.C., as counsel for the Poor People's Campaign, which was started by Martin Luther King, Jr. She founded the Washington Research Project, a public interest law firm and parent body of the Children's Defense Fund. Before starting CDF in 1973, she served two years as director of the Center for Law and Education at Harvard University.

Edelman has received numerous awards and honors, including the Albert Schweitzer Humanitarian Prize, the Heinz Award, and a MacArthur Foundation Prize Fellowship. In 2000, she received the Presidential Medal of Freedom, the nation's highest civilian award, and the Robert F. Kennedy Lifetime Achievement Award for her many writings, which include "The Sea Is So Wide and My Boat is So Small: Charting a Course for the Next Generation," "Lanterns: A Memoir of Mentors," and "Guide My Feet: Prayers and Meditations on Loving and Working for Children."

Edelman served on the Board of Trustees of Spelman College, including as chair from 1976 to 1987. She was the first woman elected by alumni as a member of the Yale University Corporation, and served from 1971 to 1977.