Kirk Byron Jones to serve as baccalaureate speaker
Noted author and pastor Kirk Byron Jones will serve as the speaker for William & Mary's baccalaureate service on May 14. The service will take place at 9:30 a.m. in William & Mary Hall. He will speak from the theme, "The Most Courageous Thing You Can Do."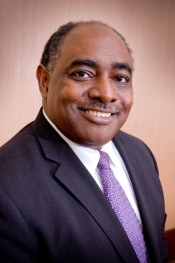 A professor of ethics and preaching at Andover Newton Theological School and Boston University School of Theology, Jones serves as guest preacher and teacher at churches, schools and conferences throughout the United States. His writings have been published in various journals, including The Christian Century, Leadership, Pulpit Digest, and The African American Pulpit.

A pastor for over 20 years, Jones was the founding minister of Beacon Light Baptist Church in New Orleans, and he served as the senior minister at Calvary Baptist Church, in Chester, Penn; Ebenezer Baptist Church in Boston; and the First Baptist Churches of Randolph and Whitman, Mass. He is currently pastor of First Baptist Church in Tewksbury, Mass. Throughout his pastoral ministry, Jones has served on various religious and civic committees at the local and national level.

Jones is the author of several best-selling books, including "Rest in the Storm: Self-Care Strategies for Clergy and Other Caregivers," "Addicted to Hurry: Spiritual Strategies for Slowing Down," and his most recent title, "Say Yes to Grace: How to Burn Bright Without Burning Out." "Rest in the Storm," was one of just 40 books and films selected by Sojourners Magazine as "The Best Resources for Social Change." The compilation contains the works of historic and contemporary luminaries, including Sojourner Truth, Henri Nouwen, Stephen Spielberg, and Martin Luther King, Jr.

An interfaith celebration, the baccalaureate service will include readings and blessings of the Class of 2011 from several faith traditions. The service will also include musical performances by the William & Mary Choir and Ebony Expressions Gospel Choir.