Monroe Scholar researches historical context of a family history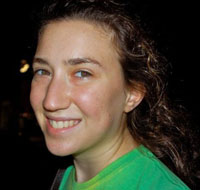 When Elana Urbach '14 was in the fifth grade, her grandmother presented her with a copy of Hella, her great grandmother Hella Mautner's memoir describing her experiences during the rise of Nazi power.  
"As a child I pored over the chapters of her life," says Elana. Then last year, while taking Living with the Enemy, a freshman seminar that focused on life in the occupied territories during World War II, Elana started to think more deeply about her great grandmother's experiences.
"I began to see my great grandmother's story as part of a much larger one," says Elana. "Hella was much luckier than most. I wanted to know why."
The James Monroe Scholar program offered the perfect opportunity to learn more.
Elana is one of about 450 current Monroe Scholars. Funded largely through private support, Monroe Scholars are eligible to apply for a $1,000 grant for a project after their freshman year and receive a $3,000 summer scholarship after their sophomore or junior year for research projects of their own design. Most choose to research a topic in their field of study. Elana, a Physics major, chose a more personal approach.
"This is my family history," says Elana who will use the Monroe Scholar funding to write an afterword to Hella. "I want to compile my findings into an addendum to the memoir, detailing more information about the specific incidents mentioned in her life and how her life fits into the history of that period."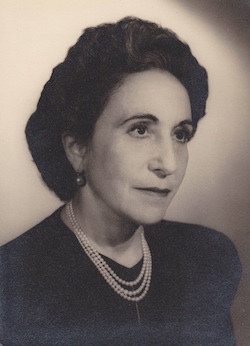 A Jew born in Prague in 1896, Hella Mautner lived in Vienna throughout her early adult life and during the rise of Nazi power. Several months after the Anschluss in March 1938, when Austria was annexed into Germany, she fled with her family to Prague, using fake passports and paying bribes to cross the border. Soon after, the family acquired visas to the United States and left for Birmingham, Alabama, in February 1939, less than a month before the Nazis marched into Prague.
"I have often marveled at how lucky she was, and I would like to better understand what she went through," says Elana. "Reading about other Jews in Vienna who clearly had very different experiences from Hella made me want to research how 'typical' Hella's situation was. I want to see whether certain variables, such as socioeconomic status or people living in the right places, helped her, and to see how different people responded to the Anschluss."
For this project Elana is drawing on research skills she learned in her history classes last year. She also sees many future benefits.
"In doing this project, I will gain experience in collecting data, analyzing research, drawing conclusions, and writing a complex paper," says Elana. "These skills will be helpful in my science studies and any career I ultimately choose."
"And personally, I think that by gaining a better understanding of what my great grandmother and others went through will give me a better understanding of myself through the connection with my family's past," Elana continues. "It's an opportunity to pass on this history to future generations."