Cammarata's future ensemble: red cape, green gown
It has all the earmarks of an Ernest Hemingway novel, this tale of the bullfighting surgeon.
Michael Cammarata attended his first bullfight as a 12th grader on vacation in Spain. He was instantly mesmerized by the color and the ambience and soon after read Allan Joseph's Ritual and Sacrifice in the Corrida and Hemingway's own bullfighting treatise, Death in the Afternoon.
When he returned to the United States, Cammarata '12 found a bullfighting school in California, attended, and received his first lesson in how to "torear." In the years since then, including his time at William & Mary, Cammarata has continued his training. In 2011, he attended a school in Jerez de la Frontera, Spain as part of a Roy S. Charles Center international research project. Last year, Cammarata trained for eight months with one of the premier bullfighting schools in Madrid then won an amateur competition in Albacete, Spain.
Clearly, it is one of the major passions of his life.
"Doing it is thrilling, a blend of technique and science, animal behavior, self-expression and art through movement," he said. "When you see someone else do it well, fully understanding how difficult it is, and how much courage it requires, it is spectacular.
"But I also love the culture, the values and the language. The culture is rich and vibrant, full of interesting people, places, and traditions. Values associated with the bullfighting world, like courage, responsibility, integrity, self-reliance, commitment - they're all important … The language is full of metaphors and poetry. Bullfighting words and expressions work their way into regular Spanish sayings and there are many untranslatable words."
Cammarata has another, equally alluring, passion: medicine.
As a Monroe Scholar, Neuroscience major and Hispanic Studies minor at William & Mary, Cammarata spent five weeks shadowing and interviewing Spain's greatest bullfight surgeons – "the doctors that bullfight maestros call 'maestro,'" he said. He met the chief surgeons from Spain's two most important rings in Madrid and Seville, as well as renowned surgeon Enrique Crespo, and studied the relationship between doctors and bullfighters.
"It's unlike most doctor-patient encounters in everyday hospitals," he said, pointing to the fact that surgeries are performed on site and even the most benign-looking wound can turn out to be far more dangerous than at first glance.
Now a second-year student at Eastern Virginia Medical School, the 24-year-old Cammarata has parlayed his relationship with the doctors he profiled into a series of unique experiences.
Last February, Crespo and another surgeon invited him to join their team for a week at the Carnaval del Toro in Ciudad Rodrigo, Spain, a festival with several bull-related events.
He prepared for the trip by asking a surgical assistant professor at EVMS to teach him how to scrub and gown for surgery, as well as how to suture. Sure enough, a young man was gored during one of the events, and Cammarata was asked to assist on his first "taurine" surgery – actually his first surgery of any kind.
"I helped retract tissue, cut sutures, clean and dry the surgical field, prepare sutures and the drain (a drain is inserted to remove fluids from the wound)," he said. "I essentially was an extra pair of hands during the surgery, though I did not suture."
Giving medical attention to matadors seems a lot like battlefield triage. At all events, a surgical team is on standby in an infirmary located immediately outside of the bullring.
"The injuries are unique because they are poly-traumatic, contaminated and complex," Cammarata explained. "One tossing might result in the matador rotating about the horns as gravity pulls him toward the earth while the bull simultaneously rocks him upward, producing several penetrating trajectories that can hit muscle, bones, nerves and vasculature. It's the latter that poses such an immediate threat to matadors and it's the onsite infirmaries that result in saved lives."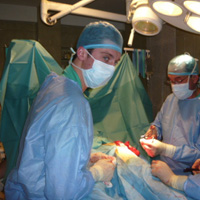 Cammarata said that a surgeon must manually explore the wound and search for various trajectories while cleaning extensively. Injuries are deceptive because a quarter-sized entrance wound may have significant tissue damage beneath. Sometimes, the skin never even breaks while muscle tissue and vasculature are compromised beneath the surface. That's called a "cornada envainada."
"The classic horn wound is called a 'cornada,' which can range from minor to very severe," Cammarata said. "The bull's horn may also be 'escobillado,' or 'brush-like,' such that it's splayed at the tip, likely because the bull charged up against the wooden ring and damaged it. Horns that are 'escobillado' can result in an even more complex injury."
The patient Cammarata helped work on suffered only damaged muscle tissue. He was gored during a "capea," an event where the bull is let loose in the ring and anyone can run around with it, dodging it using shirts and jackets as improvised capes.
While the injury was minor, it was a major step forward in helping Cammarata attain a career goal
"I am one step closer to my dream of contributing to the bullfight world as a surgeon," he said. "My ultimate goal is to practice in the United States, and to travel to Spain or Mexico whenever possible for events such as the one in Ciudad Rodrigo."