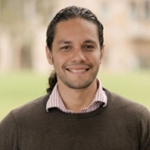 Carlos Rivera Santana
Assistant Professor of Hispanic Studies (On Leave Fall 2023)
Email: [[crrivera]]

Carlos Rivera Santana is a Latin American/Caribbean cultural studies scholar specializing in Indigenous studies, visual culture and decolonial theories. He critically examines histories of colonization and looks at their counter-discourses seen in Global South knowledges expressed in visual culture and literature, especially those produced from Indigenous ancestral worldviews. Rivera Santana was based in Australia for over seven years where he completed his PhD and was a lecturer specializing in global indigenous and postcolonial studies at The University of Queensland, Australia. He has published in peer-reviewed journals such as in Cultural Studies, Australian Journal of Indigenous Education, Qualitative Inquiry, and Third Text, and is the author of the book, Archaeology of Colonisation: From Aesthetics to Biopolitics published in 2019 within the series of "Critical Perspectives on Theory, Culture and Politics".
Rivera Santana joins William & Mary from CENTRO, Hunter College at CUNY, where he was a research associate looking at decolonial Puerto Rican and LatinX contemporary art.
Ph.D., The University of Queensland; M.A./B.A., University of Puerto Rico.