A bouquet of performances, exhibitions, talks blossoms at W&M this spring
Update: As part of W&M's response to COVID-19, all events and gatherings in university facilities as well as university-sponsored events on and off campus are suspended from March 11 through at least June 12. Read more.
Art
The Muscarelle Museum of Art will feature the exhibition "In Focus: New Acquisitions in Photography" from Feb. 8 through April 7.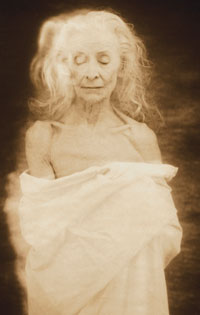 Following a survey that showed photography to be under-represented in the Muscarelle's holdings, along with the 2015 launch of the photography program at W&M, museum officials have acquired more photographs from donations and gifts from alumni and individuals, officials announced. Photographs in this exhibition display a diversity of process and subject matter. Artists represented include Carleton Watkins, Frank Rinehart, Charles Sheeler, Ruth Orkin, Ralph Gibson, Roy DeCarava, Cara Romero, Markus Brunetti, Joyce Tenneson, Edward Curtis, Jon Gilbert Fox, Duane Michals, Julia Margaret Cameron, Fred J. Maroon, Sally Gall, Thurston Hopkins, Julius Shulman, John "Bear" Allison, Kristin Capp, Vesna Pavlovic, Donna Ferrato, David Levinthal and William Wegman.
Also Feb. 8 through April 7, the museum will show "An American Vision: Tribute to Carroll Owens, Jr." Honoring The Owens Foundation, which was created and facilitated by Carroll Owens, Jr. '62 and his wife, Patrisia B. Owens '62, the Muscarelle will display a selection of works from the collection of key loans by The Owens Foundation including paintings by Thomas Cole, Robert Henri and Edward Potthast.
The Muscarelle will host "Shared Ideologies" from April 17 through Aug. 2. The exhibition of selected works by Native American artists from the 1970s to the present will offer visitors an opportunity to engage in a sociopolitical dialogue about the space between history and memory, according to museum officials. Paintings and works on paper by artists such as the late T.C. Cannon, Tom Poolaw, Julie Buffalohead a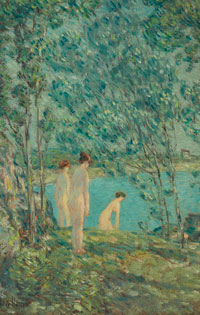 nd several others transcend their elders' two-dimensional artwork that came to define Native American art.
The museum will feature "Rising: The American Indian Movement and the Third Space of Sovereignty" from April 17 through Aug. 2. W&M students taking Native American Sovereignty, a spring 2020 senior seminar, will research the rise of American Indian Movement in photographs and historical documents as well as curate this exhibition. It will highlight central events associated with AIM, such as the takeover of Alcatraz, Wounded Knee II and the Trail of Broken Treaties.
W&M students curating an exhibition as part of the required practicum course for art history majors will show the results of "The Curatorial Project" from April 17 through Aug. 2 at the Muscarelle. The exhibition will explore the theme of scale.
For a full schedule of lectures, Art Film Fridays, workshops and other events, visit muscarelle.wm.edu.
"Retrospective" featur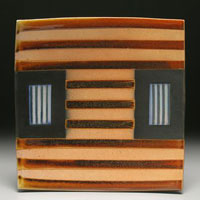 ing works by ceramicist David Crane will be exhibited at the Andrews Gallery in Andrews Hall from Jan. 22 through Feb. 13. Crane makes a variety of objects using bold shapes and colors, and states that his pottery "is guided by a curiosity about how the shape of a piece might tie to its surface treatment." A closing reception, free and open to the public, will be held on Feb. 13 from 4 p.m. to 6 p.m.
Steven Nelson will be the Department of Art and Art History distinguished lecturer for the semester. He will lecture Feb. 6 at 5 p.m. in Andrews Hall Room 101. Nelson is professor of African and African American art at UCLA and Andrew W. Mellon Professor at the Center for Adva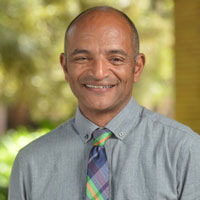 nced Study of the Visual Arts at the National Gallery of Art. He will present "Mark Bradford: Counterfeit Abstraction," discussing Bradford's large-scale paintings that have incorporated modernist abstraction and urban grids to explore black history, the specter of race and racism, and the power of place in human experience, according to officials. The event is free and open to the public.
The Art and Art History Class of 1939 Artist in Residence Series will host an artist talk, free and open to the public, with abstract painter Ken Kewley on Feb. 20 at 5 p.m. in Andrews Hall Room 101.
Ewell Concert Series
The music department will begin the Ewell Concert Series at 7:30 p.m. on Feb. 28 with harmonica player Howard Levy, accompanied by W&M faculty members Harris Simon and Christine Niehaus on piano, performing at the Williamsburg Regional Library.
Levy is a multiple Grammy Award winner and is universally acknowledged as the world's most advanced diatonic harmonica player, according to series organizers. He was a founding member of Béla Fleck and the Flecktones and has performed and/or recorded with Dolly Parton, Styx, Bobby McFerrin, Paul Simon, John Prine, Paquito D'Rivera and Rabih Abou Khalil among others.
The series continues at 7:30 p.m. on March 27 with Eya featuring Crossley Hawn, Allison Mondel and Kristen Dubenion-Smith performing at the Wren Building Great Hall.
Eya is an award-winning vocal ensemble based in Washington, D.C., specializing in the interpretation of medieval music for women's voices. Lauded as "remarkable" and "gorgeous" by The Washington Post, Eya introduces contemporary audiences to early poets and composers.
The spring Ewell program concludes at 7 p.m. on April 26 with pianist and composer Patrice d'Ollone along with members of Hampton Roads' Ambrosia Quartet performing at Ewell Recital Hall.
Grandson of the composer Max d'Ollone, Patrice d'Ollone is an enthusiastic performer of French chamber works and art song. He lectured in musicology at the Sorbonne and has composed music for several documentary films.
Admission for all concerts is $5, free with a W&M ID.
Music
The music department has various concerts scheduled throughout the semester, with more events to be added to its calendar.
The Botetourt Chamber Singers will hold their gala on Feb. 8 at 7:30 p.m. at the Kimball Theatre. Tickets are available at the door and will be $20 for general admission and $5 for students.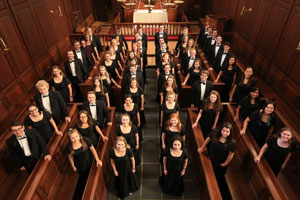 The W&M Choir will perform its free pre-tour concert March 1 at 8 p.m. at Williamsburg Presbyterian Church.
The Barksdale Treble Chorus will host its free spring concert on April 4 at 8 p.m. at Bruton Parish Church.
The Botetourt Chamber Singers will host their free spring concert April 5 at 2 p.m. in the Wren Building Great Hall.
The W&M Choir, Botetourt Chamber Singers and Barksdale Treble Chorus will perform a wide variety of works at their spring choral concert May 2 at 7:30 p.m. at Williamsburg Presbyterian Church. Tickets are $10 for general admission, $3 for students with ID, and will be available only at the door.
The W&M Symphony Orchestra will hold its winter concert on March 5 at 7:30 p.m. at the Sadler Center Commonwealth Auditorium. The orchestra will perform its spring concert accompanied by Patrice d'Ollone and featuring rarely-performed works by French composer Max d'Ollone on May 2 at 7:30 p.m. at the Modlin Center for the Arts in Richmond. Both events are $10 for general admission and free for students, children under 18 and veterans.
The W&M Middle Eastern Music Ensemble will host a free concert with guest artist Johnny Farraj, master percussionist, on March 21 at 7:30 p.m. in the Wren Chapel.
The W&M Wind Ensemble will perform its spring concert on April 29 at 7:30 p.m. at the Kimball Theatre. Donations will be accepted.
The Gallery Players, W&M's conductor-less string ensemble, will perform their free spring concert on April 23 at 8 p.m. as part of the Candlelight Series at Bruton Parish Church.
The W&M Music of India Ensemble, with special guest Monir Hossain on tabla, will perform its free spring concert April 25 at 7:30 p.m. in Ewell Recital Hall.
Theatre
W&M Theatre opens the spring season with "Gem of the Ocean," which was written by August Wilson and will be directed by W&M Associate Professor of Theatre and Africana Studies Omiyẹmi Artisia Green, whose research specializes in Wilson's plays. The first in Wilson's 10-play "The Pittsburgh Cycle" and set in 1904, the story follows Citizen Barlow coming to Aunt Esther seeking asylum to her sending him on a spiritual journey to find a city in the middle of the Atlantic Ocean. The show runs Feb. 27 through March 1 at the Kimball Theatre. Show times are 7:30 p.m. Thursday through Saturday and 2 p.m. on Sunday.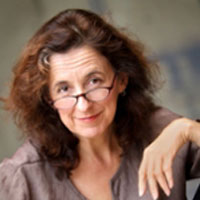 Directed by W&M Professor of Theatre Elizabeth Wiley and written by Qui Nguyen, "She Kills Monsters" provides audiences with a comedic look at the world of fantasy role-playing games. It follows Agnes Evans as she leaves her childhood home in Ohio following the death of her teenage sister, Tilly, and explores Tilly's Dungeons & Dragons notebook into a new world. The show runs April 23 through April 26 at the Kimball Theatre. Show times are 7:30 p.m. Thursday through Saturday and 2 p.m. on Sunday.
Tickets are available at the Kimball Theatre Box Office and online.
Dance
Student work will be on display as W&M Dance and Orchesis Modern Dance Company present "An Evening of Dance."
The show is an annual production in which students explore and develop original choreography

performed by their peers in the Orchesis Modern Dance Company, under the mentorship of W&M dance facul
ty. Performances are scheduled for March 26-28 at 7:30 p.m. and March 29 at 2 p.m. at the Kimball Theatre. Tickets are available at the Kimball Theatre Box Office and online.
Writing
Susheila Nasta will speak as part of the Cloud Lecture Series on April 15 at a time and site
to be announced. Nasta is editor-in-chief of "Wasafiri," the magazine of international contemporary writing she founded in 1984. A l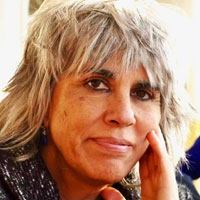 iterary activist, writer and presenter, she is professor of contemporary and modern literatures at Queen Mary, University of London and professor emeritus at the Open University. She has published widely on postcolonial and contemporary writing, especially on the Caribbean, the South Asian diaspora and black Britain.
Visiting writer Allison Titus starts off the Hayes Writers Series with an appearance on Feb. 13 at the Tucker Theatre, with times still to be announced for the events. Titus, a Richmond resident, is the author of the poetry collections "The True Book of Animal Homes" and "Sum of Every Lost Ship"; the chapbooks "Sob Story," "Topography of Tears" and "Instructions From the Narwhal"; and the novel "The Arsonist's Song Has Nothing to Do with Fire." She is the recipient of a poetry fellowship from the National Endowment for the Arts and teaches in the low-residency MFA program at New England College.
The series continues on March 19 at Tucker Theatre with W&M alumna Laura Sims '95. Her debut novel "Looker" was published to critical acclaim in 2019 and has been optioned for TV. Sims has published four books of poetry including most recently "Staying Alive," and her first poetry collection, "Practice, Restraint," was the winner of the 2005 Fence Books Alberta Prize. Sims has been the recipient of a U.S.-Japan Creative Arts Fellowship, and her poetry and prose have appeared in "The New Republic," "Boston Review," "Conjunctions," "Gulf Coast" and other journals.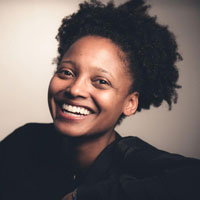 Next in the series is poet Tracy K. Smith speaking on April 8 at Tucker Theatre. Smith is the author of four poetry collections, including the 2012 Pulitzer Prize for Poetry-winning "Life on Mars" and the memoir "Ordinary Light."  She was the recipient of the 2014 Academy of American Poets Fellowship and served as U.S. poet laureate from 2017 to 2019. Smith is chair of the Lewis Center for the Arts, Roger S. Berlind '52 Professor of the Humanities and a professor of creative writing at Princeton University.
The English department will host Talia Schaffer speaking on March 24 at the Tucker Theatre at a time to be announced. Schaffer is a professor of English at Queens College, City University of New York and the Graduate Center CUNY, and has published widely on Victorian familial and marital norms, disability studies, non-canonical women writers, material culture, popular fiction, aestheticism and late Victorian texts. Her most recent book is "Romance's Rival: Familiar Marriage in Victorian Fiction," and Schaffer has also published "Novel Craft: Victorian Domestic Handicraft and Nineteenth-Century Fiction" and "The Forgotten Female Aesthetes; Literary Culture in Late-Victorian England." She is working currently on a book on ethics of care as a promising theory for reading Victorian fiction.